Aircraft IT MRO Issue 57: Autumn 2023
Subscribe
Articles
| Name | Author | |
| --- | --- | --- |
| CASE STUDY: SAS's Journey to paperless maintenance operations | Yuliya Kornyeva, Maintenance Data Analyst, Dlovan Sandi, ELB Digital Service Owner, SAS - Scandinavian Airlines and Rob Saunders, Director of Business Development of the Electronic Log Book, Ultramain Systems | View article |
| WHITE PAPER: Leveraging data for digital aviation success | Sander de Bree, Founder & CEO, EXSYN Aviation Solutions | View article |
| CASE STUDY: Digital transformation at TUI | Niklas Kropp, Programme & Projects Manager E&M, TUI Airlines | View article |
| CASE STUDY: Getting the best from new engines at Condor | Nicolas Schneider, AMOS Administrator, Condor and Dr. Almut von Schneidemesser, Senior Manager for Aircraft Communications IT at Condor | View article |
| WHITE PAPER: Lufthansa Systems develops a digital twin concept for aviation | Priscila Monroy, Junior Consultant at Lufthansa Systems | View article |
| CASE STUDY: Achieving IT process continuity in Air France Industries and KLM Engineering & Maintenance | Anne-Laure Propper, Project Manager & Olivier Demède IFS Maintenix Product Owner, both Air France Industries KLM Engineering; and Arjan Otten, Project Engineer Maintenance Programs, KLM Royal Dutch Airlines | View article |
CASE STUDY: SAS's Journey to paperless maintenance operations
Author: Yuliya Kornyeva, Maintenance Data Analyst, Dlovan Sandi, ELB Digital Service Owner, SAS - Scandinavian Airlines and Rob Saunders, Director of Business Development of the Electronic Log Book, Ultramain Systems
Subscribe
Yuliya Kornyeva, Maintenance Data Analyst and Dlovan Sandi, ELB Digital Service Owner at SAS – Scandinavian Airlines, and Rob Saunders, Director of Business Development of the Electronic Log Book at Ultramain Systems, share SAS's transition to an electronic and paperless ELB solution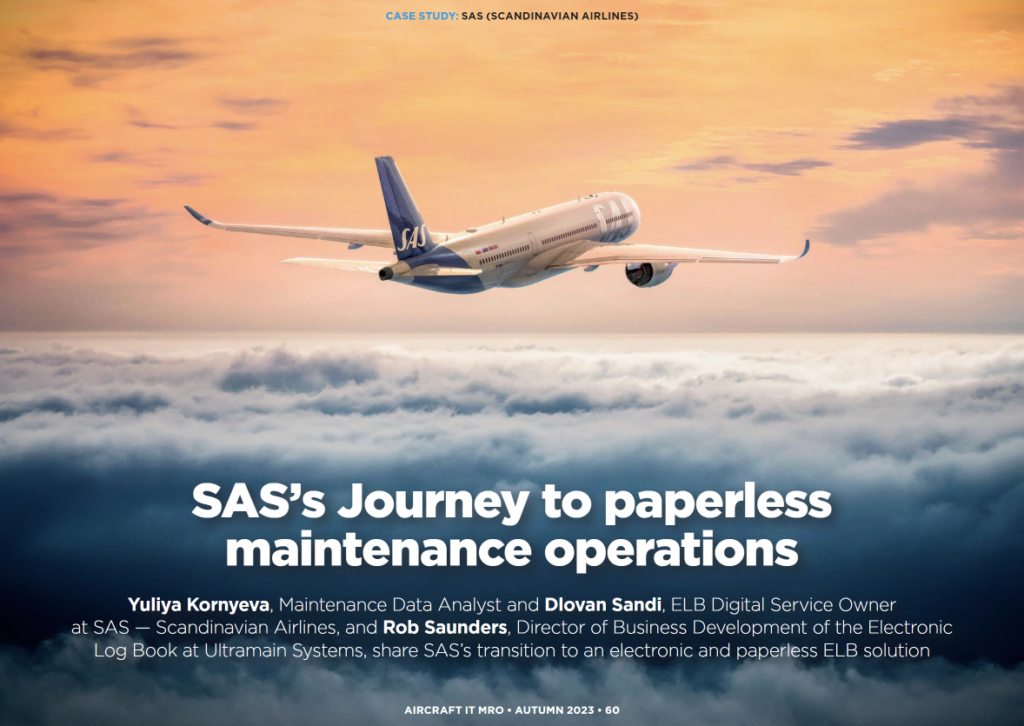 Facing big changes in the way that we work can make for a daunting prospect but the reality is that, once the need for change has been recognized, with the right partner, that change process need not be daunting at all. And, of course, there are significant benefits to be gained from making the change to a more modern solution. In that context, we are really pleased to have this opportunity to share our vision of a paperless maintenance process and the path to our successful achievement of a seamless transition to a paperless maintenance environment (figure 1) at SAS.
However, before we go into the project, let's just take a quick look at SAS (Scandinavian Airlines) that is the subject of this case study.
SAS SCANDINAVIAN AIRLINES
SAS – Scandinavian Airlines, the flag carrier of Denmark, Sweden, and Norway, has embarked on a robust digitalization strategy. Operating from three major hubs, one in each home state – Copenhagen, Stockholm, and Oslo – SAS plays a pivotal role in connecting Scandinavia to the world and the world to Scandinavia. Founded in 1946 as a consortium to consolidate transatlantic operations of Swedish, Danish, and Norwegian airlines, these airlines merged into SAS in 1951. Additionally, SAS holds the distinction of having been, in 1997, a founding member of Star Alliance, one of the world's major airline alliances. Today, SAS's digital transformation is a key component of its strategy, as it strives to become the most digitalized airline and outperform its competitors in the industry.
WHAT SAS (SCANDINAVIAN AIRLINES) WANTED
At the outset, SAS mapped out a vision of what was wanted (figure 1).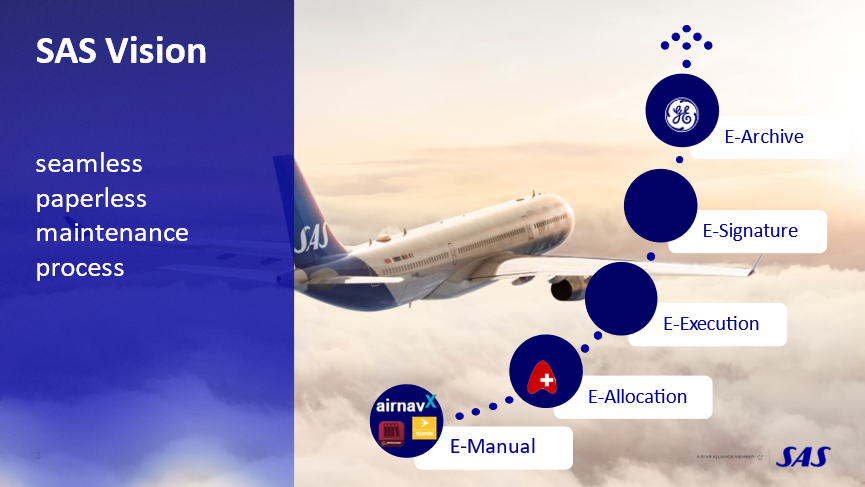 Figure 1
The idea was to be able to use electronic manuals provided by OEMs plus electronically generated maintenance instructions, all of which would be automatically allocated to engineering and maintenance staff based on different criteria such as available ground time and the skills of the personnel involved. Then these maintenance instructions should be executed by maintenance technicians; performance of the allocated tasks should be acknowledged and aircraft released using e-signatures on portable devices. Finally, all of those records should be transitioned to the electronic archive, and properly stamped.
LEGACY PROCESSES
That was the vision and some parts of it were already available. As a multitype operator, SAS knows that OEMs already provide maintenance instructions in SGML or XML format. Also, the airline has AMOS Maintenance and Engineering software that's able to recognize these formats and transfer them seamlessly to maintenance instructions. Furthermore, SAS has a technical records archive in a GE Digital AirVault which is combined with Asset Transfer System, another product from GE Digital and integrated with AirVault, that stores all the airline's maintenance records. But some significant components in the vision were missing from the reality. It reminded the airline that compared with the modern technology, it was not a very efficient process (figure 2).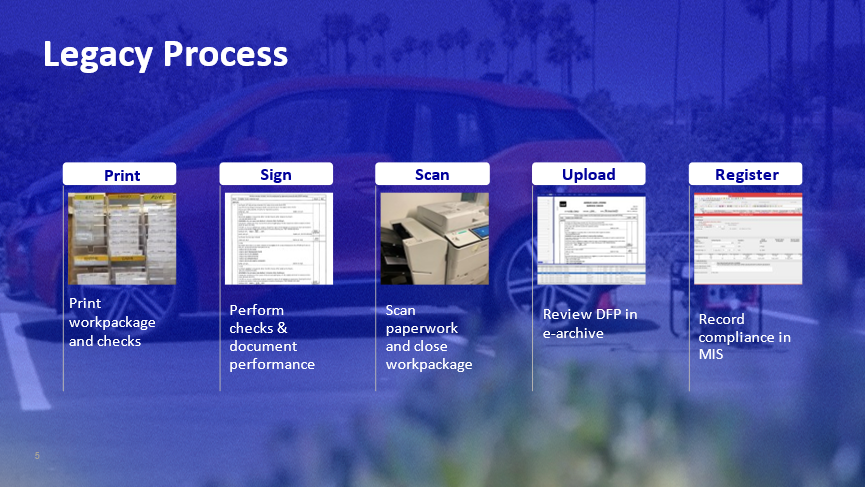 Figure 2
The old process saw SAS print digital electronic documents, perform checks and document performance, and sign the paper which would then be scanned before reviewing the records and registering the record in the maintenance and engineering system with the scanned records then stored in the digital archive. It was not the most efficient way of doing things. A significant portion of these records are generated by line maintenance, particularly the technical log. Line maintenance differs from base maintenance in that it operates in a highly dynamic environment. In the case of logbooks, entries are made not only by engineering and maintenance personnel but also by pilots and cabin crew, making it a multi-user environment.
FINDING A NEW SOLUTION
Taking all of this into account, SAS began exploring paperless and Electronic Technical Log Book (ELB) solutions available in the market. The goal was not just to replace the current paper-based processes, including the technical log book, with an electronic device, but also to aim for something more (figure 3).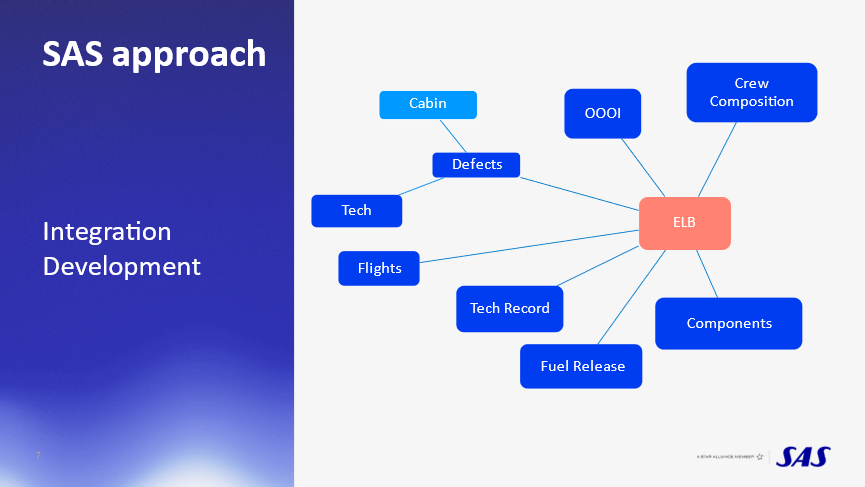 Figure 3
The main requirement was to integrate any potential solution to SAS's existing digital infrastructure; This involved not only integrating with the maintenance and engineering system but also the need to seamlessly integrate with flight operations software and crew rostering. The integration aimed to relieve pilots from the task of manually entering OOOI (Out, Off, On, In) times and crew composition into the log book. Furthermore, the airline sought the capability for the log book to not only receive but also transmit information with other internal systems within the company. Additionally, it aimed to enable the log book to exchange data with external systems beyond the SAS environment, such as those related to fuel release. Moreover, the airline's requirement included ensuring that any new solution could seamlessly interface with the electronic digital archive, facilitating the transmission of all signed documents to this archive.
Bearing in mind all of these requirements, SAS selected ULTRAMAIN for the line maintenance environment and to provide the ELB. For base maintenance, the choice was the solution provided by AMOS Mobile.
As we said above, there is a significant difference between the base maintenance environment and the line. Base maintenance is essentially engineering staff whereas, when we look at line operations, we're looking at pilots, cabin crew, engineering and back office. So, the application is also critical as far as dispatch is concerned. The objective was to look for an application that was protected against loss of connectivity which is just one reason why ULTRAMAIN ELB was chosen as it can work completely off-line, and that includes the electronic signature. So even with server loss, the application will still work. And that was one of the key considerations for using the two applications, ULTRAMAIN and AMOS, side-by-side.
In the old legacy process, a defect would be found while airborne, the aircraft would arrive, would depart and then, at some point, hopefully in the next hour although it could be longer, that information would be fed into the maintenance system, in this case, AMOS. However, with the electronic Log Book, figure 4, that information is going immediately into AMOS.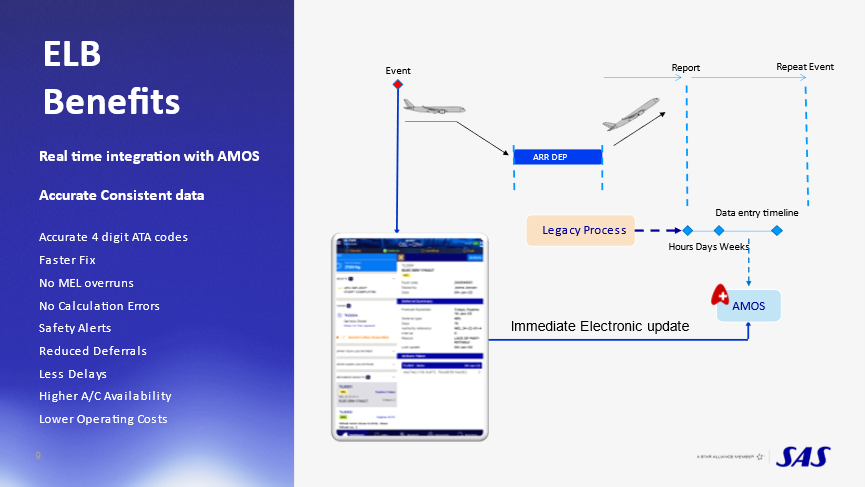 Figure 4
So, whatever happens in AMOS is happening in real time because of the connection into the electronic Log Book which has all the connectivity and protections. From the point of view of the crew, obviously, they need usability, so the application is very much designed to meet the needs of all those users.
SAS has chosen to use an iPad for the electronic log book with one device on the flight deck and one in the cabin; they will 'peer to peer' synchronize when they are not connected. Both devices can be used for all functions, so there's a hot standby available should there be a failure of the flight deck device. The ELB integration with AMOS is bi-directional.
BENEFITS
Looking at the benefits, you can see behind the red circle (figure 5) processes that everybody agrees are no longer necessary and, as a consequence, have now gone.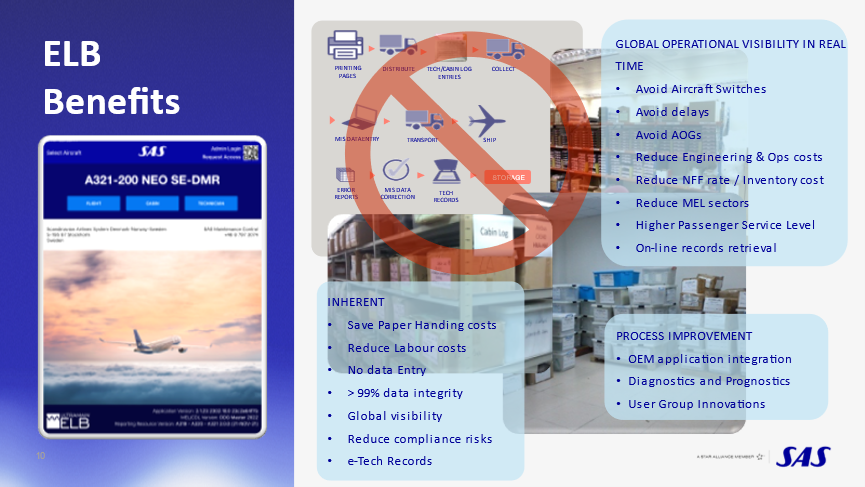 Figure 5
There's no printing, distribution, collection, paper entry, errors; most of that is eradicated. What that has immediately made possible is the saving in paper with something like 10,300 pages saved per month and literally hundreds of thousands of log book pages saved throughout the year. All of that paper has disappeared which also means that it no longer needs to be stored, scanned or corrected.
HOW THE NEW SOLUTION WORKS AND IS PLANNED TO WORK
Looking further into the future and with the application itself able to have autonomous alerting and on-device decision support, everything in AMOS will still work in real time but the new solution brings with it some decision support for the mechanic. This has already meant that some ULTRAMAIN users are seeing significant savings in component removal and 'first time fix' which means more operational availability.
Looking at the steps in figure 6.1…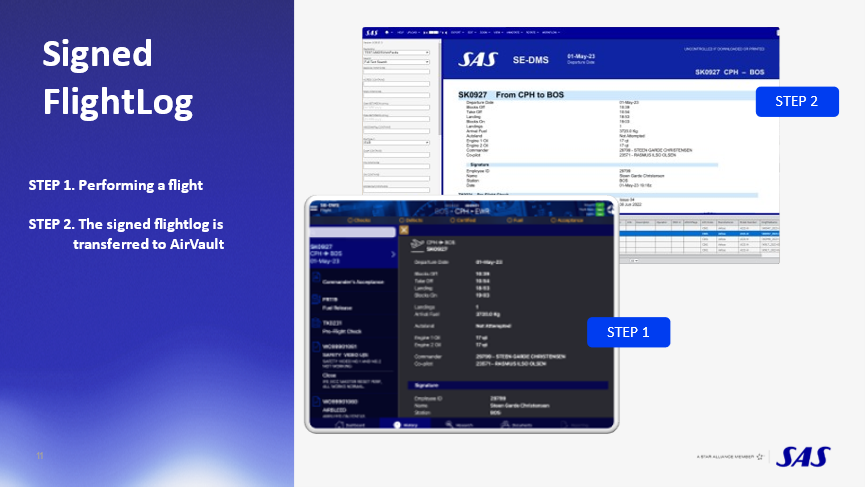 Figure 6.1
… as far as the flight log itself is concerned, the process starts with performing the flight and the signed flight log being saved straight into the SAS AirVault. Then, figure 6.2, there are the e-Line checks, not including defect management, and a compliance record being submitted to AMOS.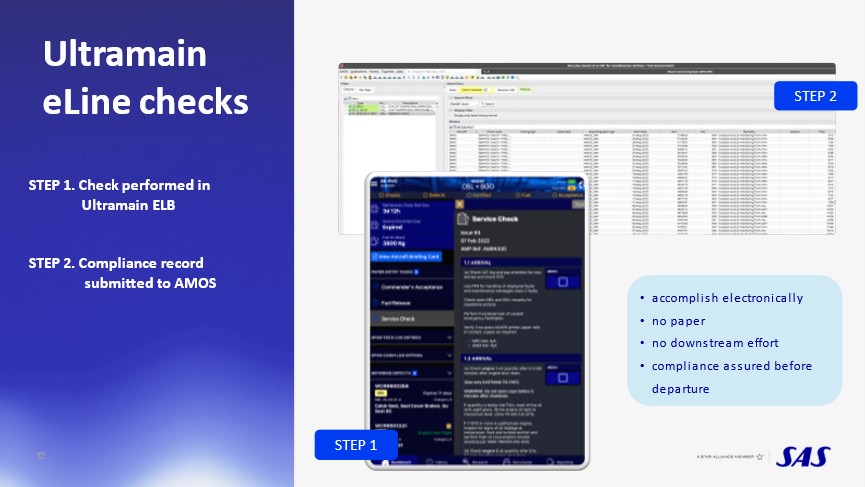 Figure 6.2
If we look at service checks, weekly checks, maintenance checks, all of that sort of thing, they have traditionally been carried out using paper and there's a lot of paper out there, even for many electronic log book operators. When Ultramain started to work with SAS, the airline said that they'd like a solution that brings all of those checks into the log book. The difference here, in composing maintenance manual content, between something like an e-Line check type application and, say, a maintenance check, is that if, let's say, you do an APU oil check, you don't need five pages of instructions, which is what you would get if using a work packaging. So, what Ultramain has done is that they've taken the line checks that are being used and digitalized them. That allows for an electronic signature per line, an electronic signature per check and, in this case, it's actually the 'per check' that's fed into AMOS for the compliance. It generates real time updates while, at the same time, it has also eradicated all of the line check side; that was actually an innovation for this SAS project and the information generated goes straight into AMOS for compliance.
From the planning side, it can be planned through AMOS or the log book itself will call it out when it's due; if it's disconnected, it will still get called out even if AMOS is not available to the log book.
Component changes go across to AMOS (Figure 6.3).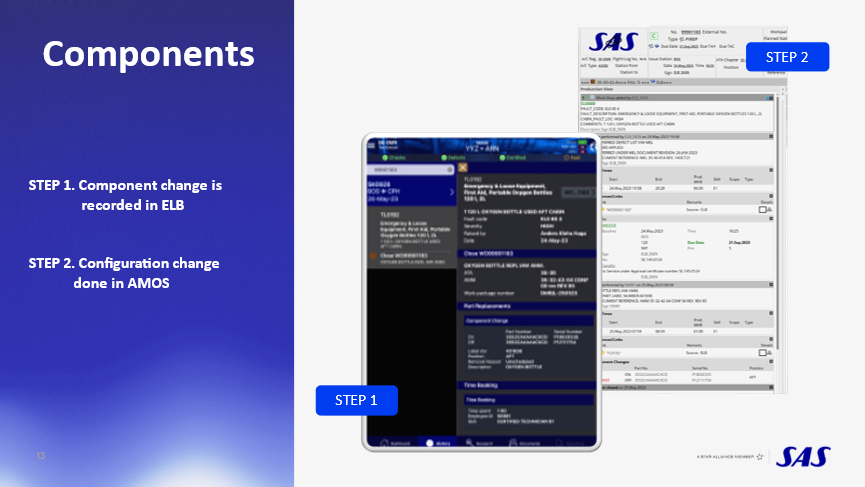 Figure 6.3
At the time of writing, the configuration changes were being done in AMOS but the component information was being fed in in real time and, obviously, it's linked to the task itself or the work order itself on the AMOS side. And then, there is the e-Execution (figure 6.4).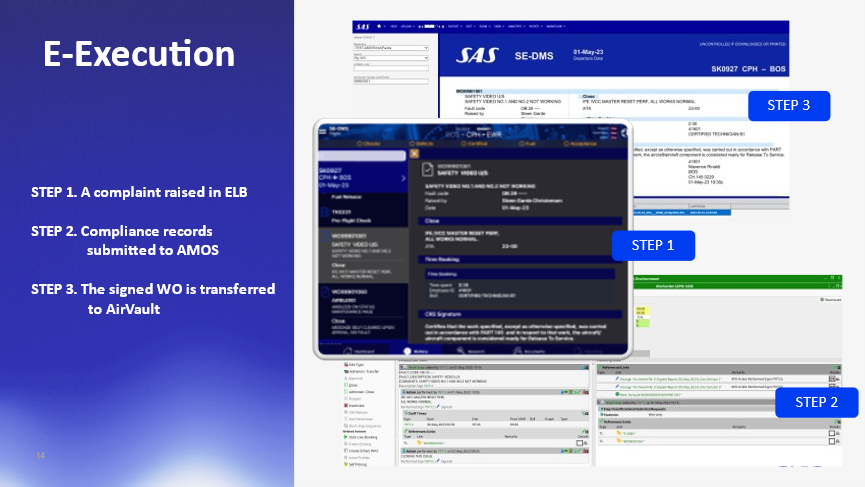 Figure 6.4
Complaints raised in the electronic log book, are fed into SAS's GE AirVault, and also into AMOS; again, in near real time. What that means is that the technical records are being done online and the AMOS updates are being done online and, incidentally, in the log book itself, SAS also stores PDF and XML files for Life of Aircraft Plus. There are three sources there of the same information synchronized.
A PRAGMATIC APPROACH
SAS has actually taken on the whole task, which is a big task, of moving across to the new way of doing things with the established user demographic: however, this has been accomplished with quite a pragmatic approach (figure 7).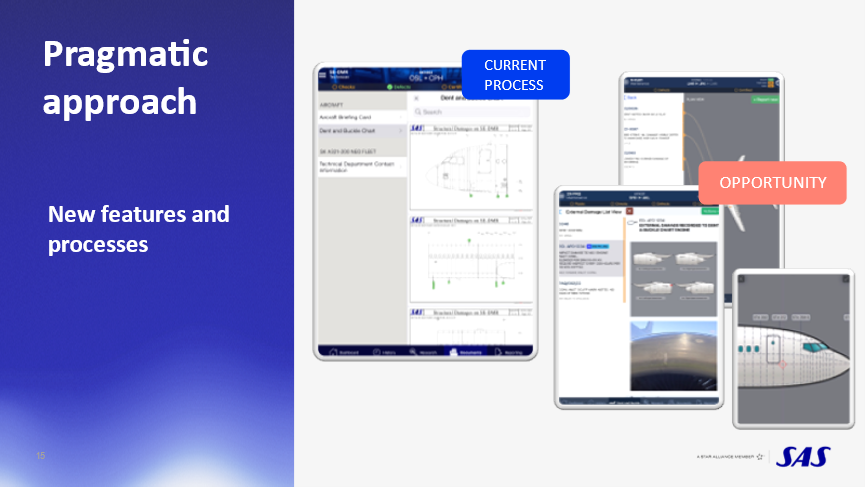 Figure 7
For instance, SAS has its own internal damage tool which they will continue to use for the time being. Looking to the future, the ULTRAMAIN solution does have Dent & Buckle Management (see middle of figure 6.4) and that might be taken up later by SAS but it was not felt that that particular change was immediately necessary as opposed to there being other changes that needed to be completed more quickly.
SAS is planning to implement the ULTRAMAIN tool in all three AOCs within the group (SAS, SAS Connect and SAS Link) as part of the group's transition to one group-wide CAMO process.
ANALYTICS
The airline had noticed that a number of MAREPs (Maintenance Reports) in the technical log, which either acknowledged scheduled maintenance for information purposes or confirmed a troubleshooting step for an issue that had already been reported, had an influence on the reliability rate.
ULTRAMAIN addresses both scenarios with distinct functionalities, enabling the reporting of scheduled check completions and individual troubleshooting steps within the logbook page. As a result, SAS expects a positive influence on MAREP rates. This rate change is monitored through the Reliability Dashboard application developed by SAS within the Skywise analytical platform (figure 8).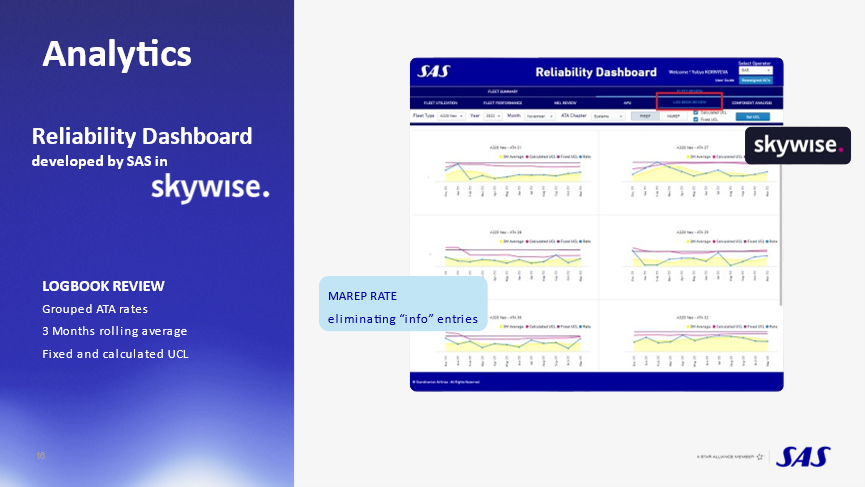 Figure 8
The Reliability Dashboard provides, in an informative manner, visual representations of performance indicators related to delays, cancellations, and unscheduled and deferred maintenance, as well as component replacements. Its effectiveness has motivated SAS to make it available to other airlines on Skywise platform.
To conclude SAS's electronic journey (figure 9) …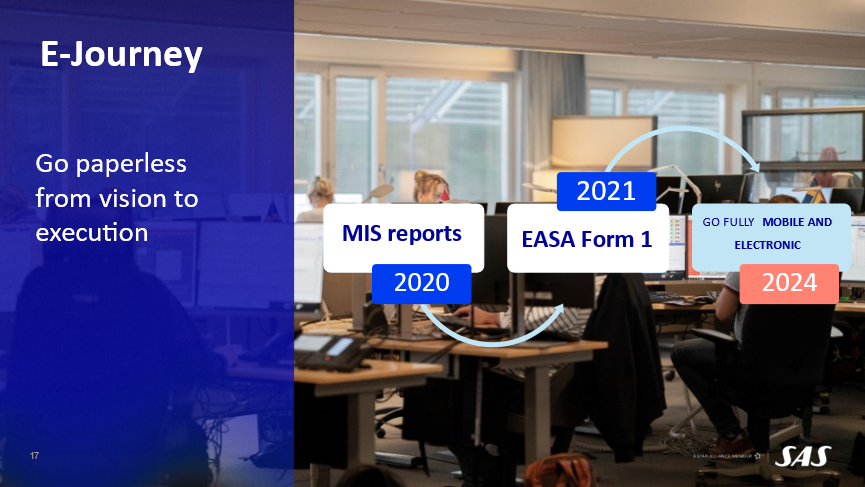 Figure 9
… the first step that the airline made towards being completely electronic was caused by COVID forcing the airline to move to an electronic signature in AMOS reports. Subsequently, the next milestone was securing regulatory approval for electronic signatures in EASA Form 1, a milestone successfully achieved in 2021.
SAS has already demonstrated its ability to verify signatures through AMOS using the eSign solution on EASA Form 1, instilling confidence that additional approvals for Electronic Technical Log will be forthcoming. The airline aims to achieve full digitization for its Tech Operations, including mobile and electronic capabilities, by the end of 2024.
That was SAS's journey which has really mattered to the airline and we hope that readers will also find it of interest and an inspiration, and that any who are daunted by the prospect of change will see that it is a straightforward matter if well planned and undertaken with the right partner.
Contributor's Details
Yuliya Kornyeva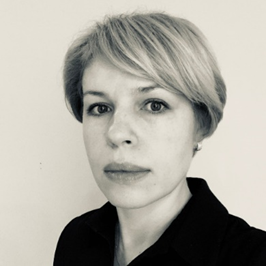 As part of the SAS Digital & IT team, Yuliya supports the development and implementation of analytical tools for data-driven decision-making, integrating data from various sources, including aircraft maintenance, operations, and sensor data.
Before SAS, Yuliya managed aviation IT projects, focused on M&E software, Electronic Log Book, and Technical Records digitalization. She also worked as a maintenance contract manager, reliability engineer, and CAMO manager in different countries.
Dlovan Sandi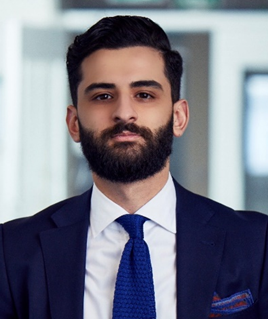 Dlovan is part of SAS Aircraft IT team working with systems mainly related to CAMO and Maintenance Production, but also Flight Operations. With a diverse background in the aviation industry, Dlovan supports in cross-functional processes as well as specialized areas to make the most out of the systems in use and has incorporated the experience in the ELB implementation.
Rob Saunders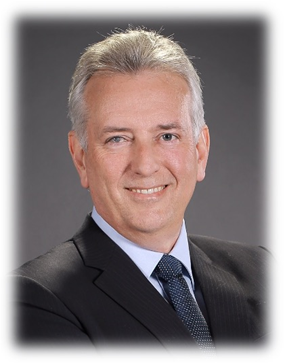 Rob has 43 years of aviation maintenance experience, beginning his career with British Airways, followed by Cathay Pacific where Rob led several Programs with a focus on business improvement and digital transformation. He now serves as the Director of Business Development for Electronic Logbook at Ultramain Systems, offering expert guidance to Airlines, MROs, and IT Suppliers in electronic logbooks and Line Maintenance processes. His focus is streamlining maintenance and operations, specializing in Electronic Logbook and Digital Operations.
SAS (Scandinavian Airlines)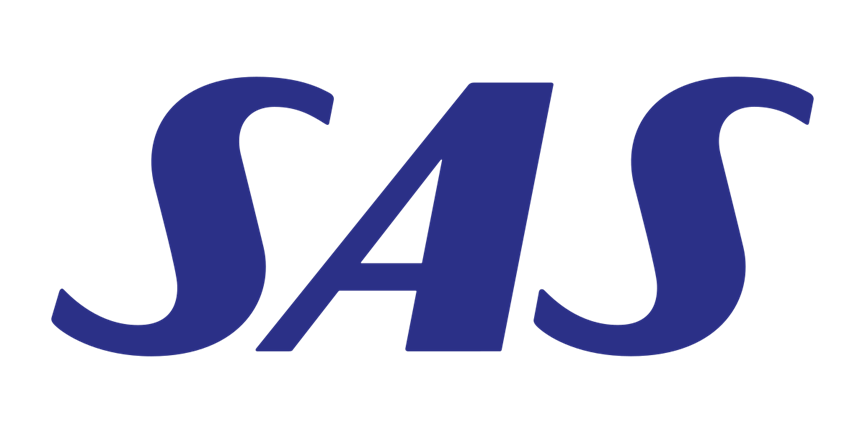 SAS (Scandinavian Airlines) serves three countries; Norway Sweden and Denmark with the highest frequency of departures to and from Scandinavia to 1300 destinations world-wide. The airline operates one of Europe's most modern and efficient fleets of Airbus A320 family aircraft, both CEO and NEO, as well as Airbus A330-300 and A350-900, and Embraer E195LR. Further modern aircraft are on order.
Comments (0)
There are currently no comments about this article.