Aircraft IT MRO Issue 48: July / August 2021
Subscribe
Articles
| Name | Author | |
| --- | --- | --- |
| Case Study: Singapore Lessor (DAC) Eyes Further Digitalization | Jefferson Ding, Managing Director at Dragon Aviation Capital (DAC) | View article |
| Case Study: Engineer Training and Monitoring Solution Project at FL Technics | Liudas Jurkonis, Deputy CEO for Engineering, Design and Technical Training Department, FL Technics | View article |
| White Paper: IT systems adoption Part 3 | Allan Bachan, VP, Managing Director, MRO Operations, ICF | View article |
| WHITE PAPER: Sustaining aviation after recovery – part 2 | Gesine Varfis, Marketing Manager APSYS and Gabriel Godfrey, Product Owner – Sustainable Aircraft, APSYS | View article |
Case Study: Singapore Lessor (DAC) Eyes Further Digitalization
Author: Jefferson Ding, Managing Director at Dragon Aviation Capital (DAC)
Subscribe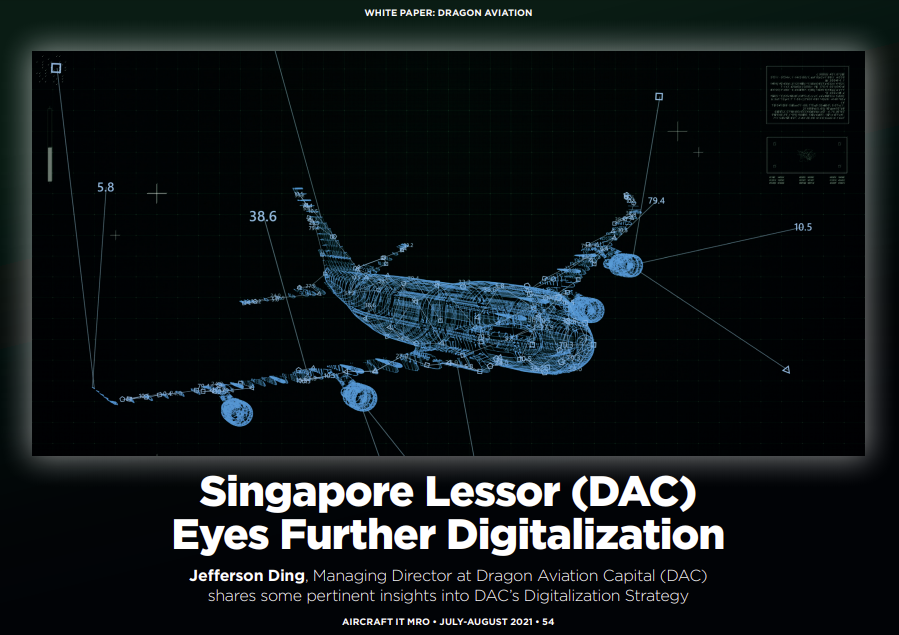 Jefferson Ding, Managing Director at Dragon Aviation Capital (DAC) shares some pertinent insights into DAC's Digitalization Strategy
DRAGON AVIATION CAPITAL (DAC)
Dragon Aviation Capital (DAC) provides aircraft records scanning services and digitization, by means of OCR text recognition from which the final digital documents are structured to fit the Lessors'/Aircraft Owners' requirements, and are fully searchable. These digitized records are maintained in a secured cloud service accessible to anyone who is authorized to do so from wherever they might be located.
THE GROWTH IN DIGITALIZATION OF RECORDS
As an aircraft and engine leasing specialist, Dragon Aviation Capital is prioritizing records digitalization as part of a future strategy to further embed new technologies into the business. In this article, I'm going to share with you something of what DAC proposes to do, how it will be done and what gains we expect to see as a result of implementing records digitalization.
Given that digitalization is a key issue in aviation right now, we'll start by looking at what Dragon Aviation Capital, as a lessor, has done to implement this into its operation. Over recent years, we have witnessed a shift toward the digitizing of asset records handling and believe the aviation segment has been progressive in its embracing of new technologies, such as the Global Aircraft Trading System (GATS) tool. Digitizing is the new standard for handling aircraft records and has been in active use in the aviation sector for the past few years.
Digitalization is a tried-and-tested process and, in line with the resurgence of available cloud services, and maintenance records management platforms as well as digitizing of managing aircraft records, we expect that aircraft asset management and transitions will be the new standard practice.
As well as for DAC itself, we are also seeing a more wide-spread digital approach in the industry and with some of our maintenance partners. In fact, it is a continuous trend. In the past year during the COVID pandemic, the aviation industry has been relying heavily on digital platforms to conduct their business. Increasing numbers of aviation companies have tapped into digital platforms in areas such as fleet management and maintenance planning. Some examples would be aircraft lease returns, aircraft pre-purchase inspections or acquisitions and aircraft maintenance checks. We too have gained much knowledge from all these new experiences and will continue to do so as we are pressed to adapt to the new norm.
In a particular step change brought about by the pandemic and a shift toward digital technologies, we have also seen an increasing trend, among ASEAN based airline operators and their MRO spin-offs, to engage third party services provider like DAC to provide cost effective solutions for the digitization of historical aircraft records to improve routine operations and support advanced preparation of aircraft and engine End-of-Lease projects.
ADAPTING TO WHAT THE MARKET NEEDS
As digital records, replacing paper ones is also a current trend, particularly with regard to leasing, Dragon Aviation Capital (DAC) has adapted and utilized this to cater for the current needs of the market. We believe that a paperless process is a vital element in any successful approach to records management. To put it into perspective, the reality of having digital records as compared to physical copies is that they are simply more cost effective and more easily accessible to end-users. A substantial decrease in storage rental expenses and improved accessibility of records are the main driving force in having records digitized. It also makes it possible for everyone to work together from wherever they might be located, very useful in light of the current travel restrictions and with the limitations on face-to-face interactions.
As we've already explained, Dragon Aviation Capital (DAC) provides aircraft records scanning and digitization services. When the records are scanned, the team will have those documents audited, put through an optical character recognition (OCR) process and uploaded to a secured cloud service where the documents are fully searchable using OCR text recognition; one example of how this can save time is in finding a particular Part No or Serial No.
The DAC team maintains that secured cloud service where anyone who is authorized to access it can do so, at their convenience, from any location. An example of where we have implemented this service is for aircraft end-of-lease (EOL) projects, where all the documents are scanned and uploaded on a site so the lessor, operator and our team (based in Singapore, Malaysia, Philippines, South Korea and Hong Kong) can access these documents remotely. Compared to other parts of the commercial aftermarket, in terms of technology adoption the leasing sector is moving progressively in embracing new technology, one example is the GATS platform (see above).
LOOKING TO THE FUTURE
One area where we have thought about the future is in the engine leasing business where, during this time, DAC has also expanded the business beyond aircraft into engine leasing, to provide asset management services. Dragon Aviation Capital is providing asset management services for our clients and has placed some engines (V2500-A5s, CFM56-5Bs, etc.), APUs and Landing Gear out on lease in the past year.
But there is also the broader question of how aircraft leasing might recover in Asia-Pacific after COVID-19. Our expectation is that it will recover in due time and, for now, we expect international air travel activity in Asia Pacific to revert close to 50% (estimated) of pre-crisis levels by 2022.
However, currently, the continued deterioration in the financial health of airline customers means that aircraft lessors will still face more collection issues or be forced to offer extended rental deferrals. Additionally, lessors' revenues and earnings would also take a further hit if they are forced to remarket repossessed aircraft and renew leases at weaker rates due to the significant demand-supply imbalance. That said, the impact will vary depending on the lessor's asset quality and digitized records will make a key contribution to this as well. Ends…
Contributor's Details
Jefferson Ding

Jefferson Ding has over 25 years of aviation experience in planning, engineering technical services, asset management, and aircraft and engine trading. Starting at EVA Airways, he held various management roles with Leasing and Airline businesses plus was a founding member of EVA Airways in Taiwan and Transportation Partners in Singapore. He also set up Batam Aero Technik for Lion Air Group. Mr. Jefferson Ding holds a BS-Naval Architecture & Marine Engineering and graduated from the Spartan School of Aeronautics plus holds a valid a FAA A & P License.
Dragon Aviation Capital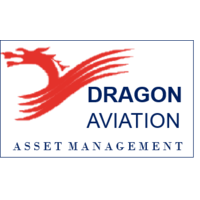 Headquartered in Singapore with regional offices in Malaysia, Philippines, South Korea and Hong Kong, DAC is uniquely positioned with the capability to provide a seamless approach on all technical services, for both aircraft operators and financiers, covering the entire aircraft and engine life-cycle from pre-acquisition and delivery phase through to commercial operation and asset redelivery, sale or part-out. DAC advises on all aspects of commercial and management exposure to maximize asset value while minimizing transactional risk and techno-commercial exposures.
Comments (0)
There are currently no comments about this article.