Aircraft IT MRO Issue 48: July / August 2021
Subscribe
Articles
| Name | Author | |
| --- | --- | --- |
| Case Study: Singapore Lessor (DAC) Eyes Further Digitalization | Jefferson Ding, Managing Director at Dragon Aviation Capital (DAC) | View article |
| Case Study: Engineer Training and Monitoring Solution Project at FL Technics | Liudas Jurkonis, Deputy CEO for Engineering, Design and Technical Training Department, FL Technics | View article |
| White Paper: IT systems adoption Part 3 | Allan Bachan, VP, Managing Director, MRO Operations, ICF | View article |
| WHITE PAPER: Sustaining aviation after recovery – part 2 | Gesine Varfis, Marketing Manager APSYS and Gabriel Godfrey, Product Owner – Sustainable Aircraft, APSYS | View article |
Case Study: Engineer Training and Monitoring Solution Project at FL Technics
Author: Liudas Jurkonis, Deputy CEO for Engineering, Design and Technical Training Department, FL Technics
Subscribe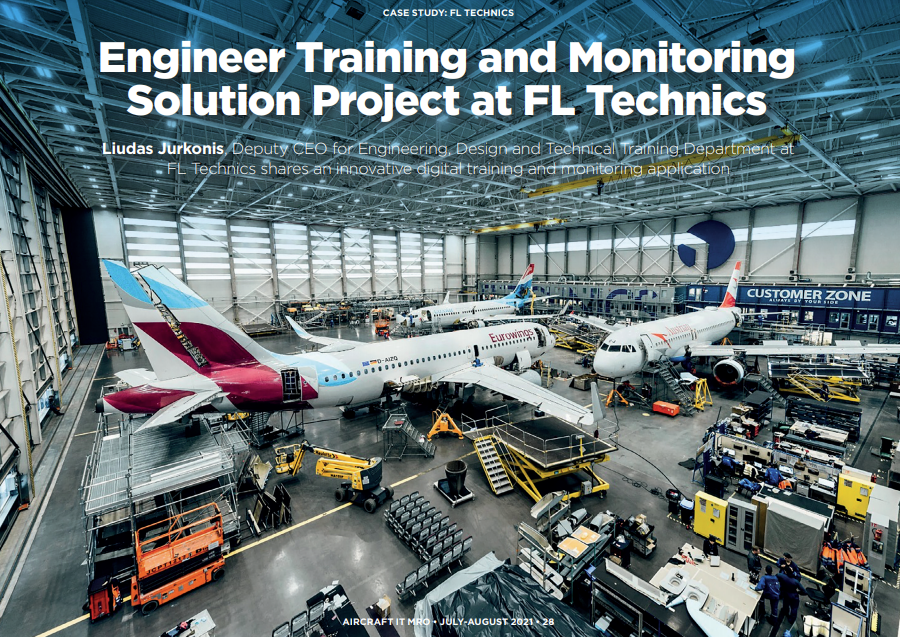 Liudas Jurkonis, Deputy CEO for Engineering, Design and Technical Training Department at FL Technics shares an innovative digital training and monitoring application
I'm pleased for the opportunity in this article to share with Aircraft IT readers, some information about the IT-based training management solutions developed at FL Technics. Before tackling the main subject, we'll take a look at FL Technics itself and I'll introduce myself. My role involves leading three organizations within FL Technics, those being: Technical Training (Part 147), Engineering Solutions (Part M), and Design (Part 21J). This article is mainly about technical training but with my involvement in engineering, in design and my teams from Base Maintenance and Line Maintenance, our training includes a good balance between theory and practical applications which we believe creates a great deal of added value. Also, I am a fan of and proponent for continuous process improvement and for digitalization. From that point of view, I'm always pleased to be part of process improvement initiatives and thinking of how we could digitalize the services offered by FL Technics.
FL TECHNICS
To share some facts and figures about FL Technics (figure 1), I'm sure that readers will be aware of the brand and some of these facts about it but I hope it will be informative to have them all brought together in one place.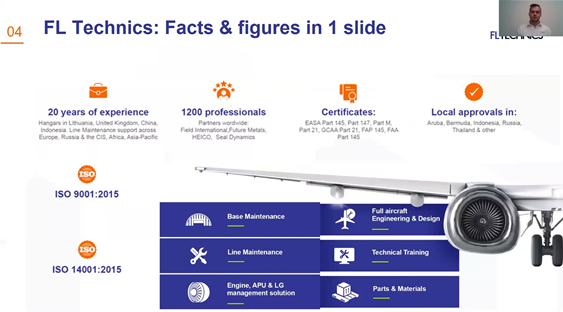 FL Technics is a one-stop-shop and global MRO business with a more than twenty years track record. Although a Lithuanian business, there are also hangars in the United Kingdom, in China, in Indonesia as well as a huge network of Line Maintenance support facilities around the world. There are more than 1,200 professional partners working in the business world-wide, a depth of competence that really complements and offers huge synergy for FL Technics' service package. As well as the certificates for which I have responsibility (see above), Part 147, Part M, Part 21, the core business activity is about Base and Line Maintenance and is covered by FL Technics' Part 145 certificate. The business does not only have EASA and FAA related certifications but we are also proud to have local approvals in Aruba, Bermuda, Indonesia, Russia, Thailand and many other jurisdictions.
Furthermore, it's worth mentioning that our quality management system is also under constant development and, for today, FL Technics has ISO 9000 for general quality management plus we are focusing on the quality management system within the environment field for which the business is ISO 14000 certified. If readers wish to learn more about that quality management system, please feel free to contact me but, to sum it up, FL Technics as a one-stop-shop solution can help with Base and Line Maintenance. There is also a huge team devoted to Engine, APU and landing gear management solutions, parts and materials trading as well as full aircraft engineering and design plus technical training.
PART 147 TRAINING MARKET – KEY TRENDS
Now, with the context established, let's look at the topic for this article: technical training market trends that can be observed today (figure 2). Naturally, with the COVID situation at the time of writing, there has been a drop in training volumes. However, it is likely that everyone in the aviation sector understands that technical training remains a must, the need for which will recover and probably recover soon.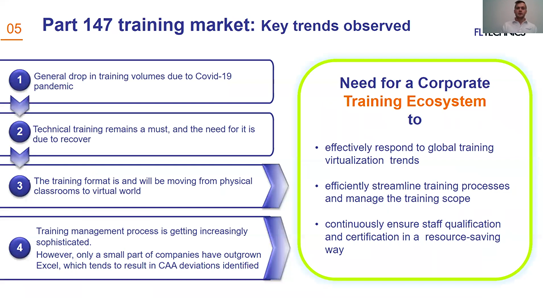 That being said, those who are in the business see that training formats will, in future, have to move from physical classrooms to the virtual world. At the same time, the training management process is getting increasingly sophisticated and more complex. However, the organizations that make up the aviation industry do not always manage to keep up with how complex those processes are becoming with only a small number of organizations having outgrown Excel when it comes to the management of technical training. This can result in deviations, quality issues and other problems. Having that in mind, as long as five years ago FL Technics started to develop a training eco-system which could move to the digital world but would also help organizations, including FL Technics itself, to manage training processes in a more effective way. The question is, how can that be done?
It is managed using a combination of two systems: www.147training.com which is an online training platform; and a system called DESK, an internal training management platform.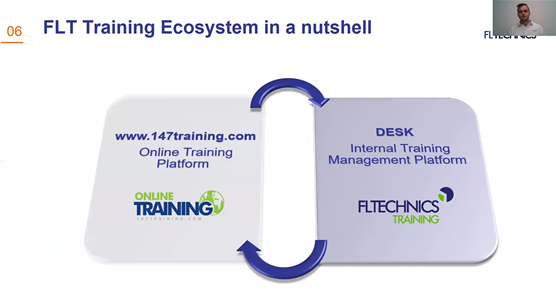 The two systems have good synergies and effective interfaces between them which makes it much easier to manage FL Technics' internal training processes but also to help the business's clients to handle their own training processes. Let's consider both of these systems in greater detail.
www.147training.com
This is a remote online training platform offering EASA Part-147 compliant aircraft maintenance courses for online completion. These mainly pre-recorded specialized training programs cover topics such as aviation legislation, safety management, human factors and more. Check out the website to discover the range and variety of courses and how they are packaged to offer the aviation industry the comfort of being assured that training has been properly delivered. One of the nice things about the online training is that it incorporates some key functionalities (figure 4.1) which we can go through.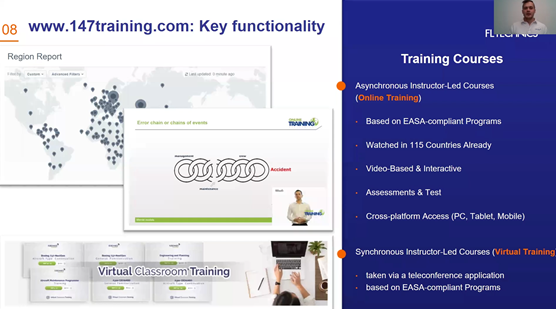 As already mentioned, there are two types of training covered: online training and virtual training. All training programs are fully EASA compliant, thoroughly supervised by FL Technics' training managers and the quality management systems, plus they are now used in more than one hundred countries. The courses are video based and highly interactive; they include the assessments and tests which makes them very comprehensive, and not at all superficial, courses into which students can really immerse themselves.
During the pandemic, FL Technics has moved beyond internal training and tried to serve customers with virtual courses as well. We're very proud that the team has improved the system and attained all of the approvals to make FL Technics' training virtual (figure 4.2). There are now virtual training programs delivered over teleconferencing platforms which are, again, fully compliant with current EASA requirements.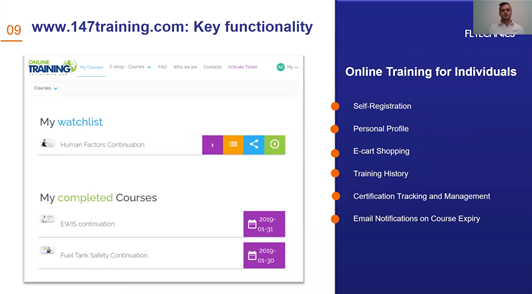 The online training is available both for individual and for corporate clients; it is also very easy to use as the software registration functionalities include all the personal profile of what each student has undertaken and passed, with their training history and all of the email notifications of the courses. All in all, this is a very user-friendly account management.
The second part is aimed at corporate clients and corporate accounts (figure 4.3).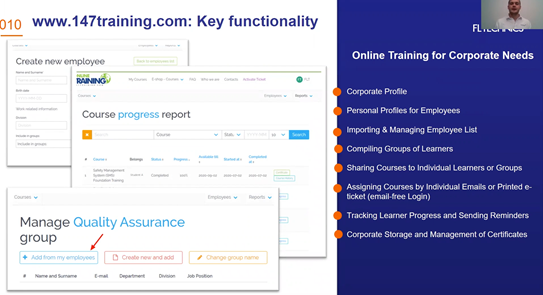 The reason for developing this part of the system is that we have seen that companies would like to manage the whole pool of their aviation specialists, to manage the whole process with the individual needs of the aero-engineering team and compile the various training needs into one place. The corporate account holder can allocate the courses for individuals, assign them according to their individual needs and manage them effectively.
This, in a nutshell is what the online training platform looks like. The important and interesting aspect of this is how the online platform integrates with the internal management training platform. First let's have a look at what this system is all about (figure 5).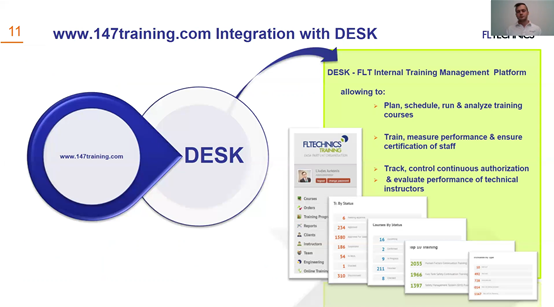 In brief, the system enables users to plan, schedule, run and analyze training courses. For those who are responsible within their organization for this area of activity, this is an ideal tool to have or to consider. It also enables uses to train, measure performance and ensure that the certification process is being managed properly; to track deadlines and not to miss them plus to have an upfront process behind that. It also enables users to track and control continuous authorizations as well as carry out evaluations of the performance of the technical instructors. Everything is managed in one system.
In figure 5, you can see some of the screen shots from the system showing the pre-program reports that it produces showing training by Status, training by priorities and so on.
DESK – Part 147 training management system overview
Again, let's have a look at a couple of the key functionalities that are of the greatest interest (figure 6.1). First is the organizational process itself.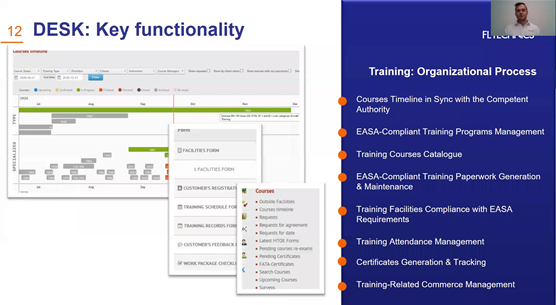 There are functions implemented such as content timeline management which is synchronized with the competent authority: the competent authorities can plug themselves in to manage FL Technics' compliance with EASA rules. In this way, we believe that we have not only effective supervision from the relevant authorities but we are also constantly in contact with them. So, it monitors and reports on management of the EASA compliant training programs but it also has the full catalog of training provided by FL Technics or, if this is managed by or on behalf of the client, then that client can see what their team is currently being trained on or what they are planned to be trained on. With this tool it is also possible to track attendance, generate certificates, track the generation of certificates and really manage the whole process through a couple of pre-programmed reports and dashboards.
Reports and Analytics (figure 6.2) is a second tool that is very useful. It has the cross-cutting data analysis and reporting, good, user-friendly dashboards and graphics which are not too busy or overcrowded but really simple to view and to read. There are email notifications and notifications to mobile devices embedded, which make it practical and easy to use for training managers who are responsible for the supervision of that training management process.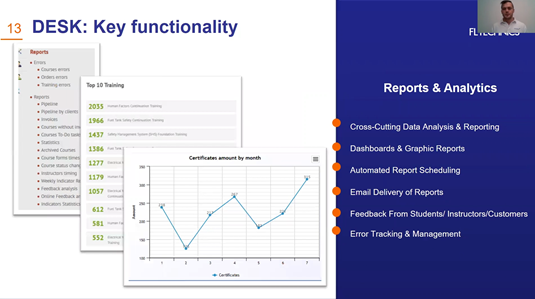 We also thought it would be very useful to ensure for continuous growth and development to have a built-in system to facilitate feedback from students, instructors and customers which in turn helps FL Technics to grow and develop the system.
Authorization and certification of internal staff (figure 6.3) is another function for the internal process for the organization. It helps the quality managers who are training staff to observe the process of licensing, qualification and training requirements; monitor the continuous training needs; monitor the life-cycle of training and assign relevant courses to employees.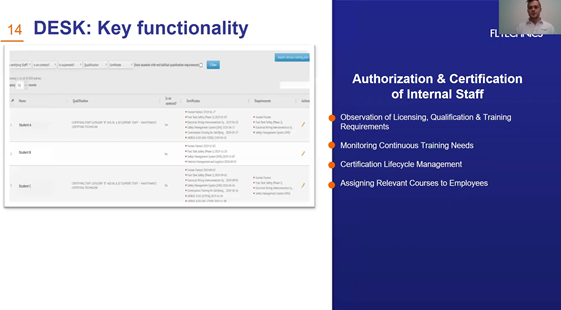 Again, some useful dashboards and analytics are already built-in which FL Technics makes good use of every day. The functionality of scope management for technical instructors (figure 6.4) is one of those daily use features integrated with the screens and monitors that FL Technics has in every training class which allows the business to see where instructors are and which courses they are leading, which enables users to feel part of the global organization not just a local or regional training management school but that they're actually impacting the whole global aviation community.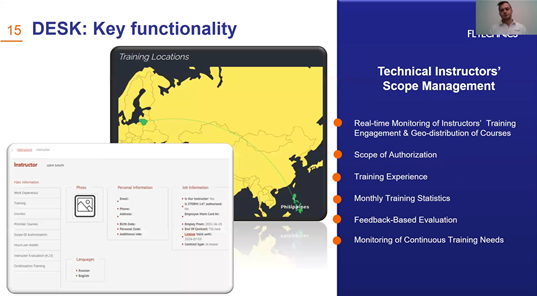 This functionality includes the monthly training statistics and it has the evaluations so that management can see online whether a course has yet completed and the feedback from students as well as grow, develop and monitor the training management program.
If the two systems, DESK and www.147training.com, are combined, it is possible to identify the synergies in the systems, the flexibility and the ability to customize the systems (figure 7).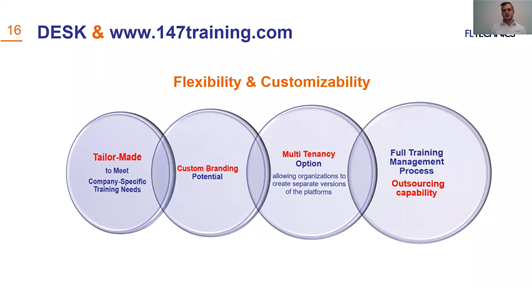 The plan is not only to have the system for FL Technics' internal needs but it's also something with which we can help external organizations to manage their training needs on an outsource basis. That is possible because the system is able to be tailored for a company's specific training needs, can be branded for a specific organization so that it feels like that organization's tool and not something from FL Technics and it could be used on and/or integrated with a variety of platforms or with a full outsourcing capability giving the training management process to outsourcing partners FL Technics. In the current environment with cost saving and effective management of key importance, the combination of those two tools, the digital virtual platform which is fully integrated in the training management process, gives huge value added; not only from a cost-saving perspective but also because of about the flexibility of the tool itself.
SUMMARY
To summarize what I have tried to express and convey in the article, there are some key take-aways to understand (Figure 8).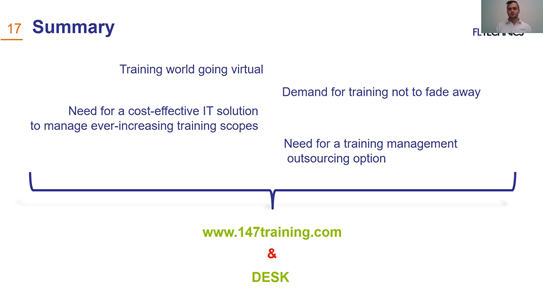 It is now generally accepted and agreed that training will largely go virtual and digital, and even if we see that the regulatory environment is following the trend, we need to be a couple of streps ahead which is what this training application has achieved. Even with the COVID impact and even with current training needs being on a smaller scale, we can expect to see a huge demand growth currently with the expiries of certificates and licenses. Nevertheless, whether in a pandemic or in normal conditions, the cost effectiveness and integrated IT solutions to manage ever-increasing training scopes and complexity is something that every organization will have to consider. Outsourcing is always an option to include in any considerations.
That is what this article has been about; managing the virtualization of training needs and the platform that we have built in FL Technics. I hope that it proves useful for readers.
Ends…
Contributor's Details
Liudas Jurkonis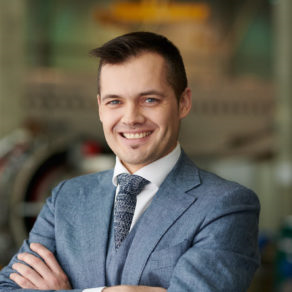 With a Bachelor's Degree in Finance (Economics) as well as Master's Degree in International Relations and Political science at Vilnius University and having more than 15 years' experience within the professional services industry (Ernst & Young) Liudas now focuses on business development and process improvement aspects, as well as identification of potential areas for cooperation with partners that could lead to growth of joint business opportunities.
FL Technics

FL Technics is the largest aircraft Maintenance and Repair Organisation (MRO) in the Baltic States, as well as one of the largest MRO companies in Eastern Europe and CIS countries. The company acts as one-stop-shop maintenance solution provider for Commercial and Business aviation, serving a wide range of customers from CIS, EU, Middle East, and Asia. FL Technics provides services through two Base Maintenance facilities in Lithuania and Ukraine, as well as remote Line Stations, spread across EU and CIS countries.
Comments (0)
There are currently no comments about this article.