Aircraft IT MRO Issue 50: Winter 2021
Subscribe
Articles
| Name | Author | |
| --- | --- | --- |
| CASE STUDY: Smartwings journey to a more effective digital supply chain | Petr Barton, Head of Logistics & Stores, Smartwings | View article |
| CASE STUDY: Cargolux & TRAX eMOBILITY Q&A Part 2 | Stephane Kastler, Director of Maintenance & Production, Cargolux | View article |
| WHITE PAPER: Technologies for a promising future | Rob Mather, Vice President, Aerospace and Defence Industries, IFS | View article |
| CASE STUDY: Rolls-Royce and QOCO; working together for PLM | Nick Ward, Head of Product Management for Digital Services, Civil Aerospace at Rolls-Royce | View article |
WHITE PAPER: Technologies for a promising future
Author: Rob Mather, Vice President, Aerospace and Defence Industries, IFS
Subscribe
Rob Mather, Vice President, Aerospace and Defence Industries at IFS explains the 'here and now' technology that will speed pandemic recovery and power airlines and MROs into the future.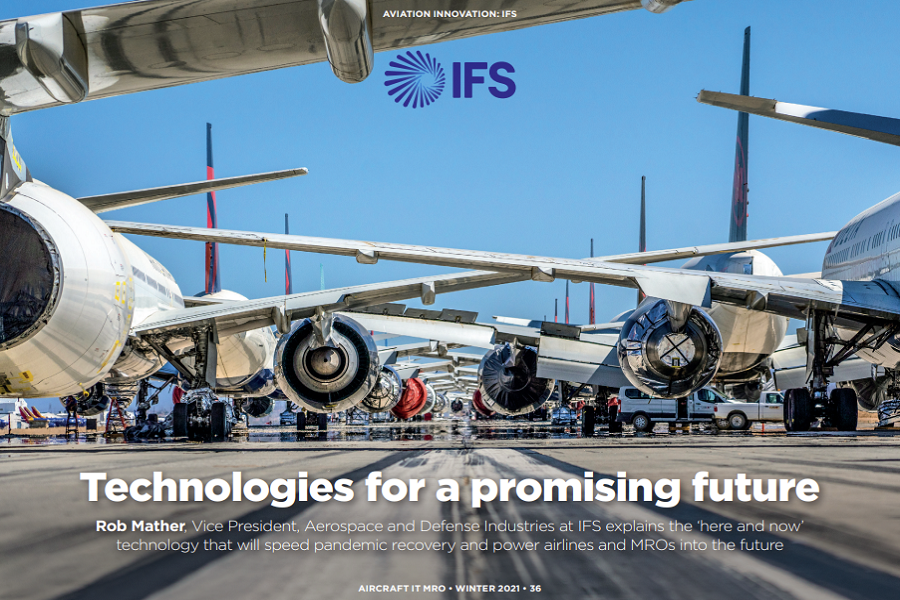 The aviation industry has faced massive economic challenges—from travel restrictions and quarantine rules to complete lock downs, airlines and MROs are still playing catch-up from the near total shut-down of international travel in March of 2020. Today, the sector is fully aware that it is entering a prolonged recovery phase in response to the last 18 months, and that means balancing operational flexibility and agility alongside safe fleet reintroductions. Stopgap measures such as parked aircraft and conversion to cargo services have helped in the short-term while, on the labor front, investment in remote working has helped mitigate overheads. However, to secure their long-term future during what is a sustained period of economic pressure, airlines and their counterpart MRO service partners are turning to new technologies and digital transformation. Importantly, there are three areas where technologies can be easily integrated to quickly deliver competitive advantage despite razor thin margins.
In the wake of that March 2020 shutdown, airlines immediately sought to maximize their organizational efficiencies by doing more with less. This ranged from keeping the business operational with skeleton crews of staff, to extending the life or increasing the availability of existing assets to the maximum possible extent.
PLANES GROUNDED IN PARKING LOTS
Work restrictions and social distancing requirements also forced businesses to work differently than they have in the past. Interestingly, in some cases these changes have demonstrated to previously change-averse organizations that rapid change is actually possible, and many leading organizations have seen the advantages that altering the way they work can bring. Key examples being the FAA using remote collaboration on the evaluation of the 737-MAX, or the arrival of 'preighters' as primarily passenger airlines convert their aircraft to carry additional freight thereby unlocking new revenue streams. Stats also show airlines taking a varied approach to managing fleet sizes. According to Cirium, 15 percent fewer large commercial jetliners were scrapped in 2020 than in 2019, with "airlines struggling to afford new aircraft may also need to keep older models for longer." On the flip side, other airlines have taken an alternative approach and accelerated retirement of already aging and costly to maintain aircraft.
Regardless, most airlines have had to make do with reduced workforces and significantly reduced fleets. Even as recently as May 2021, according to Cirium, the worldwide in-service passenger jet fleet of all types stood at over 18,700 with almost 7,700 in storage, representing just under 29% of the global inventory. Managing so many parked and stored aircraft brings its own challenges, but the most strategic aviation organizations are actually seeing an opportunity.
DIGITAL INITIATIVES ARE PICKING UP THE SLACK
For many airlines that run to the tightest of margins, IT projects can be perceived as risks to continued operations. There's no ability to free up the resources needed to execute projects and the potential disruptions to business have often meant much needed IT investments have been put off.
But now, those previously tight systems contain some unexpected slack. With lower load factors, fewer aircraft in service and, depending on levels of government support, potentially staff under less than typical pressure, there has been a somewhat surprising trend towards investment in digital transformation initiatives—even from the usually ultra-lean independent MRO sector. Organizations are seizing the opportunity before them. In fact, recent statistics from SITA show 31 percent expect an increase in IT spend in 2021, despite pandemic disruption.
But this increased spending doesn't necessarily require large scale digital overhauls. IFS has found some airline and MRO organizations are looking for technology tools which tackle key recovery plans, such as unlocking the predictive maintenance efficiencies, allowing remote collaboration and addressing safety issues.
THE LONG-HAUL BACK TO TRAVEL OR IS THE RACE ON?
As vaccination rates increase globally and infection rates in many countries are declining, we are looking at a gradual re-emergence of commercial air travel. Many predictions have shown narrow-body fleets returning to 2019 levels in 2023 with wide-bodies following in 2024. However, faster than projected vaccine roll-out in some regions and rebounds to domestic air travel happening more quickly in markets such as the U.S., means that there is a clear possibility of significantly beating those predictions. For the most forward-thinking airlines, it's now a race to see who is going to emerge on top and, as such, many airlines are seeking new competitive advantages for them to leverage as they look to be first out of the gate.
INVESTING TO GAIN ADVANTAGE
At IFS we see airlines and MROs investing in certain operational focus areas to gain competitive advantage against an industry backdrop of recovery and economic pressures. Let's discuss three that help maximize through-life support at multiple stages of the aircraft lifecycle.
AI, ML and IoT combine to drive predictive maintenance efficiency
One of the maturing industry technology applications is the use of Internet of Things (IoT) and Machine Learning (ML) for predictive maintenance. Maintenance software applications now allow for the aggregation of real-time sensor data, business and operations data, logs, and more into a data lake infrastructure – with the ability to transform all this information into proactive maintenance tasks.
These data insights, along with machine learning models, can then be used to produce advanced statistics and KPIs to provide a holistic view of the asset or component in question, combining historical and forecasted values. Thanks to these digital developments, the often risk-averse aviation industry can pivot to using predictive maintenance models not only to increase performance and reduce costs, but also to better manage risk and enhance safety.
For example, as of 2020, Rolls-Royce is using AI (Artificial Intelligence) forecasting, which is supported by IFS, to help airline customers automatically update predicted maintenance deadlines for every life-limited component inside their engines – a key part of the Rolls-Royce Blue Data Thread strategy, a digital information thread connecting every Rolls-Royce powered aircraft, every airline operation, every maintenance shop and every factory.
Remote Assistance lends a digital helping hand
As travel begins to resume, passengers will be greeted by more mobile, touchless and social distanced technology to help navigate them through the airports. Similarly, airlines have deployed technology to protect their employees and deliver new operational efficiencies.
The proliferation of smart devices, and maintenance software applications now available on mobile has fast forwarded merged reality—where the real and virtual world are mixed and objects from both can interact. With remote working and social distancing becoming commonplace, remote assistance technology is ready and available and has been taken up by growing numbers of airlines and MROs who are quick to see the benefits and adopt the solution.
Remote assistance enables team members to work together over long distances, sharing information in a common view and diagnosing and fixing issues together. Remote assistance tools are also able to create an auditable archive of recordings that can later be searched through and reviewed, another valuable point for inspection, quality assurance, training, and compliance activities. We see remote assistance becoming more and more of an option—as early as March 2020 the Federal Aviation Administration (FAA) announced a policy to allow video links and other remote technology to help conduct inspections and validate regulatory compliance during this period of uncertainty.
Intelligent decision support will transform defect management
Defect management is another key area ripe for innovation. Master Minimum Equipment Lists are often housed in paper or individual PDF documents and must be looked up manually. Information must be combed through to check if every individual fault can be deferred. Collaborative defect management offers fast, effective, and supported decision making for technicians, which leads to improved efficiency and visibility, as well as real-time deferral compliance management.
It is up to the M&E systems to enable intelligent decision support for defect management, by providing a single accessible framework for technicians to take faults raised and utilize a flexible and collaborative workflow to evaluate whether the fault may be deferred. But the deferral doesn't end when it is approved. To ensure compliance going forward, intelligent tools should also automatically generate and schedule follow-on tasks and recurring inspections until the defect is ultimately fixed.
The result of proactive and improved defect management is fewer grounded aircraft and reduced flight delays—and less delays means more profits for airlines. Consider recent research which states the average delay costs big carriers $920 USD per flight, with airlines experiencing 34.9 delays on average per month. When multiplied across a year of operations the potential loses are huge but reducing these delays will directly boost an airline's bottom line.
CHARTING A SAFE AND EFFICIENT ROUTE TO RECOVERY
The flightpath to a safe and efficient aviation industry recovery will require agility, flexibility and visibility for airlines and their MRO partners. Now is the time for organizations to prioritize their IT investment to unlock competitive advantage and ensure they can maximize aircraft uptime and continue to support a safe a return to passenger travel over the coming months. IT systems are under the spotlight to help quickly and efficiently integrate new maintenance capabilities – they will play a key role in taking the industry from parked to soaring.
Contributor's Details
Rob Mather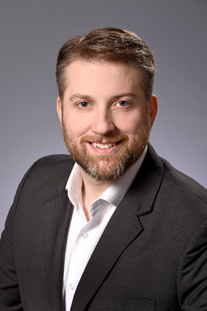 Rob is responsible for leading the charge on IFS' global A&D industry marketing strategy, supporting product development, sales and partner ecosystem growth. With over 15 years' experience in the A&D sector, he has held a number of strategic R&D, Presales and Consulting positions at IFS, Mxi Technologies and Fugro Aviation. Prior to his current position, Rob was instrumental in building and leading the global A&D Presales Solution Architecture team at IFS. He holds a degree in Aerospace Engineering from Carleton University in Ottawa, Canada, where he currently resides.
IFS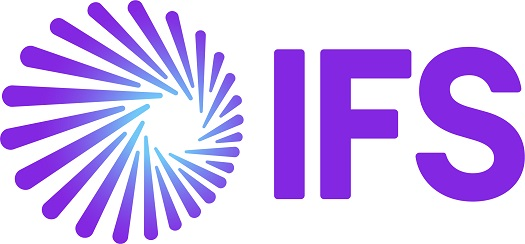 With over 400 Enterprise Asset Management (EAM) or Maintenance Repair & Overhaul (MRO) companies using IFS solutions today, IFS delivers flexible, modular business solutions that manage the entire commercial aviation lifecycle of contracts, projects, MRO, assets and services. IFS offers functionality for contract and project management, risk management, budgeting and forecasting, engineering, material management, sub-contracting, document management, fabrication, service and maintenance management, as well as financials and human resources.
Comments (0)
There are currently no comments about this article.