Aircraft IT MRO Issue 46: March / April 2021
Subscribe
Articles
| Name | Author | |
| --- | --- | --- |
| Smart ideas to improve inventory management | Daniel Stromski, Managing Director, DA Aviation | View article |
| IT systems adoption Part 1 | Allan Bachan, VP, Managing Director, MRO Operations, ICF | View article |
| Realizing the gains from digital processes at Sabena Technics | François Doré, Deputy Director General Strategy and Innovation, Sabena Technics | View article |
| The runway to recovery | Graham Grose, Vice President and Industry Director, IFS | View article |
The runway to recovery
Author: Graham Grose, Vice President and Industry Director, IFS
Subscribe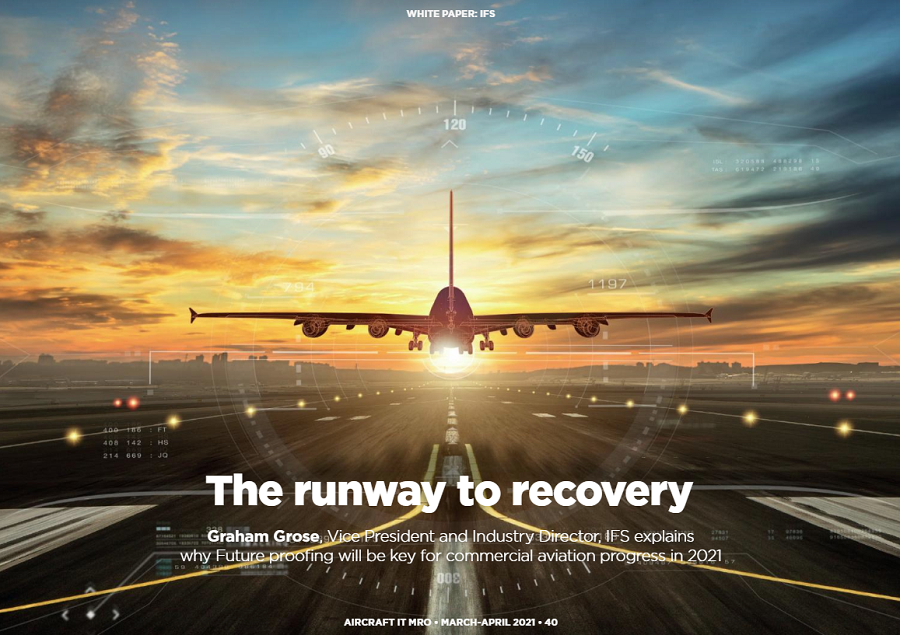 Graham Grose, Vice President and Industry Director, IFS explains why Future proofing will be key for commercial aviation progress in 2021.
The past 12 months have been an extremely testing time for those operating in the commercial aviation industry, but all eyes are focused on 2021 and beyond, and on the developments that are set to dominate the industry and help guide it towards as quick a recovery as possible. 2021 will be a crucial time for commercial operators and independent MROs alike, and the decisions they make during the recovery process could mean success or failure for some organizations. This article highlights four areas of change that will be paramount to drive recovery in the sector in 2021 and beyond.
Commercial aviation has faced major challenges in 2020 due to the near shut-down of international travel in March 2020. Commercial operators and MROs have had to park almost entire fleets of aircraft and maintain them over a nine-month period to ensure they are flight ready, when the time comes. But as vaccines are rolled out, the future is looking more hopeful for the industry, and controlling the financial impact of the pandemic will be an aim for many commercial carriers and MROs in the recovery phase. Flexibility and future proofing will, therefore, be key themes for the industry outlook for 2021.
RETURNING TO SERVICE
Considering if and when to return fleets to service, agility and flexibility will be key to a successful process. Airlines had to park huge percentages of their fleets of aircraft in March and many have only returned service to a fraction of their pre-pandemic capacity since then – in April it was reported that almost two thirds of global fleets were parked. After aircraft have remained dormant for the majority of 2020, the next challenge airlines will face is if, and when, they should return the majority of the fleet to full service again. Some airlines will be carefully assessing the value in bringing older planes back to service and many airlines have even made the decision to retire aircraft early due to the increased maintenance costs of older aircraft. Some aircraft will take over 100 man-hours or 45 days to become flight ready once they are brought out of storage, so bringing aircraft back to service is not a decision that commercial operators will be taking lightly.
Leveraging AI and ML learning capabilities to model and prepare for different scenarios will be vital to support accurate assessment and timely decision making, which will be addressed at greater depth later in the article. The decision will depend greatly on how long it takes for international travel to resume, international travel corridors and the distribution of a vaccine.
Flexibility will be essential for airlines coming out of this. Demand will be harder to predict as attitudes to flying have changed – airlines must be prepared to mobilize aircraft quickly when restrictions are lifted. Tracking and executing on all the parts and work orders associated with an aircraft's return to service will be crucial. The key will be flexible software that can respond quickly to changes in demand. As with the process of storing and maintaining fleets, the return to service will need meticulous planning – the success of airlines in 2021 will be closely tied to their ability to handle the return to service.
Preighters: passenger to freight to passenger
From passengers to cargo configuration and back again? 'Preighters' are here to stay. Passenger transport was almost brought to a standstill in March and many airlines are yet to return to their previous flying capacity as international travel continues to feel the effects of the pandemic. But some forward-looking airlines decided to pivot their focus during the height of the pandemic and make the transition from commercial to cargo operations – distributing PPE and other essential equipment across the globe. This has been known in the industry as the rise of the preighter aircraft.
Modifying passenger aircraft for light freighting is no easy undertaking, and again the flexibility shown by some airlines has been remarkable to open this new revenue stream and keep commercial jets from being parked; Emirates, LATAM and Lufthansa among other airlines have all taken on the challenge. As the true impact the pandemic has had on the industry begins to be ascertained, I forecast that more and more airlines will transition their commercial planes into cargo to explore an avenue in commercial aviation that is still very lucrative – and some airlines are continuing to modify planes for cargo use despite coronavirus easing in some areas of the world. However, as with the parking of aircraft, if the preighter trend reverses, there will be a need to quickly re-convert those aircraft to meet passenger demand, and that will be achieved with software designed to track and manage every aircraft right down to the component level, whatever its purpose.
PREDICTING THE UNPREDICTABLE WITH AI AND ML
AI (Artificial Intelligence) and ML (Machine Learning) will help airlines and MROs predict the unpredictable Delays are costly and with the financial impact of the pandemic weighing heavy on commercial carriers and MROs alike: mitigating this cost will be a goal for the industry. Customer trust is already at a low, so airlines and their MRO partners will want to help protect this as they return aircraft to service and welcome passengers back.
Data from IFS Maintenix users over the last five years shows that 45% of all parts removals were unexpected – the industry is in desperate need of more intelligent predictions for maintenance on AOG faults, remaining operating life and repetitive defects. And due to the shut-down, airlines will want to keep costly Aircraft on Ground (AOG) repairs to a minimum. IFS Maintenix data shows a machine learning approach to aircraft analytics can lead to a 30% increase in uptime.
Those A&D organizations who had already invested in AI and machine learning reported the pandemic had less of an impact on their operations, as machine learning models can predict unplanned events or survival curves at aircraft or even component level. But getting a deeper understanding and predictions requires operational knowledge of historical maintenance cycles and impacting factors. This is where airlines or MROs need to make sure they can extract, store and analyze relevant data from their supporting software. This data allows AI and machine learning to create a much more reliable picture of what really leads to failures and how Minimum Equipment List (MEL) can lead to AOGs. I believe that we will see a rise in commercial airlines and MROs turning to AI and ML technology to improve their predictive analytics and maintenance capabilities.
SUSTAINABILITY WILL GET SERIOUS
Sustainability is an ever more important issue within the commercial aviation industry as customers become even more aware of the environmental impact of flying. Many climate activists' groups have expressed fears that due to the financial impact of the coronavirus crisis, corporations, including commercial airlines, will abandon sustainability and emission reduction commitments. But the financial impact the pandemic has had on the industry, as well as the complete shut-down of operations for many airlines, has brought more sustainable processes into focus: the complete restart of the aviation industry is predicted to be based on a much more sustainable model.
The IATA has outlined that, despite COVID-19, it is continuing its program to slash CO2 emissions by half in the next three decades. Some of the industry's leading OEMs, commercial airlines and MRO players are also seriously committed to reaching the aim of being Net Zero by 2050 and continue to invest in – and use – SAF (Sustainable Aviation Fuel) while calling for government support for this.
Rolls Royce is introducing a new service plan to make engines easier to maintain and therefore more sustainable: repair, don't scrap. They're using new technology, such as snake robots, to access parts of the engine that it has previously not been possible to repair due to their location in the engine. Research into electric aircraft, as well as the development of the Aviation Carbon Offsets trading platform, also demonstrate the industry's commitment to becoming more sustainable. This will, I believe, gain pace as the industry recovers; and being able to extract the data which shows the environmental footprint of operations on a fleet-wide basis will be a necessity.
FUTURE PROOFING COMMERCIAL AVIATION GOING FORWARD
In summary, adaptability and flexibility will be required. Although the development areas for the coming year in the sector appear to be very different from each other, adaptability and flexibility remain at the heart of all of them. Commercial carriers and MROs need to adapt to the new market environment and pivot to the lucrative areas of business. This means focusing on future proofing and streamlining their business processes. As the industry moves to recovery in 2021, investing in technology to streamline processes and improve production – as well as embracing sustainable developments and initiatives in the industry – will put airlines in a good position to hit the recovery trail and set themselves up for success in the years to come. This is not the end for air travel but the future will bring a different normal. Airlines and their supporting software need to be up to it.
Contributor's Details
Graham Grose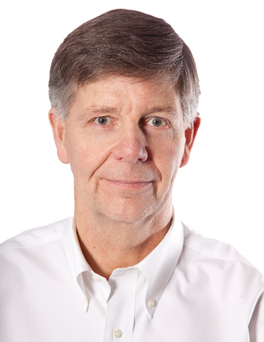 Graham Grose is responsible for supporting all IFS business development within the A&D industry, together with associated industry marketing and overall product direction. Graham has specialised in the supply of Logistics IS (Information Services) tools in a variety of senior appointments within Sema, BAeSEMA, BAe, BAE Systems and IFS since leaving the RAF in 1991, where he was a Supply Officer serving in a variety of operational and IS appointments. Graham is a supply chain specialist and business analyst and is also a Fellow of the Institute of Management Accountants and a Member of the Chartered Institute of Purchasing and Supply.
IFS
With over 400 Enterprise Asset Management (EAM) or Maintenance Repair & Overhaul (MRO) companies using IFS solutions today, IFS delivers flexible, modular business solutions that manage the entire commercial aviation lifecycle of contracts, projects, MRO, assets and services. IFS offers functionality for contract and project management, risk management, budgeting and forecasting, engineering, material management, sub-contracting, document management, fabrication, service and maintenance management, as well as financials and human resources.
Comments (0)
There are currently no comments about this article.