Aircraft IT OPS Issue 53: Autumn 2022
Subscribe
Case Study: SunExpress – Taking Digital Enterprise-Wide Manuals to the Next Level
Author: Standfirst Orçun Yüksel, Documentation Senior Specialist, SunExpress
Subscribe
Standfirst Orçun Yüksel, Documentation Senior Specialist, SunExpress shares the experience of finding and implementing the right document management system.
This case study will share with readers thew journey of SunExpress's migration to, with the decision process to adopt and implement, a new paperless document solution. But first, some information about SunExpress itself.
SUNEXPRESS AND ITS DOCUMENT MANAGEMENT HISTORY
The airline, a joint venture of Lufthansa and Turkish Airlines, is a leisure Turkish carrier based in Antalya, with domestic and international operations. There are 3,500 employees and growing, and the fleet includes 50 Boeing 737-800s with nine 737 MAX aircraft. Plans for the near future include increasing the number of routes served and buying more aircraft before the end of 2024. Also, there is a hangar building project underway, which will be the first of its kind in Antalya.
Turning to the document management history (figure 1), a documentation center was established in 2000, which at the beginning only dealt with flight operations documents.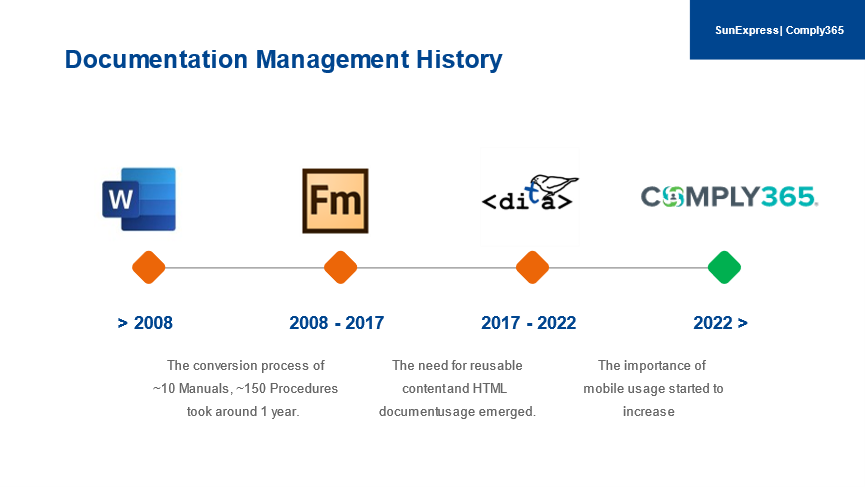 Later on, a centralized system was created involving the rest of the company to start to manage documents and document revision cycles for Human Resources (HR), Finance and other administration departments. Until 2008, we used Microsoft Word for SunExpress's technical documentation, but it's not easy to manage long documents in that application, and it's really hard to handle. At that point, there were ten manuals and 150 procedures in the business, which is when it was decided to convert them to a structured environment like FrameMaker. A special XML schema was designed for SunExpress.
A year later, we moved everything onto the FrameMaker platform, using that solution for nine years to manage documents. With time and the growing size of the document library, a lot of duplicated content motivated us to look for a different solution. We decided to use the Dita standard, as this company offered features to manage reusable content. We migrated our XML schema to the Dita schema and started to use a web-based editor.
CHOOSING A NEW SYSTEM
Following the pandemic, mobile application usability became important for end users, but SunExpress didn't have a solution for that. Our EFB system did not support the features users were looking for so we decided to find a new solution to do everything we needed – mobile capability and document management. Comply365 is the chosen solution, to manage all of SunExpress's enterprise content in a single and end-to-end platform. From authoring to distribution, we can now manage content within the same system, with different roles and workflows, and with the ability to deliver any type of content we need.
Figure 2 shows six features that were very important for SunExpress and which, in the decision process, we carefully checked those items with all of the vendors who pitched.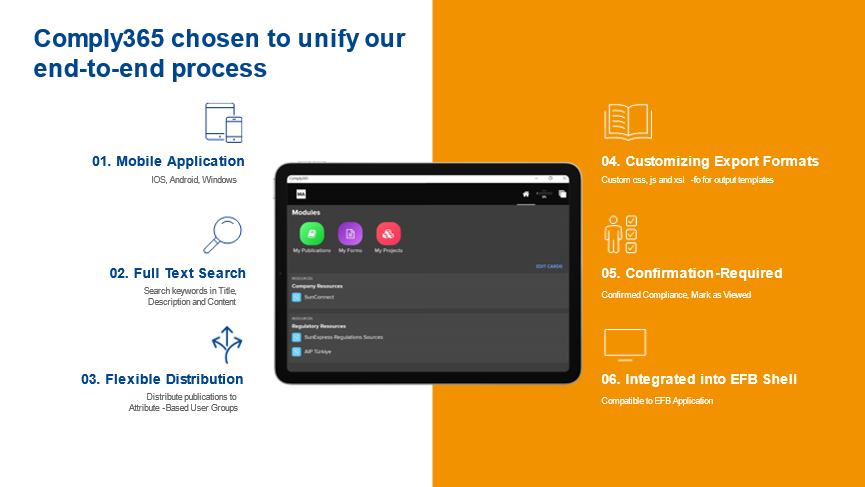 Comply365 was the only provider to fully satisfy SunExpress's needs as listed here.
Full text search
This is really important for end users, especially pilots and flight crews, because of the overflow of information. The library at SunExpress is very large, with around 2,000 different documents, as well as different types of manuals, procedures, syllabus, guides, etc. (figure 3.1)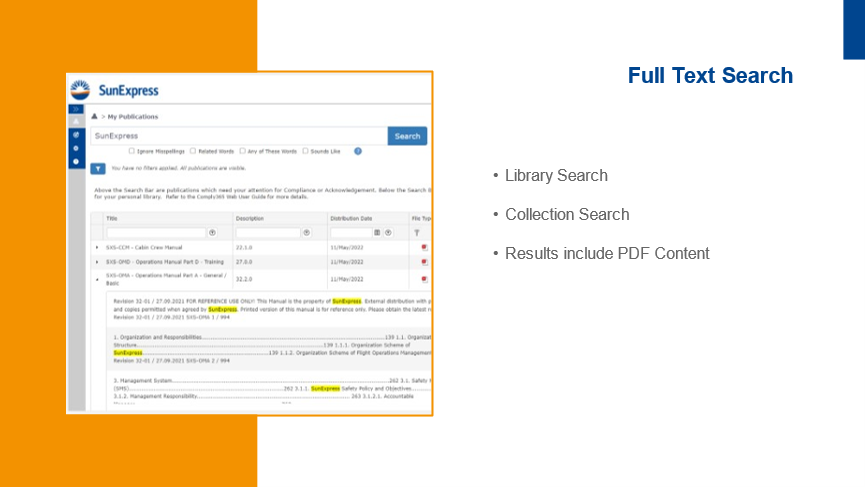 Users are able to search in the library, but the most important aspect is that the search engine is not only for HTML. It also includes PDF and, if it's structured content, it's indexed and users can find it in the library. This feature is very popular with pilots and crews.
Attribute-based distribution
This second feature, attribute-based group and distribution management, allows the right set of information to be taken to the right set of users (figure 3.2). Thanks to an API integration that simplifies the process, we save time on distributing the right information to the proper user groups, who are no longer need to receive irrelevant information.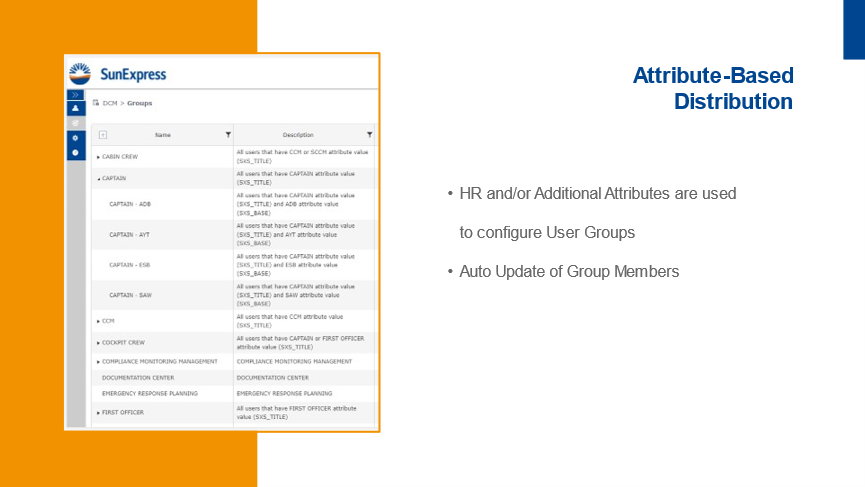 Role management is always a problem for the administration with the need to always keep our eyes on the various user groups and maintaining users into those groups. But, if there is a good HR system that can feed users to Comply365, it isn't necessary to think about members of those groups. If the attributes are pre-defined into the system, auto-sync allocates members to the distribution groups. Some examples include our base captains or base first officers or cabin crews; all user members are auto-synced by the HR system. This will save a lot of time in the future.
Confirmation-required publications
This is a regulatory issue, as now all authorities want to be able to see the logs and will read the documents when supplied. Comply365 offers two options to meet this need. (figure 3.3).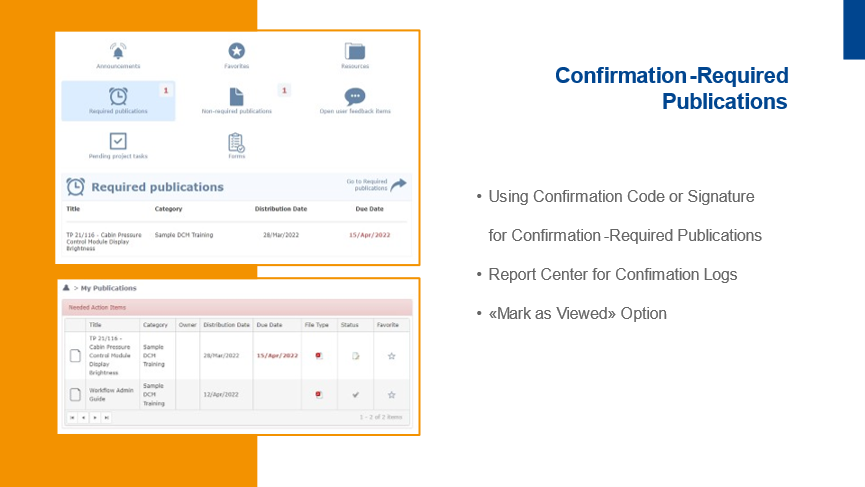 One is 'confirmation-required' publications, which require a special PIN code or a signature to confirm the publication. The other option is the 'mark as viewed' option, allowing the ability to run detailed reports from the Comply365 system, whenever you need them, on users who are subscribed to a specific publication. This gives the ability to follow up on and demonstrate compliance in just a few clicks.
Customizable published profiles
This a nice feature. SunExpress manages its XML content into the application, and we are able to create profiles using multiple different formats. For example, a profile can be created to publish a document as HTML and the same document can also be exported as a PDF export (figure 3.4). This allows users to see only what they need based on their specific profile.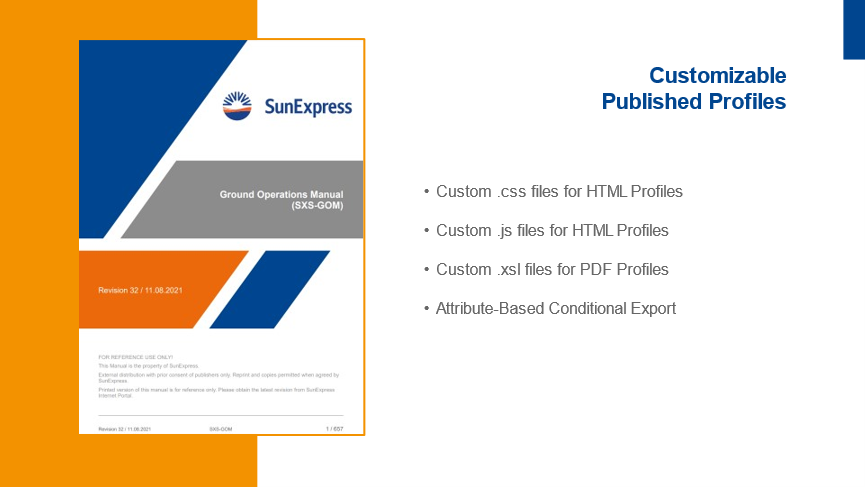 Within Comply365, we're in complete control of the styling, and in using HTML, users are able to get only the content they want or need to see.
Users are able to integrate their custom codes into the profiles, like .css and Java Script for HTML publications and .xsl files for PDF export. This has the added value that users can manipulate documents, for example, with the power of Java Script. If you put it into your documents, you can manipulate the HTML document object model, and configure your stylings and template in HTML.
The image in the figure is from SunExpress's Ground Operations Manual, and the .xml file was designed in the system to create the special cover page. With this option, you can also filter the content in the published profiles. For instance, SunExpress works with multiple authorities including the Turkish DGCA (Directorate General of Civil Aviation) and EASA – especially on maintenance documentation. We alter a single document but, from that, we are able to create two different documents: one for EASA and the other one for DGCA. That option is very flexible, and users are able to set their special attributes into the .xml content while altering not only authority but also whatever they want; multilingual documents, special documents for special job titles, etc. Anything that users want can be implemented, and special publish profiles can be created.
Easy integration of API Management and HR Systems
Comply365 has a very strong API that's really easy to integrate into other applications (figure 3.5).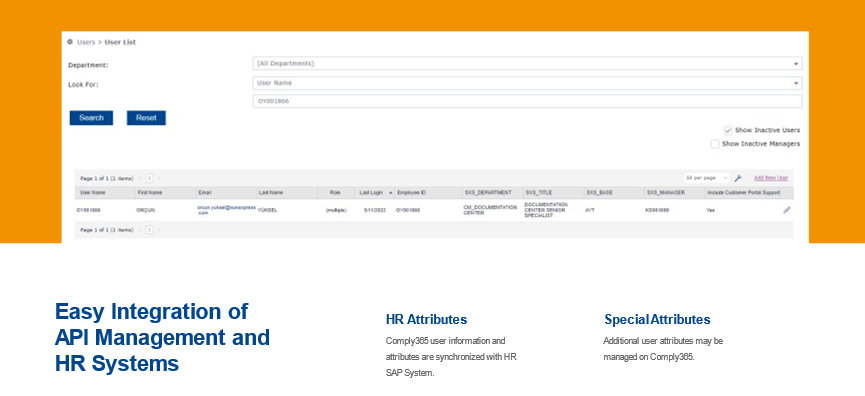 SunExpress has its HR and other special user attributes built directly into the system. But it's not only about synchronizing the HR attributes – users are able to create special additional attributes into the user list. For example, SunExpress instructors and flight instructors are only captains in the HR system, but we need to distribute special documents to our instructors. So, we have created a field for them in the system that is managed by the documentation center with the special attribute that, if the user is a TRI, TRE etc., related content can be distributed to them. The API management is also really good.
Integration into the EFB Shell
This was another case that we checked when determining which solution to choose, and Comply365 was really flexible in customizing the application for us (figure 3.6).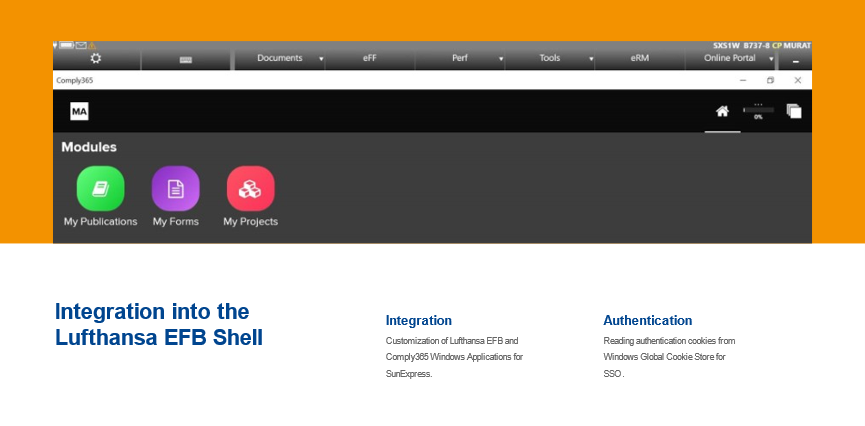 The Turkish Civil Aviation Authority wants the application into the EFB shell because pilots only log into the EFB application, and we had to sort out an authentication problem with which, again, Comply365 helped. It's not easy to use login systems while you're on duty, and we have integrated into the shell application that, if the user is already logged in to the EFB, they can use Comply365 without any username or password.
MIGRATION PROCESS
SunExpress has two types of documents that were involved in the migration process. One is XML-based documentation, creating an HTML export and the other is PDF.
XML documentation
There are just two formats for the XML documentation at SunExpress. We planned how they could be migrated into Comply365 (figure 4.1), and first we made an analysis for the XML structure.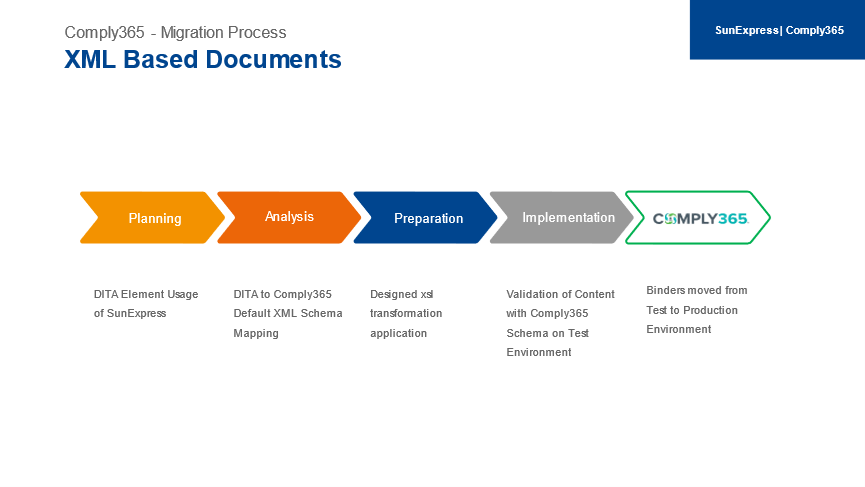 We had a list of the elements from the Comply365 team, plus we checked our XML schema and matched them on our local computers. Later, we designed a transformation application, a small application based on XSL transformation system. Then with just one click, we completely converted our documents.
For the next step, we took them as a zipped package – each document with its assets – and uploaded that asset into the Comply365 test environment, first tying it to the content. Thanks to Comply365 for notifying us about the bugs because it's not easy to validate, for example, an OMA (Operations Manual Part A) that has more than 1,000 topics, but the Comply365 application notified us when there was a set that was missing assets or a wrong element in the system. Later on, we went back and checked the content, corrected it and uploaded it one more time. After we were sure about the content, we took it to the production side and created the published profiles and published them to the library and the collection.
This was our general mapping process to import our XML format into Comply365's platform. That was still in progress at the time of writing as we had to create a category-based timeline for it. After the end of June 2022, we had completed the migration.
PDF documents
PDF documents were pretty easy because Comply365 has a feature to upload documents with a Bulk Load system (figure 4.2).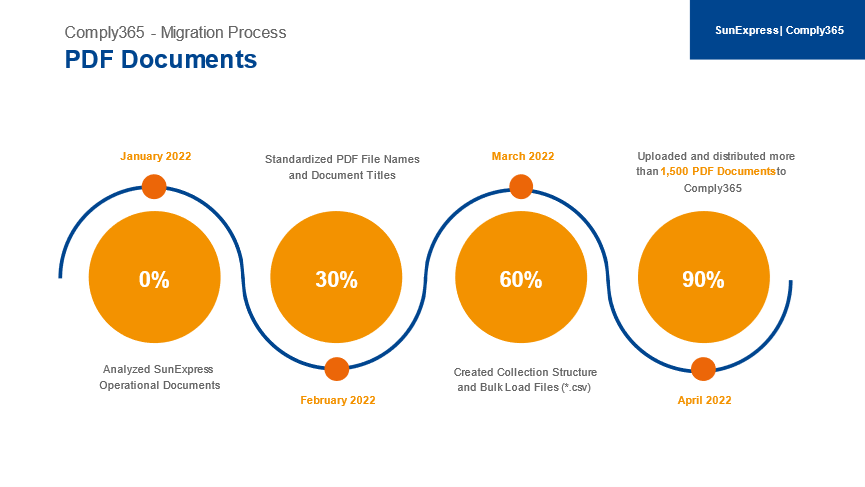 First, we analyzed and created a list of the company's PDF documents. We uploaded all meta-data into our current Microsoft SharePoint list and created a master list. Later on, we standardized the file naming rules for all PDF files because sometimes people used different names and spaces within the file names. Our department created a special web page to take .csv export files; it includes all metadata such as revision date, publication date and category fields. The.csv files were uploaded to Comply365 with just a one-click solution, and more than 1,500 were uploaded in about two hours.
PROJECT SCOPE
The scope of the project has not only influenced the operational departments. Fifty percent of the company, including financial departments, Human Resources and administration, is now using Comply365 (figure 5).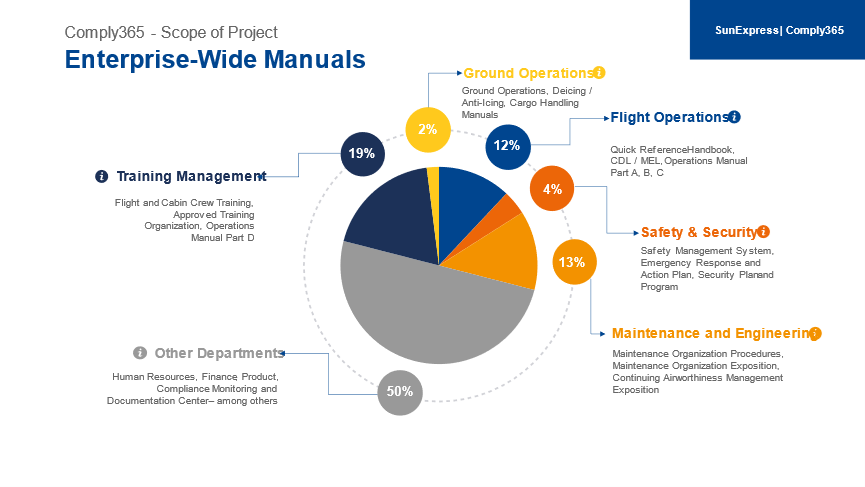 This demonstrates that the product is not only for the airline industry – any company can use it, and even administration department content can be managed in the editor or in the publication suite of Comply365.
VALUE-FOCUSED ADOPTION AND CONTINUOUS IMPROVEMENT
The Comply365 team is really focused on continuous improvement for the company, which is good because it helps to see how you can improve your operations (figure 6).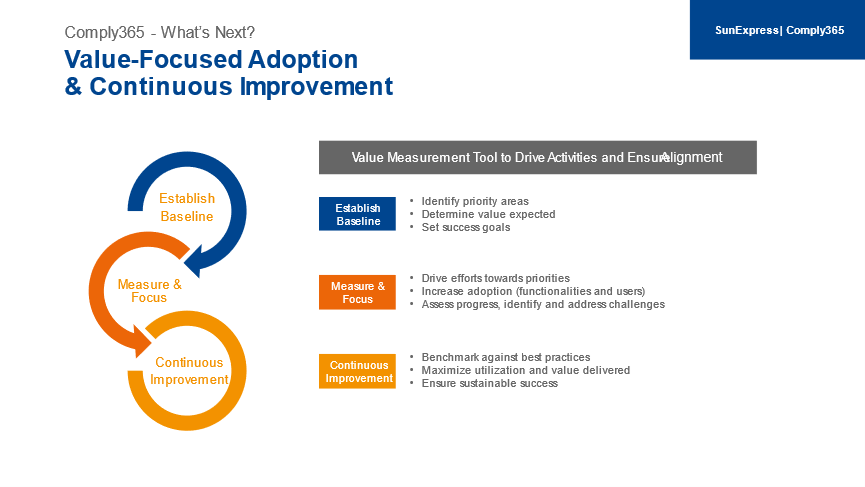 They also have a good value measurement tool that we used before we even started the project. We met with the Comply365 team to analyze our current situation as the baseline of this value assessment. Comply365 asked good questions and gave SunExpress a score at the beginning of the project. We are still in that process, and the project is not yet completed, but we will apply the value measurement system one more time to continue to see the value we are realizing for SunExpress. Also, Comply365 is focused on continuous improvement while working with the project (figure 6).
FUTURE PLANS
Comply365 has a good API management, with nearly 80 percent of the system able to use APIs to integrate into other third-party applications. At the moment, there are three SunExpress projects developed in-house by our IT department. We plan to implement the publication database into our third-party applications and manage it centrally in the company (figure 7).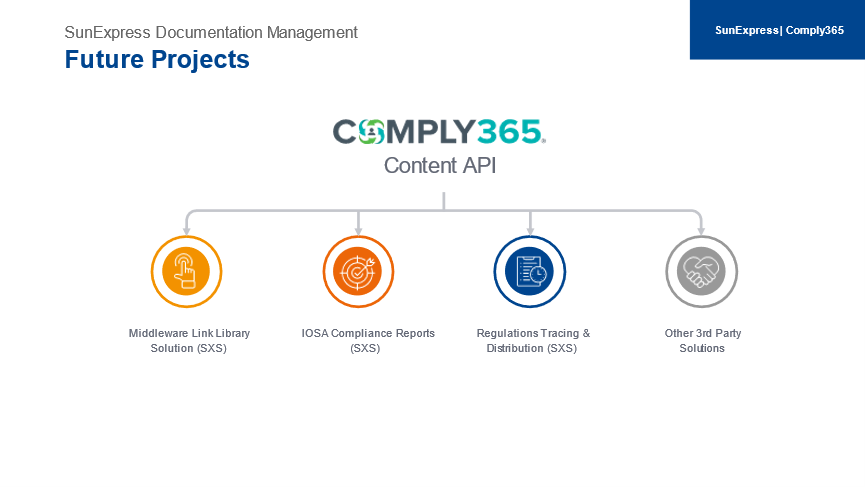 For example, SunExpress has a middleware link library solution for maintaining hyperlinks into documents, which are always a problem if a document is moved to another place. We'd like to implement that into Comply365. Also, for IOSA compliance reports, we have an IOSA certification that Comply365's API will support to check all IOSA apps, which is really important.
We also have a project that is still in development for a regulation monitoring application, and tracing and distribution. This is small but very important because documentation management is the data provider to the company, and checks all the regulatory content: EASA, Turkish DGCA, IATA, ICAO, and any regulatory content. We distribute to the company and will support the Comply365 content with the regulatory content. So, we will be able to make detailed regulatory compliance reports in the Report Center of Comply365.
FEEDBACK FROM USERS
Feedback from our team (figure 8) has included comments from…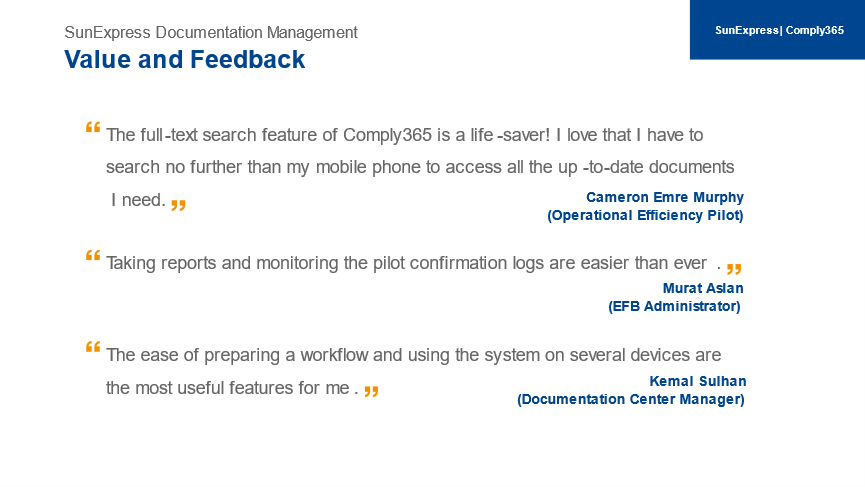 … Cameron Emre Murphy, the test pilot for the application. In particular, he really liked the full text search. Also, back-office team members like EFB administrators especially focused on the reporting and monitoring of the compliance reports. My manager, Kemal Sulhan, likes the workflow system because previously we didn't have a process management on the development life-cycle, but now, everything is really clear in Comply365.
SUNEXPRESS GOES ON TOP OF THE WORLD
In September 2022, SunExpress was proud and overjoyed to be named 'World's Best Leisure Airline' by Skytrax. Based, as it is, solely on passenger feedback, it shows that SunExpress is on the right path when it comes to improving customer experience. The honor is a tremendous endorsement for SunExpress and everybody who helps to ensure that the airline is at the cutting edge of modern business practices.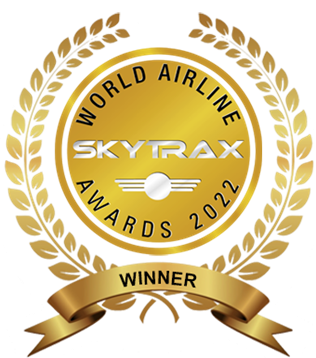 Contributor's Details
Orçun Yüksel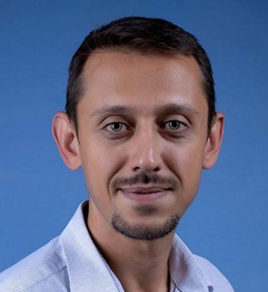 Orçun Yüksel's team is responsible for managing all operational company documents. He has 15 years of experience in structured content, web-based authoring, XML and HTML publications and has carried out many projects on content management to increase efficiency and reduce risks within the operations, including transitioning the EFB library to Comply365. He is currently planning new innovations to bring SunExpress' Document Management System to a better position and increase the end-user experience.
SunExpress

One of Europe's most popular leisure airlines, SunExpress, a joint venture between Turkish Airlines and Lufthansa, flies Holidaymakers from Europe to Turkey's many leisure destinations and from Europe to families in Turkey for visits. The airline has gained numerous awards for service, punctuality and safety for its modern fleet of Boeing 737-800 NG and MAX 8 aircraft as well as six Airbus A320-200; 60 aircraft in all. Maintenance is carried out by Lufthansa Technic and Turkish Technic.
Comply365

Comply365 is a leading provider of enterprise SaaS and mobile solutions for content management and document distribution in highly regulated industries. It supports the world's most mobile and remote workforces with targeted and personalized delivery of job-critical data that enables safe, efficient, and compliant operations. Every day, hundreds of thousands of pilots, flight attendants and maintenance technicians rely on Comply365 for digital delivery of operational content, including OEM and internal company manuals. Solutions include software for aviation manuals.
Comments (0)
There are currently no comments about this article.