Aircraft IT MRO Issue 49: September / October 2021
Subscribe
Articles
| Name | Author | |
| --- | --- | --- |
| Meet the IntelligentEngine; taking predictive engine maintenance to the next level | James Elliott, Principal Business Architect, Aerospace & Defence, IFS | View article |
| Cargolux & TRAX eMOBILITY Q&A | Stephane Kastler, Director of Maintenance & Production, Cargolux | View article |
| Vistair brings it all together at Viva Air | Captain David Restrepo, Flight Standards and Training Manager at Viva Air Colombia | View article |
| Right person, right qualifications, right place at Lufthansa Technik | Luca Jelic, Training and Quality specialist at Lufthansa Technik's Base Maintenance Division | Andres del Pino, CEO, StaffNow | Svetla Stoeva, Former Head of Staff Agency at Lufthansa Technik Base Maintenance | View article |
Right person, right qualifications, right place at Lufthansa Technik
Author: Luca Jelic, Training and Quality specialist at Lufthansa Technik's Base Maintenance Division | Andres del Pino, CEO, StaffNow | Svetla Stoeva, Former Head of Staff Agency at Lufthansa Technik Base Maintenance
Subscribe
Luca Jelic, Andres del Pino and Svetla Stoeva share with AircraftIT their experience in developing and using the StaffNow platrorm at Lufthansa Technik.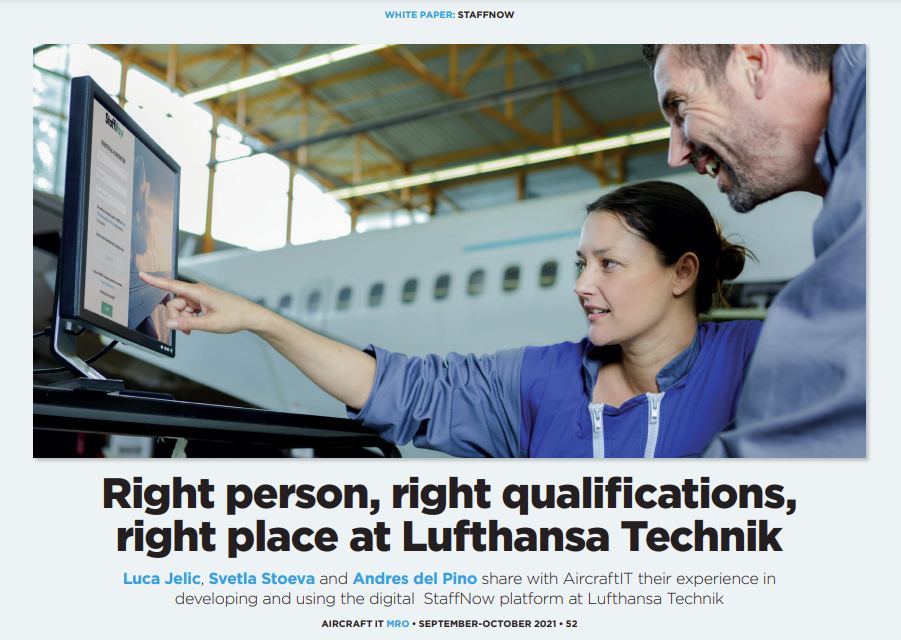 StaffNow is an online platform that is specifically tailored to meet the MRO demand for contracting manpower via streamlined and automated sourcing. StaffNow represents the existing processes in a digital way – saving time and effort for all parties involved. In this article, Aircraft IT meets two professionals from Lufthansa Technik Base Maintenance and StaffNow's CEO to discuss the advantages of using the platform for sourcing of contractors and related activities.
AircraftIT: Please tell us about yourself and your job position at Lufthansa Technik.
Svetla Stoeva: Staff Agency is the name of the unit within Lufthansa Technik Base Maintenance Division which I headed for the last 10 years. It was responsible for the supply of temporary manpower, the so-called aircraft technician contractors, for a network of locations – Malta, Sofia, Budapest, Shannon and Puerto Rico. What my team did was set the priorities among these locations in terms of contactors, ensuring one and the same conditions with vendor companies (contracting agencies) are in place, and facilitating the processes related to sourcing of contractors and their onboarding. This business unit has been a center for many innovative ideas and their implementation within Lufthansa Technik Base Maintenance. A business-changing idea we had in 2019 was to digitalize the department and to automate as many processes as possible and this is when we started to look for a specialized tool to respond to our needs.
Luca Jelic: I'm part of the Central Quality team of Lufthansa Technik's Base Maintenance Division and our job is to ensure that whoever joins LHT as a lateral hire, be it on a temporary or a permanent basis, meets our training and qualification standards. By having implemented said standards throughout the above-mentioned locations, we make sure that both permanent and temporary staff are adequately qualified for their job. Maintaining that level of quality requires us to perform a thorough qualification check of anyone who is supposed to work in one of our facilities.
AircraftIT: What are the challenges you have faced when sourcing for contractors to support the operations for the above-mentioned facilities?
Svetla Stoeva: There are a number of pains every player in this business has experienced. For the contractors – lack of transparency of what the job offer conditions are, long recruitment processes and unutilized time, and very complicated requirements in terms of qualifications and skills (documents that need to be provided). For the MROs – long recruitment processes, no single channel for sourcing and lack of access to the right contractors in the right time. For the contracting agencies – very complicated requirements in terms of the documents that contractors need to present, no single channel of communication and tons of unnecessary calls and emails with MROs and contractors forward and backward. Oftentimes, Production Department at our MROs will place urgent requests, with a start date in less than 24 hours which could not be addressed by the standard manual recruitment process.
Luca Jelic: I fully support what Svetla says. Our biggest pain point was a lack of transparency and streamlined communication on all sides: Due to the sheer amount of email and phone communication, we weren't always clear on the status of a contractor's application, while our qualification requirements weren't always clear to the agencies. This led to a lot of unnecessary discussions. Since aircraft maintenance is a highly regulated field of work, EASA and FAA regulate the education, training and experience each technician (including contractors) must possess in order to be involved, hands-on, in aircraft maintenance. In addition, Lufthansa Technik, like every other MRO, has its own specific requirements. These requirements are quite complicated for a person outside of our organization to understand. There has been significant confusion among contracting agencies and contractors of what is needed in the way of documentation to possess and present, in order to be accepted for work. That's why we needed to put this in a clear and understandable way and in one place for all these professionals to refer to. We needed an online tool in order to introduce clarity and transparency. We needed a tool which would also facilitate and shorten the time for reviewing contractors.
AircraftIT: How was StaffNow selected and what are the advantages of using it?
Svetla Stoeva: When comparing our needs with the tools available on the market, it became obvious that none of them could be the answer to our needs. Most of the available tools were purely job posting platforms for CV collection. No tool or platform covered the aircraft technician specific requirements set by EASA/FAA let alone our specific Lufthansa Technik ones. The decision was taken to build this platform from scratch combining the extensive industry knowledge we have accumulated at the department I lead, with the IT possibilities at the hands of a long-term IT partner – edataconsulting.
The now-mature StaffNow platform represents the relationships and the processes between the players of this market while digitalizing them. Communication is faster, all the information is readily available online where everyone from our company can log in and access it. With the platform we now can clearly display to our applicants what we require from their side and what we offer them as a job opening in return. Processes are automated and positions are filled with a few clicks of a button. There is a real-time track of fulfillment progress. We no longer have to communicate manually every request and every detail to every separate agency. We do not lose time in forwarding information and clarifying with each applicant. It is all there and available. StaffNow is a platform matching job requirements to technician skills and experience.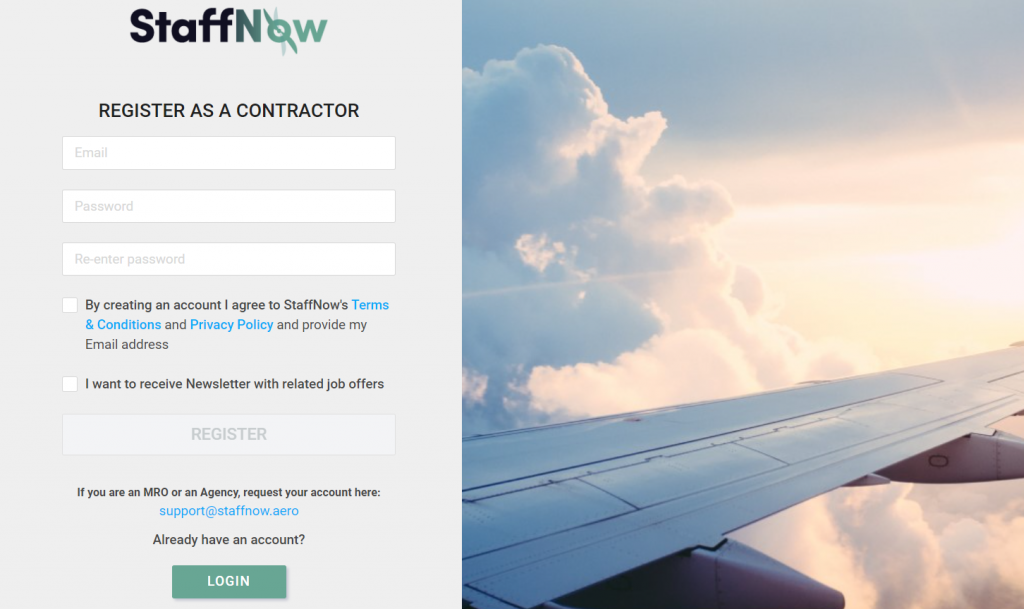 Luca Jelic: I remember that after a really hectic winter season, we were just about to start developing an internal online solution to cater for our needs. Luckily enough, somebody pointed out that StaffNow was trying to tackle the exact same issues that we were facing. That's why we came together with the StaffNow project team to discuss the pains and possible areas of optimization in terms of contractor application and quality evaluation. The platform is built in such a way that an evaluator from Quality has all the required information in one place (a contractor profile) to take a decision on a candidate's suitability. In the past, the process was rather manual, tedious and lengthy, taking up to two weeks in some cases. The process was not centralized, so each separate local quality team evaluated contractors at a different pace. Very often, they had to consult each other and exchanged emails back and forth. We lacked a shared space for contractors' documentation, leading to duplication of documents on local hard drives. With StaffNow, processes are centralized and evaluation and feedback take minutes.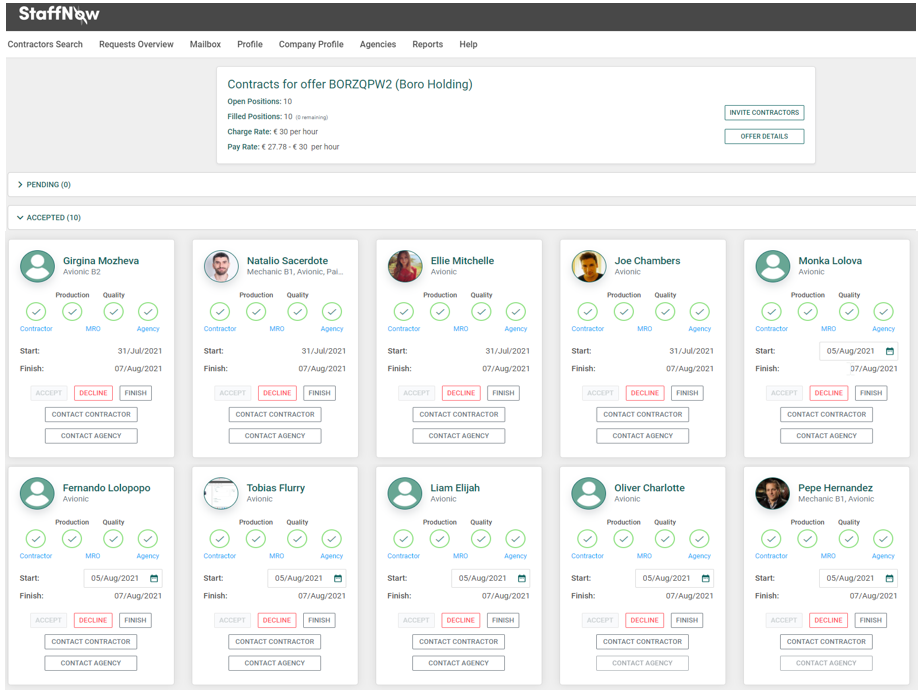 Additionally, there was a substantial confusion and frustration in the past among contractors when our department rejected them because the reasons for a rejection were not clear. Via StaffNow, contractors now receive a constructive feedback and detailed explanation in case they are rejected. There is also an option to urge contractors to provide more document in case it is just a matter of uploading it in order to be accepted. Feedback on what is missing serves also as an incentive for the contractors to maintain their paperwork and experience up-to-date.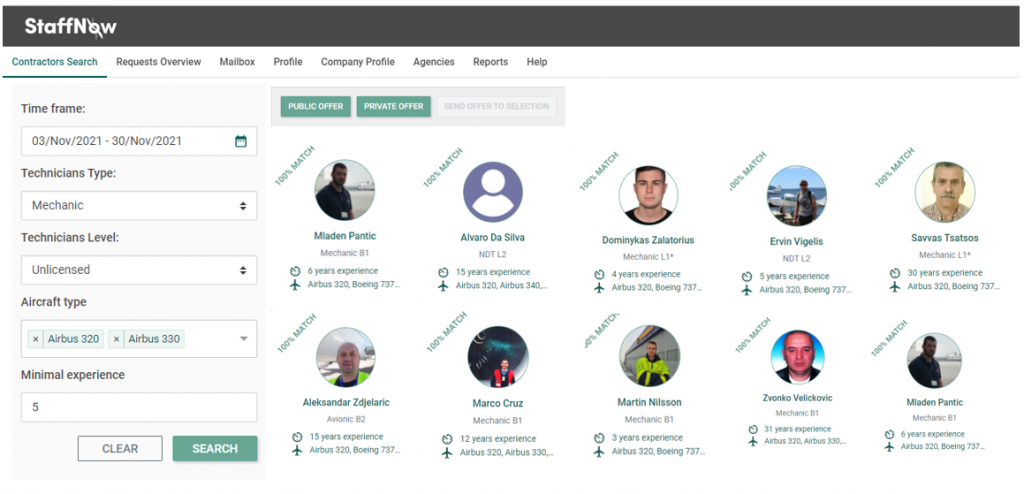 AircraftIT: How have operations at your department changed since the introduction of StaffNow?
Svetla Stoeva: StaffNow has provided transparency and speed for every party. Lufthansa Technik Base Maintenance MROs can now enjoy a faster and more precise selection of contractors. Literally, they get the right contractors in the right time. Since all the information of a contractor is readily available in StaffNow and is prechecked, contractors for the MRO operations are ensured, even in urgent requests, often in less than 24 hours. As a real-life example I can point out that the needs for NDTs (highly skilled aircraft technicians) are met 100 % with the introduction of StaffNow. NDTs are really rare and difficult to find and we were always short of them before. With StaffNow the manual processes were automated and minimal human efforts are required. And we speak here about processes of various departments and locations running for sourcing of contractors.
Luca Jelic: StaffNow has eased the communication and the efforts of quality engineers in terms of evaluating candidates for their suitability. Now we have one channel, one tool for contractor evaluation and profiles which are easily comparable to our requirements. We work with standardized processes and templated profiles. StaffNow has been a major change for our organization. Following the introduction of StaffNow for our division, we changed the structure of Central Quality Department – we now have one central team consisting of only two quality engineers who evaluate candidates for a network of facilities even across different continents. While in the past every facility used different channels, different models of evaluation and different practices, with StaffNow we use common sets of rules and standards. Contractors accepted in one of our facilities are automatically accepted in the rest. Communication efforts are massively reduced. StaffNow allows us to set KPIs and track performance. I like to think of StaffNow as a tool largely for aircraft maintenance quality teams when it comes to evaluation and acceptance of contractors. Quality teams can now enjoy the power of digitization.
AircraftIT: What is the StaffNow principle? How does it work?
Andres del Pino: StaffNow has three types of users: MROs, contractors and contracting agencies. Contractors self-register, create a profile and upload the required information and documents (diplomas, certificates, licenses, etc.) per template. We, at StaffNow, review the profile and verify the information as valid and full. MROs post job offers whenever they need contracting manpower. The offer is immediately visible to all registered contractors. From this moment onwards, technicians with the requested qualifications start to apply. If a technician's qualifications are different than the required ones, application is automatically prevented. At the time of the application, a contractor selects the agency which will represent him for that job offer. Then review and acceptance by the MRO (Quality, Production and/or HR, depending on the MRO processes) follow. Once everyone 'agrees' to the deal, a match takes pace and then only the travel and start activities remain to be arranged.
AircraftIT: How easy is it to work with StaffNow? How much training needs to be provided to people operating with it?
Svetla Stoeva: StaffNow is quite intuitive to use. Colleagues involved in contractor sourcing needed very little training and became confident with the functionalities quite fast. It is mostly just twisting your way of thinking in terms to think digitally – pressing the ACCEPT button rather than writing a confirmation text by email.
Luca Jelic: Of course, there was some period of adjustment at the beginning. However, the platform is very visual and quite accessible from a UX point of view, which is a big plus. After a quick adaptation, colleagues from Quality agree that it is great to have everything in one place. To be honest, we never had to do a proper training. It was rather just some clarification questions that the StaffNow team answered and everyone was in the loop. StaffNow team are always available for questions and respond with no delay. Furthermore, they listen actively when it comes to improving user experience to make our lives easier. This is highly appreciated. Now all Quality teams throughout Lufthansa Technik Base Maintenance network speak the same language!
Andres del Pino: In fact, we are constantly working on improving the interface and the features offered by the platform. We keep on listening to the needs of every individual user and constantly improving. This way we bring to our users the platform they really need, collecting the feedback of the people who are using the platform daily.
AircraftIT: What is Lufthansa Technik's standpoint on digitalization in general?
Svetla Stoeva: We feel the spur for digitalization in every department of Lufthansa Technik. The management is promoting this trend by placing a whole program. Looking back at Staff Agency department, it was difficult to imagine how processes could be automated and digitized. Having a partner with the IT knowledge and background of edataconsulting is literally transforming our work environment. Now, with StaffNow we have entered a new era in contractor's sourcing. With StaffNow the classic structure of having one department dedicated only to contractor sourcing is gone. We have now one platform instead of one department.
Luca Jelic: Digitalization is a very popular word at Lufthansa Technik and was so even before the pandemic. Speaking directly for my department, it was great to have someone listening to our needs and offering us something like StaffNow. Digitalization is also a mindset change, which takes time. However, I am personally happy to have the support of Lufthansa Technik to go for it and try out new things and the technical knowledge of StaffNow to make it happen.
AircraftIT: What is on the StaffNow's roadmap?
Luca Jelic: There is an ongoing communication between Lufthansa Technik Central Quality team and the StaffNow team. We share our needs and exchange ideas. Our immediate plans include the optimization of the onboarding processing after a contractor is approved on the basis of the documents but prior to the start of work on the production floor. There are a number of trainings and instructions that contractors have to pass prior to their assignment. We would like to have them organized and provided digitally prior to a contractor's travel to a target location. This will alleviate the efforts of Lufthansa Technik trainers and will save time and cost for contractors respectively. Basically, our idea is to use digital tools as much as possible to minimize the on-site time for onboarding.
Andres del Pino: The StaffNow team is continuously developing new functionalities for the platform. We have a lot of plans and ideas and additionally we constantly listen to our users and adjust functionalities based on their feedback and needs. StaffNow is an independent company and the platform is meant to be used by all MROs just out of the box, without the need to perform adjustments. With our current MRO users, we are building further functionalities which will automate the onboarding processes after a contractor has been selected (such as online technical interviews, online trainings prior to commence of work, English level verification, etc.). All these new functionalities are available to all MROs registered in StaffNow.
Our big goal is building a hub for the industry – all job requests in one place with full details and transparency, all aircraft technician contractors in one network with full and verified profiles.
Ends…
Contents
StaffNow has brought the contractor recruitment process into the twenty-first century with a digital process which has proved a huge success with co-developer, Lufthansa Technik.

Contributor's Details
Luca Jelic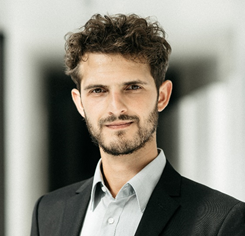 After graduating with a master's degree in organizational psychology, Luca joined LHT's Base Maintenance Quality and Training department three years ago. Since then, he has been involved in international training and qualification projects, for the standardization of vocational training across six locations. Currently, he is working on projects related to the digitization of the business: e-Learning development, upskilling trainers for virtual training, VR / AR training solutions, digitization of contractor processes (selection & onboarding).
Andres del Pino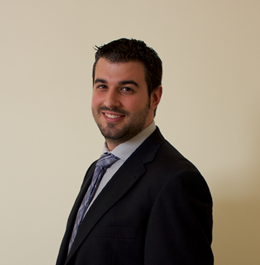 Andres is a computer engineer with a master's degree in project management. For the last eleven years he has worked in projects related to aircraft maintenance for different customers, allowing him to get to know the industry, its regulation, the processes and the degree of digitalization in MRO companies. With the industry knowledge and the IT expertise of the team, StaffNow was developed and it is their mission to make it succeed.
Svetla Stoeva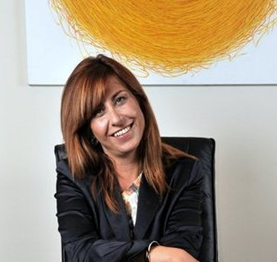 Svetla has 25 years of professional experience of which the last ten have been in aviation. She now heads a business unit within Aircraft Base Maintenance Service division of LHT AG which dealing with capacity steering and exchange in EU and US.
Svetla's previous experience includes management, recruitment, IT and NGO. She was a partner in www.jobtiger.bg, President of the Bulgarian Association of People Management, and Vice President of the European Association of People Management.
StaffNow

StaffNow was founded by Lufthansa Technik and edataconsulting. Ther vision of StaffNow is to improve and facilitate the access to highly qualified Contractors to all MRO providers in a timely manner to cover the specific needs of their work and the seasonal peaks inherent to the industry. The mission is to provide MROs with a highly qualified pool of Contractors to access to when there is the need for them and to provide equal opportunities access to high quality jobs to our pool of Contractors.
Lufthansa Technik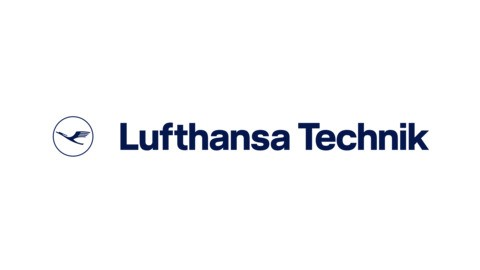 LHT is the leading provider of aircraft maintenance, repair, overhaul and modification services for civil aircraft, from commercial to VIP and special mission aircraft. Holding international licenses for maintenance, design and production, LHT provides tailored maintenance programs, modification, completion and conversion as well as innovative cabin products, material pooling or engine services. LH Technik even offers digital fleet support.
Comments (0)
There are currently no comments about this article.