Aircraft IT MRO Issue 51: Spring 2022
Subscribe
Articles
| Name | Author | |
| --- | --- | --- |
| Column: How I see IT | Allan Bachan, VP, Managing Director, MRO Operations, ICF | Kyle Tuberson, Chief Technology Officer, Public Sector, ICF | View article |
| What IT can do | Henrik Ollus, Customer Success Manager, QOCO Systems | View article |
| A new MRO IT solution for AISG's multiple locations | Alejandro Bravo, Sr. VP Production Control & COO, AISG | View article |
| Planning for a digital future | James Angus, Commercial Director of the Integrated Vehicle Health Management (IVHM) Centre at Cranfield University and John Maggiore is a senior aerospace leader, executive consultant, and digital transformation expert at Cranfield University IVHM Centre. | View article |
| HAECO embarks on an MRO IT upgrade | Teresa Cheung, Assistant General Manager, Centre of Excellence & Cathay Operations, Line Maintenance and Christine Yung, Leader of the AMOS Competence Excellence team, HAECO Hong Kong | View article |
| ATR steps-up to a modern MRO IT solution | Patrick Massicot, Head of Airframe & MRO Services, ATR | View article |
HAECO embarks on an MRO IT upgrade
Author: Teresa Cheung, Assistant General Manager, Centre of Excellence & Cathay Operations, Line Maintenance and Christine Yung, Leader of the AMOS Competence Excellence team, HAECO Hong Kong
Subscribe
Teresa Cheung, Assistant General Manager, Centre of Excellence & Cathay Operations, Line Maintenance and Christine Yung, Leader of the AMOS Competence Excellence team, HAECO Hong Kong share a case study of HAECO's experience in implementing a new MRO solution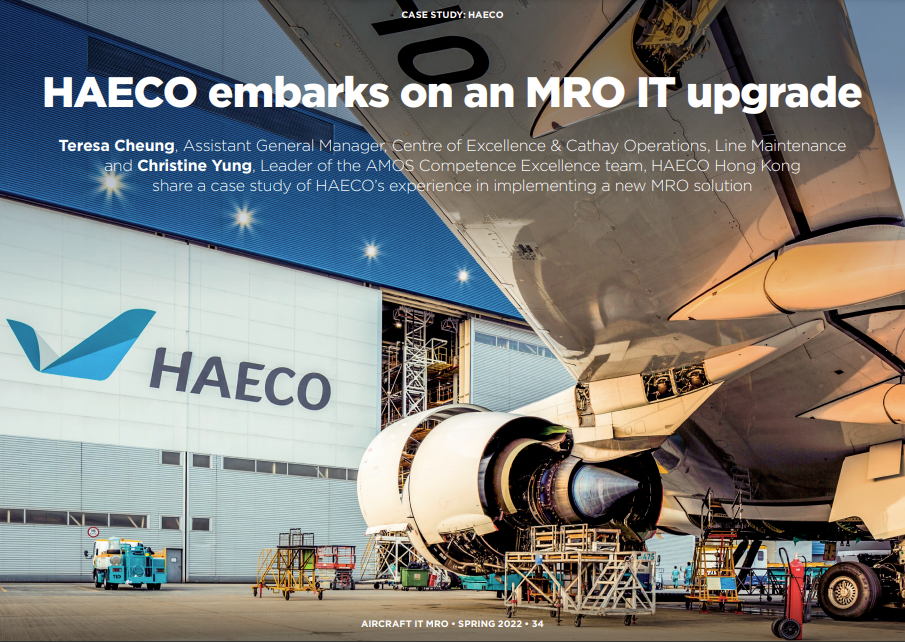 About HAECO

HAECO was established in 1950 with the merger of Swire's Pacific Air Maintenance & Supply Company and Jardine Air Maintenance Company. In the 1960s, HAECO constructed what was Asia's largest aircraft maintenance hangar and grew its business. The Company moved its operations to a brand-new facility at Hong Kong International Airport in 1998 and has since added a second and third hanger to its expanding operations. New capabilities were also added to meet the changing demands of customers.
Today, the HAECO Group is one of the world's leading aviation product and service providers. The Group provides a comprehensive range of products and services in Airframe, Cabin, Component, and Engine segments. The HAECO Group consists of 16 operating companies, employing around 17,000 staff in Hong Kong, the Chinese mainland, Europe, and the United States.
WANTED: A NEW MRO IT SOLUTION
HAECO'S legacy system was designed and built in-house. Its limitations and constraints made it increasingly difficult to support our operations in the modern-day business environment. It was challenging to meet our customers' requirements, such as real time progress status and details. The system did not allow for electronic work packages and data exchange with customers or integration between modules. At the same time, it lacked the capability to facilitate data-centric business decisions. Multiple key business processes, including quotation, contract management and invoicing was still being handled manually and not supported by our legacy IT systems.
OUR CHOICE: SWISS-AS AMOS
HAECO Hong Kong was clear about its needs. We wanted an end-to-end solution with a user-friendly interface. Following several rounds of workshops with Swiss-AS, we concluded that AMOS offered a comprehensive range and practical basic functions for the end-to-end MRO process and comes with friendly user interface. As a service provider, Swiss-AS was responsive to our requests and queries during the Request for Proposal (RFP) stage. They also set out a structured roadmap for future development of functions, which we valued.
AMOS originally stood for Airline Maintenance & Operational Systems when it started off as a purely airline operational system back in 1989. The launch of its AMOS MRO Edition in 2017 covered new features developed specifically for MRO processes. The airline-related functions are quite mature while the MRO functions require future improvements and fine tunings at HAECO Hong Kong.
SELECTION OF AMOS MODULES
The AMOS Business Process Model is very comprehensive as shown below. We decided to implement the AMOS modules highlighted in green as they fall within the scope of MRO like HAECO. Modules shaded grey are more applicable to airlines.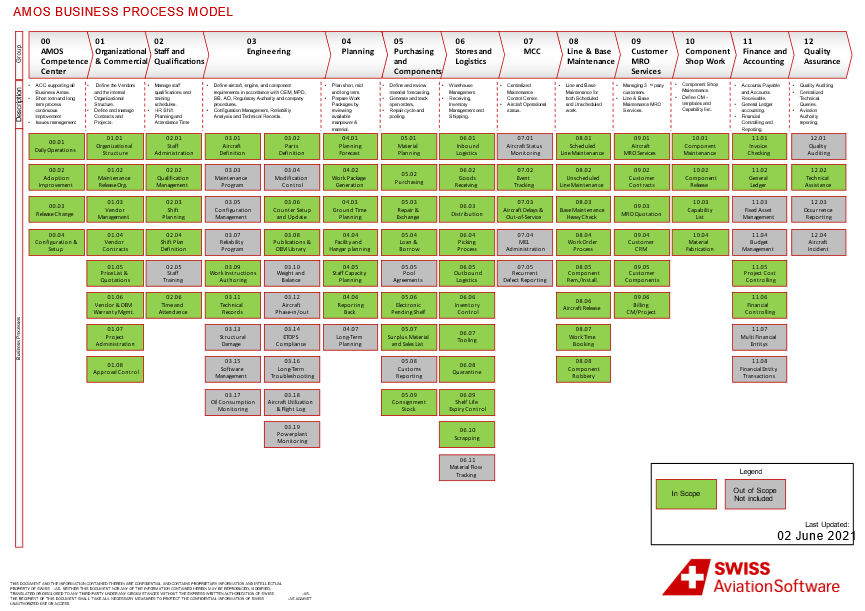 The selected modules were to provide better support for HAECO Hong Kong's daily operations with flexibility to utilise AMOS to the greatest extent possible.
SELECTION AND IMPLEMENTATION PROCESS
With IT solution being a key component of any business infrastructure for many years, even decades to come, selecting the right product and efficient implementation are critical to ensure that business gains the optimum value from the new software.
Selection process
The selection process at HAECO Hong Kong started from identifying active MRO solutions in the market through a touch-base workshop to better understand the products on offer. We then shortlisted the service providers who met our requirements and invited them to exploration workshops to get deeper insights into the each potential solution.
At the next stage, we further narrowed the field down to three solutions with whom we initiated formal RFP processes. Workshop invitations were extended to them, enabling us to further drill into the major functions that the solutions could provide with on-site demos. Out of this thorough process, Swiss-AS AMOS emerged as the best fit with HAECO Hong Kong's needs and culture.
Implementation
Overall, the implementation was a 30-month project overseen and driven by a dedicated project team called smartHAECO formed in April 2019. High calibre employees across departments in HAECO Hong Kong were picked to work on the AMOS implementation. From an initial size of 15 full-time members, the team grew to 25 core members, along with support from more than 80 Subject Matter Experts (SMEs). smartHAECO gained high engagement and support from the HAECO leadership team throughout the project cycle from study to implementation. The project team reported directly to the Director and General Manager of HAECO Hong Kong.
The first and definition stage ran from April to December 2019, with four key steps to be accomplished. We had to learn how to use the system, review and define its business process, identify any gaps between AMOS functions and business as well as HAECO Hong Kong's requirements, and then define the IT infrastructure with the different sub-systems.
The second stage opened with the implementation stage. Between January 2020 and June 2021, four User Acceptance Test (UAT) cycles and Final Acceptance Test (FAT) were carried out. During this time, testing and validation of additionally developed MRO features were also conducted. Trainings took place from January to September 2021 with AMOS leading key users training, train-the-trainer session followed by end-users training. Right from the start of the programme in April 2019, we planned for an exhaustive Data Migration and ran nine cycles throughout the project.
COVID-19 IMPACT
While the pandemic has severely affected the airline industry, there was no significant impact on this project. Work from home arrangements did result in some inconvenience while trying to arrange and carry out UAT test cases but the smartHAECO team quickly adapted to the new work norm with online conferences and tools. Overall, the impact was manageable, and the project timeline was kept on track.
OTHER CHALLENGES
Coordination between different departments could be challenging, especially during the xxxx (FAT)[TK2] stage where we had to mimic the whole end-to-end process from quotation, planning, executing to invoicing. Given the involvement from multiple departments and numerous stakeholders, the coordination on how to ensure a smooth and on-time testing was quite daunting. On a positive note, HAECO project leaders and key users invested great efforts in advocating the need of process and system changes to the business units via strong governance. This created a good awareness in the organisation to collectively pursue the goals and benefits of this project.
TRAINING AND DELIVERY
Training was carried out in three broad phases: key users training, train-the-trainer session and end-users training. Key users training was conducted by Swiss-AS to provide an overview of the system functions to the project team members, to ensure they understand the major modules in AMOS during the early project phase. In the train-the-trainer session, key users conducted training for the SMEs as they would be involved in UATs as well as training the end users in their own departments. Finally, end user training was conducted around four months before AMOS went live at HAECO Hong Kong. It consisted of classroom training with practical exercises.
USER FEEDBACK
A project that involves big change is understandably challenging for employees to adapt. The resistance is also heightened given that HAECO's legacy system had been tailored to internal processes and employee requests.
As AMOS is an integrated system, the linkage between modules could be seen as complex. However, with adequate training and refresher courses planned and delivered during the project implementation phase, users are now well adapted to the system.
REGULATORY MATTERS
Regulatory approval applications are not processed with AMOS. Regulatory approval applications vary among authorities. Submission of supporting documents may have to be submitted by mail, in electronic format by email or uploaded via the respective authority's portal. Automated processes do not easily suit the purpose.

LESSONS LEARNED
While we have achieved the deliverables, there is always room for improvement. For this project, we had put too much attention on the actual functionalities of AMOS and limited ourselves to addressing the issues. If more focus and resources had been put into change management and advocating the opportunities that the system had to offer, it may have helped to shift our staff's perception and enable them to be more receptive to adopting AMOS.
ADVICE WHEN CONSIDERING A NEW MRO SOLUTION

If your business is contemplating a change like the one HAECO Hong Kong undertook, you need to decide if you want a whole new system to cater to end-to-end MRO functions or just an add-on MRO solution to your existing system. For the latter, it is key that your current and potential solution are compatible or integration would pose challenges.
BENEFITS FROM IMPLEMENTING AMOS
Given that we are still in the stabilisation phase, more change requests from AMOS is expected in the coming version. A benefit that we have observed so far is the digitalised exchange of work packages in structured data language (XML).
VENDOR FOLLOW UP

Our needs and reasons for change were well addressed. AMOS provided HAECO Hong Kong with the end-to-end solution that we were looking for, even though a lot of enhancement work are still in progress. AMOS has been and continues to be very responsive to our change requests, addressing them with utmost professionalism, with plans for future development.
NEXT STEPS
We will be upgrading to the latest version of AMOS in August this year and also kick start the AMOSmobile study with our operations team. Our target is to implement AMOSmobile by end 2022 so that staff can work more efficiently with mobile devices.

CONCLUSION

The dedication from the project team members is highly admirable. Most importantly, the strong leadership and direction from the steering committees were crucial in keeping the project well on track and ensuring its success.
Contributor(s) Details
Teresa Cheung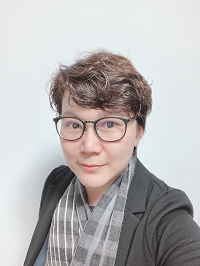 Teresa started her aviation career from a "Next Generation Maintenance & Engineering System" study in an airline. Over the past 25 years, she took on a wide range of functions in airlines and MRO, including engineering, corporate safety, inflight services and airports operation. After two decades, she returned to M&E and recently completed a transformational M&E project in HAECO. She holds a degree in Accounting & Financial Analysis and post-graduated in Business Administration, E-commerce, Logistics and Digital Transformation.
Christine Yung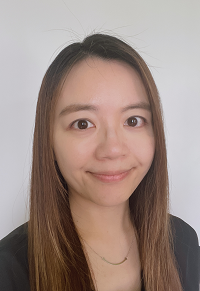 Christine joined HAECO as a Graduate Trainee in 2013 with a degree in Aerospace Engineering and Business Management. She was posted to different departments and took up various roles covering areas such as operational support, employee relations and project management in the past 8 years. She was a member of the smartHAECO team and served as the Functional Lead on planning and now has stepped up in leading the AMOS Competence Excellence team.
---
Comments (0)
There are currently no comments about this article.