Aircraft IT OPS – July / August 2020
Subscribe
EFB should stand for enhanced flight bag – PART 1
Author: Sébastien Veigneau, President, dgBirds
Subscribe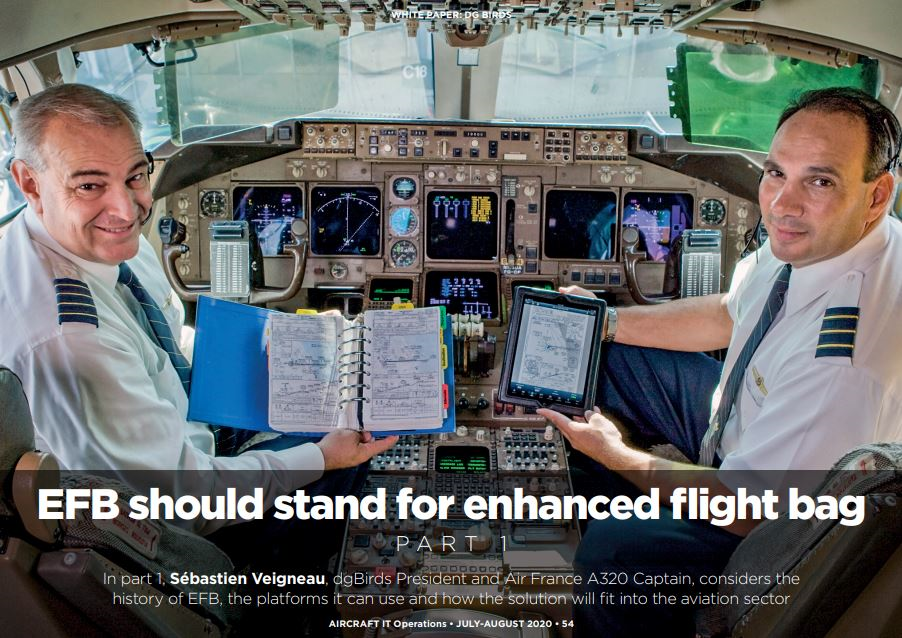 In part 1, Sébastien Veigneau, dgBirds President and Air France A320 Captain, considers the history of EFB, the platforms it can use and how the solution will fit into the aviation sector
For many years, pilots have been bringing paper documents to the cockpit in hefty flight bags; then, in 2010, everything changed when the iPad was launched. Where, previously, 'avionics' had been the only IT permitted on board to assist pilots in performance of their duties, mobile IT, with its short development cycles, is now accepted. Rapid innovation can now enter cockpits with tablets hosting EFB (Electronic Flight Bag) applications that really should do much more than simply replace paper. Pilots don't want just an Electronic version of the paper original: they'd rather have an 'Enhanced Flight Bag'; fed from collaborative sources, with applications and functions harnessing the power of digital technology to enhance situational awareness before, during and after the flight. New levels of operational efficiency and safety will result from information sharing, collaborative algorithms and overall or individually gained experience. So what are these EFB solutions?
CUTTING A LONG STORY SHORT
The history of EFBs started well before 2010, but that year was pivotal in the development of this aid to efficiency. At that time, many major airlines had no EFB program and those having one had a very limited number of EFB functions.
Different EFB classes, functions and options
In 2010, EFB platforms were one of Class 3, Class 2 or Class 1 EFBs and some that qualified as 'Class 1½' EFBs, depending on how they were connected to the aircraft. To make it simple, Class 3 EFBs used aircraft integrated platforms (not removable in normal service), Class 2 EFBs used platforms plugged to the aircraft to get electrical power and/or data, and Class 1 EFBs used platforms not connected to the aircraft. EFB platforms were laptops, stylus-operated portable computers or early tablets. Functions included documents, browsers, charting solutions and take-off performance calculations. The business case was simple: paperless, paperless and paperless. We should add that for take-off performance calculations the business case was driven by engine maintenance costs reduction, thanks to a very accurate computation of the reduced thrust needed to take-off.
However, Class 3 EFBs were not always user friendly or up-to-date in terms of processor performance; and the cost of Class 2 EFB installation was not easy to justify to management. Class 1 EFBs were simply not that sexy. They were tablets or off-the-shelf laptops, customized to support EFBs: even touch screen wasn't standard. In short, EFBs were introduced with an initial range of functions that mainly replaced some paper processes with equivalent software solutions on electronic platforms, which remained the case until the iPad was launched in 2010.
2010, THE PIVOTAL YEAR
When the iPad was launched in early 2010, something changed, notwithstanding that the device was not dedicated to any specific business purpose and even less so for aeronautics.
Cockpits welcome Mobile IT
Suddenly, mobile IT with its short development cycles was welcome in the cockpit because this brand new tablet offered far more advantages than restrictions as platform for an EFB. However, many stakeholders in our very conservative industry struggled to see such an innovation as the 'good idea of the decade'; except, that is, for final users, the pilots. Mobile computing has always been associated with the guarantee of a very good user experience but Apple has made it a central point without variation, which distinguished the iPad from previous tablets. In the closed world of the cockpit, ergonomic considerations have always been at the heart of any improvement to the pilot's working environment, but the concept of user experience had not yet become a strong consideration. That's why it took only a few months for the iPad to find its place in the cockpit.
User experience first
People who were skeptical about the iPad argued that the tablet was too small, too fragile, too bright in a dark environment, not manageable, not connectable to the plane… even too beautiful for pilots: although they bought the devices for their children at Christmas. However, proponents of iPads saw only advantages: removal of paper and its associated weight on the aircraft, ease of use, a high-quality screen with better readability than a larger traditional laptop screen, exceptional touch interface, incredible autonomy, ease of installation for new applications, ease of content distribution, etc. In short, it offered user experience first.
A wake-up call for the industry
It didn't mean that Windows EFB platforms had to disappear from cockpits, but the feeling at that time was that the iPad was the new big challenger as an EFB platform. That was a wake-up call for Microsoft whose famous operating system was not, in 2010, ready to be touch-compatible. With the iPad in the cockpit, rapid innovation was possible… to digitize, eliminate paper, simplify update procedures, reduce weight or optimize the flight.
IT OR MAINTENANCE SERVICES?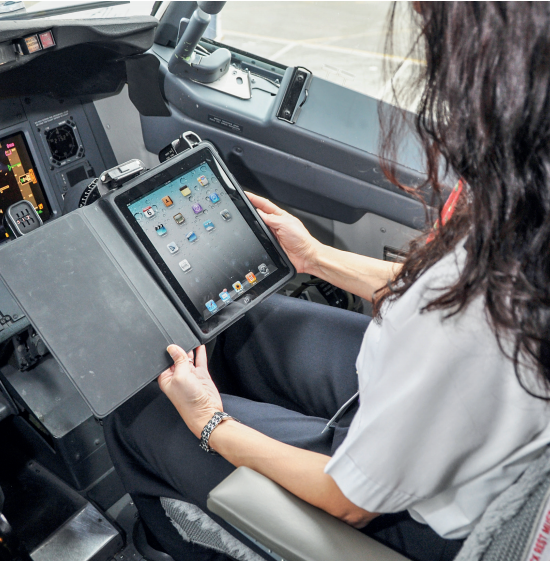 This new entrant in the EFB world raised a subsidiary question to those who planned to deploy attached iPads in aircraft, i.e. devices remaining in the aircraft and not allocated to pilots to bring them on board. If the object is allocated to pilots, there is no doubt that it is a computer system whose maintenance is the responsibility of the Information Systems Department. But what happens if the iPad is attached to the aircraft? Can it be or should it be a part of the MRO program (Maintenance, Repair and Operations) without having a Part Number? In other words, who would ensure the updates of this consumer tablet and who would take over its maintenance?

The overwhelming majority of operators chose to distribute iPads to pilots, thus withdrawing all the issues of responsibility for updating. At the same time, operators were establishing the involvement of IT for the administration and maintenance processes of these tablets which played a role in terms of dispatch of the aircraft. On the other side of that, in 2010 maintenance departments had little incentive to get involved in the maintenance of a consumer tablet. And last but not least, the Apple ecosystem relying on the iOS (Operating System) was not ready to facilitate that.
SOFTWARE WAS THE KEY
The hardware to support rapid innovation in cockpits was found. But in 2010, the software for a consumer tablet used as an EFB had yet to be developed.
New game, new players
Airframe OEMs (Original Equipment Manufacturers) rapidly started to develop EFB applications for the iPad, but they were not the only ones. During this exciting period new players entered the EFB software market, all with more innovative ideas. Effectively, the technological barrier to progress was gone.
The end-user at the heart of specifications
What was successful for consumer electronic tablets applications needed also to be successful for applications dedicated to professional pilots: placing end-users at the heart of the specification process and developing applications appropriate to their needs. In fact, applications on tablets deliver much more than a response to a user need, they deliver a user experience. This concept had not, so far, been at the heart of EFB solutions' development.
Airlines were part of the game
Among the new players coming to shake up the EFB world, airlines having the IT capability and the ambition began to develop their own solutions as they were unable to find any off-the-shelf solution corresponding perfectly to their specific needs. However, while many companies were taking the leap of launching their EFB program using software solutions from the market, only a few were embarking on the adventure of developing their internal solutions. For example, in 2011, Air France started the development of EFB applications on iPad to support pilots; and who could be better placed to understand the needs of its pilots than the airline itself? To do this, it was necessary to overcome a number of barriers, sometimes psychological ones, in order to make this major decision to involve IT on the EFB subject. The IT division, at that time, was mainly responsible for back-office systems, and the deployment of office solutions together with solutions for customers. But now, it was about developing and maintaining solutions for operational staff, to be used in the critical and highly regulated cockpit environment. The challenge was important.
New development methods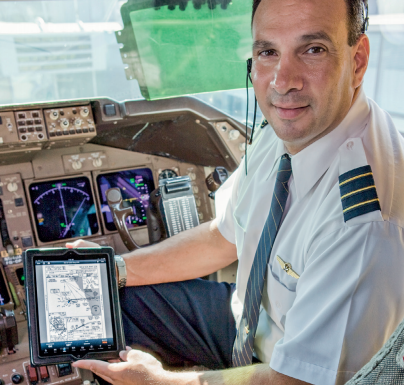 It was an opportunity to set up new Agile work methods which established a direct link between the business and software developers. For the first time, pilots were sitting around the same table as developers, but they were not the only ones. All the businesses or stakeholders involved in the development of the EFB solution were physically grouped together in a single space to ensure the efficient development of a solution that perfectly met the needs of each business or stakeholder. The Agile method, used in software development, is a particular approach to project management. To assist teams in responding to the unpredictability of software development, it uses iterative work sequences that are commonly known as sprints. After each sprint, the software is considered as deliverable.
The Agile method ensures that value is optimized throughout the development process. The use of continuous feedback ensures that teams can continuously align a delivered product with client needs. That's how the Agile method helps companies build the right product for purpose. Instead of trying to market software before it is written, it empowers teams to optimize each release during developments.
A success story
The project at Air France was successful because it achieved the dual objectives of providing pilots with a very good user experience in carrying out tasks related to their mission, and enabling the company to improve a number of indicators. Air France pilots still access their documentation in a very intuitive way on iPad. They are notified of updates, can customize their documentation, or search efficiently for information from hundreds of documents available to them (operations manual, training booklets, safety information, flight safety, health, human resources…). They can write flight safety reports, answer questionnaires, or retrieve and study their briefing package.
These same methods were then deployed for the creation of software supporting other businesses and to further advance that, in 2017, Air France created dgBirds, a subsidiary to pursue the development of innovative mobile solutions and market its know-how. It's not so much about IT competencies, because many startups know how to develop mobile solutions: it's a question of being able to express a general need for the aeronautical industry and to make it a reality through a solution. And for an EFB solution, that's simpler when the developer is close to an airline.
REGULATION: FOLLOWING OR LEADING?
It took aviation regulatory authorities some time to take stock of the revolution that was going on in the cockpits. They wondered whether it was a fashion phenomenon or a lasting trend, so it took a few years for regulations to adapt to these innovations. Also, it was not easy because the development cycles of software solutions are much faster than those of aircraft developments in general, and for cockpits and avionics… especially in commercial aviation. Moreover, it could be said that regulation must follow technological developments or, better still, anticipate them. Eight years after the release of the iPad, the European and American authorities launched the necessary processes to stay ahead of technological developments. In doing so, they no longer want to be seen as a brake against innovation, but still to be maintaining their major role as guarantors of flight safety.
STANDARDIZATION
EFB standards were not designed for consumer tablets. The history of EFBs started well before 2010 and the industry has over the years developed a number of standards among which ARINC 429 (Digital Information Transfer System), ARINC 618 (Air/Ground character-oriented protocol), ARINC 619 (ACARS), ARINC 620 (Datalink) ARINC 633 (Electronic Flight Folder), etc. The overall goal was to define communication protocols between applications and aircraft or ground systems. Some standards were dedicated to EFBs in order to better integrate this new domain, into cockpits. For instance, the ARINC 840 is an application control interface standard for EFBs, while the ARINC 828 is about the standard interface of an EFB.
But after 2010 and the iPad, everything that had gone before was up to be questioned. The standards will have little or no implication. While they were there to facilitate innovation by allowing a better integration of hardware and software EFBs together, in the tablet era they would more like be considered as brakes.
Specific standards for consumer tablets used as EFBs are not yet ready but it is not really a brake. The first EFB applications on consumer tablets were based on IT standards. The EFB world standards were not needed. This will be necessary when developments will make these applications communicate with each other or with aircraft systems. Part 2 in the next issue will cover what pilots might want from an EFB and how that can be delivered within the regulatory environment.
Contributor's Details
Sébastien Veigneau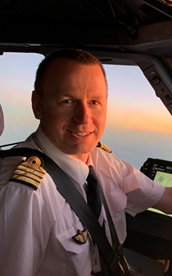 After teaching computer science and as a TRI while flying A320 and B777, Sébastien is now flying the A320 as Captain at Air France. With a PhD in Computer Science and his Air Transport Pilot License, he developed software solutions before introducing the iPad for Air France pilots in 2012. As an EFB expert, he participated to the EASA RMT 601/602. In 2017, he co-created and became President of dgBirds, AF subsidiary.
DG Birds

dgBirds is a vibrant company based on many years of experience in designing mobile solutions for professional pilots. In 2010, Air France chose the iPad as an Electronic Flight Bag for its pilots and developed some apps to support their mission. dgBirds was launched in 2017 as a subsidiary of Air France to build on this successful solution used by 4000 pilots. The business is committed to developing and marketing software solutions for any mobile business.
Comments (0)
There are currently no comments about this article.