Aircraft IT OPS Issue 55: Spring 2023
Subscribe
CASE STUDY: Taking basics to the next level at Frontier Airlines
Author: Casey Meeks, Technical Standards Captain, Frontier Airlines
Subscribe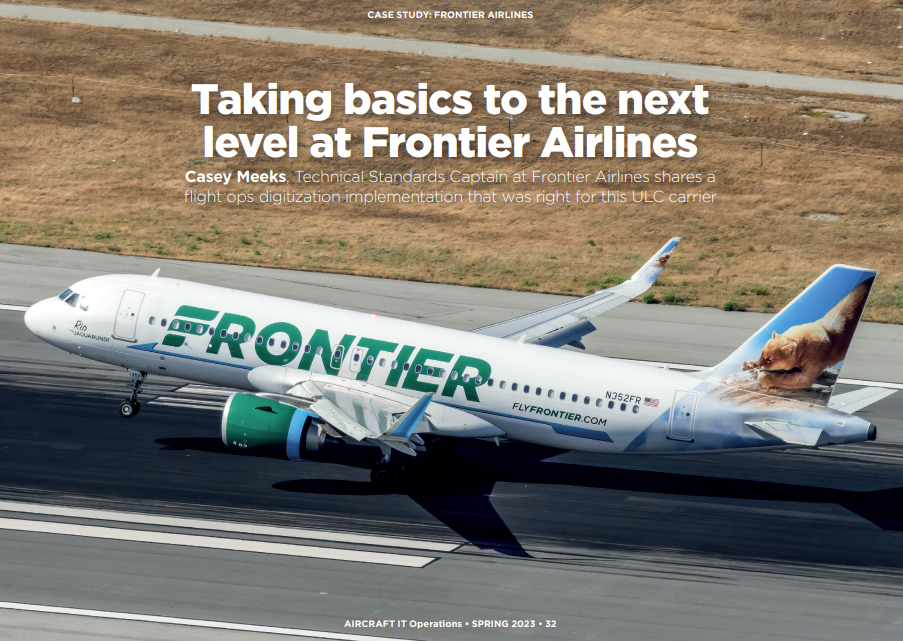 Casey Meeks, Technical Standards Captain at Frontier Airlines shares a flight ops digitization implementation that was right for this ULC carrier
When we speak about new technologies, I'm reminded that the common tools we use today are rooted and born from a deep understanding of the subjects in which they apply. Thinking back to my first days as a pilot for Frontier Airlines, I clearly remember our first class in ground school, a meteorology course taught by retired Air Force Meteorologist, Dr. Fogg. Dr Fogg (his real name) had a particular passion for understanding weather, and an excellent slideshow that brought to life his journal notes. He taught us not only the technical details of weather systems, but also showed us how it applied to us as pilots.
In his lectures, Dr. Fogg taught us what the first tendrils of crystal-wisp clouds approaching from the West would mean to our upcoming flight, and the best way to penetrate through the standing wave cloud perched high over the Continental Divide. He challenged us on a seemingly glorious forecast, asking if we had enough fuel to sit in a holding pattern approaching LaGuardia. In Salt Lake City, he pointed out how a VFR forecast in the middle of winter could easily turn into a blinding IFR final approach. In Spokane he highlighted a METAR for heavy smoke, describing what this would feel like as the sun turned blood-red and the smell of burning pine filled the cabin on descent. His deep understanding of meteorology gave meaning to the important stories hidden within our dispatch release despite its clunky old single space 1950's teletype format. Ultimately, Dr Fogg showed us how to take a seemingly simple string of words and dissect it, giving relevance to the real-world phenomena that would affect our flights. His class taught me to look at data differently and inspired me to read each simple release with more detail to find the story hidden within.
Decades have passed since that class, and as new technologies have emerged information availability has increased. With that, the importance of filtering relevant data for its practical application in an operation has become the focus of my interests as an Airline Technologist. The ability of a product to help pilots find, understand, and use that relevant data is something that I have always strived to implement and expect this capability from the tools at my disposal as a pilot. While we rarely have the opportunity for lecture-type courses like Dr. Fogg's, we do have products that accomplish much of the same: bringing data to life and helping pilots collate relevant data available to improve safety, save fuel, and improve operational reliability.
FRONTIER AIRLINES
I began my career at Frontier Airlines in 2001 and have seen it thrive and grow through many challenges common to the airline industry. Headquartered in Denver, Colorado, Frontier Airlines operates more than 120 A320 family aircraft and has the largest A320neo fleet in the U.S. serving approximately 100 destinations in the U.S., Caribbean, Mexico, and Latin America. From the outset, Frontier has been focused on operating fuel-efficient flights. Frontier's seating configuration, weight-saving tactics, and baggage process have all contributed to the airline's continued ability to be the most fuel-efficient of all major U.S. carriers when measured by available seat miles (ASMs) per fuel gallon consumed. Frontier has over 230 new Airbus aircraft on order, and we are delivering on our mission to provide affordable travel across America, as well as a commitment to being America's Greenest Airlines.
Frontier Airlines, utilizing technology to optimize flights
In order to continue our mission to provide affordable travel and our commitment to green initiatives, it has become crucial to implement technical solutions in the flight deck and through our EFB program to help pilots maximize efficiency on each and every flight leg. The development of our EFB program over the last ten years has been focused on the interface of data from multiple legacy systems to optimize operational reliability. Frontier Airlines enjoys a mature EFB program that will be very familiar to most readers. Like many airlines, our program is built around iPads, JetBag and Pivot products, and Vistair DocuNet for Document Management. We provide dedicated EFB power on the flight deck and all EFB's enjoy unlimited cellular services domestic and internationally. Rather unique to Frontier's approach is the use of the Garmin GDL50 to display FAA provided ADS-B Weather and Traffic information while in flight.
Despite a new and modern Airbus fleet equipped with all the best equipment, in 2020 Frontier still faced challenges in the dedication to our mission. To truly honor our commitment to sustainability and to drive additional operational efficiencies, we needed to find an alternative to our old paper-based Dispatch Release system. Transitioning to Electronic Dispatch Releases provides savings on both paper costs and fuel consumption. Our estimates conclude that electronic Dispatch releases save more than $600,000 a year on paper and ink alone and remove 10 million printed pieces of paper yearly from our operation. Fuel consumption considerations had been the driving factor for approval for the initial EFB hardware program years ago, and this digital transformation will save more than 9,000 gallons of fuel per year. Keep in mind, too, that a dispatch release is printed off and thrown away at the conclusion of each flight, and if there is an amendment to the release or changes in weather, a new version would have to be printed or sent via ACARS messaging. Transitioning to Electronic Dispatch Releases became the primary focus of Flight Operations EFB development.
Another challenge we faced was a rather antiquated approach to Oceanic fuel scoring. Fuel scoring and tracking was a paper-based procedure for every oceanic waypoint such as those encountered simply flying across the Gulf of Mexico. Each waypoint was circled, the latitude/longitude validated, a line drawn through and the time/fuel written over it (commonly referred to as 'circle and tick' procedures). On arrival at the destination, this piece of paper was then deposited into a box for auditing. Modification of this process presented yet another opportunity to improve our efficiency though digitization.
Having identified significant opportunities in an all-digital platform, one clear challenge remained: integration with our classic dispatch release system. On investigating the possibilities, we found that there were very few .xml tags in the data feed. We would therefore have to work alongside our EFB partners to find a solution to interpret all the different data types coming from our legacy systems. The results of this work are outlined below.
AN EFF THAT MEETS OUR EXPECTATIONS
To ensure that our program was able to achieve its full potential we established and validated our list of requirements. Thankfully, and a key factor to the speed of implementation, our requirements were very simple: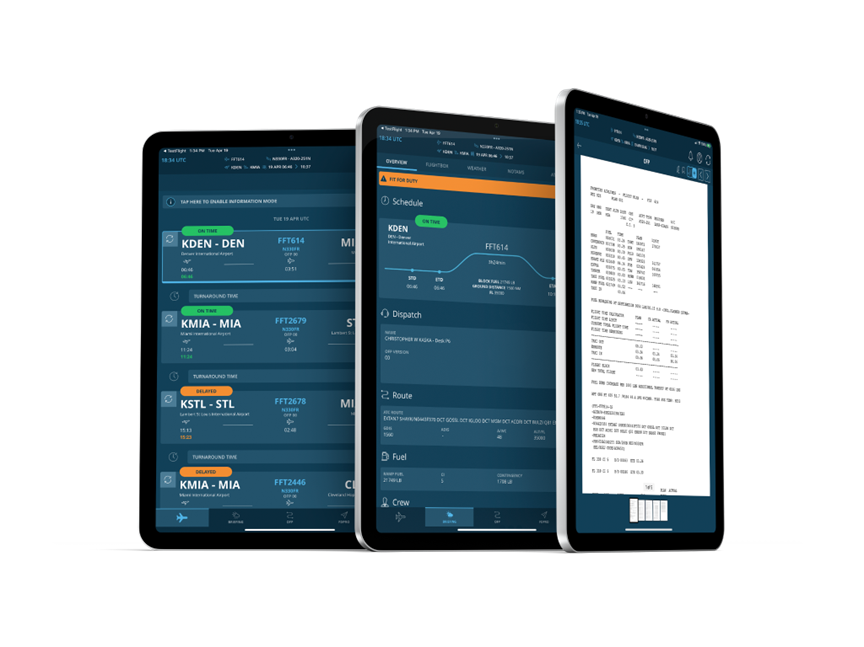 Automated digital delivery of the OFP (operational flight plan) without pilots having to pull it down from a repository.
A means of recording the captain's signature on the OFP as well as two signatures from the Captain and First Officer for 'Fit for Duty'.
PDF back-up of the OFP.
Customizable post-flight report.
Dispatch retraction of the OFP in case something changed.
And finally, the opportunity to deep link to other applications to improve operational efficiency and workflow.
The result was a very detailed RFP process which ended with us choosing AvioBook. Throughout 2020 and COVID, we had time to work on this project and, within a few months, we were able to implement the first phase of the implementation.
IMPLEMENTATION PHASE 1 – PREPARATION IS KEY
The initial Aviobook implementation process was relatively straight forward. The most important information relating to dispatch releases was replicated, key elements identified, and that data was stripped out and put into the AvioBook Flight application for introduction to our crews.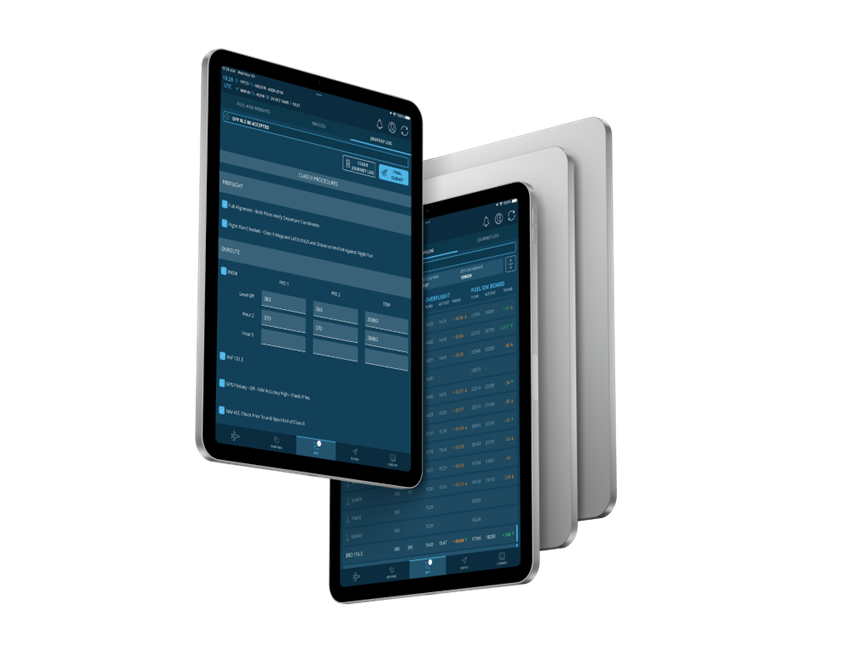 To begin with, and during the transition to paperless, we kept the paper version of the dispatch release in place to allow crews to become comfortable with the speed and reliability of the new Aviobook solution. Additionally, we tried to keep the process as simple as possible for easy adoption by our flight crews. We adopted a ''keep it simple'' process to maintain similarity to the current paper process. By this, we hoped that Frontier's crews would feel at ease with the new digital tool from AvioBook. However, we didn't sacrifice convenience for familiarity and ensured relevant deep linking to some applications or URLs. These included:
Aeronautical Charting
Document Manuals
eQRH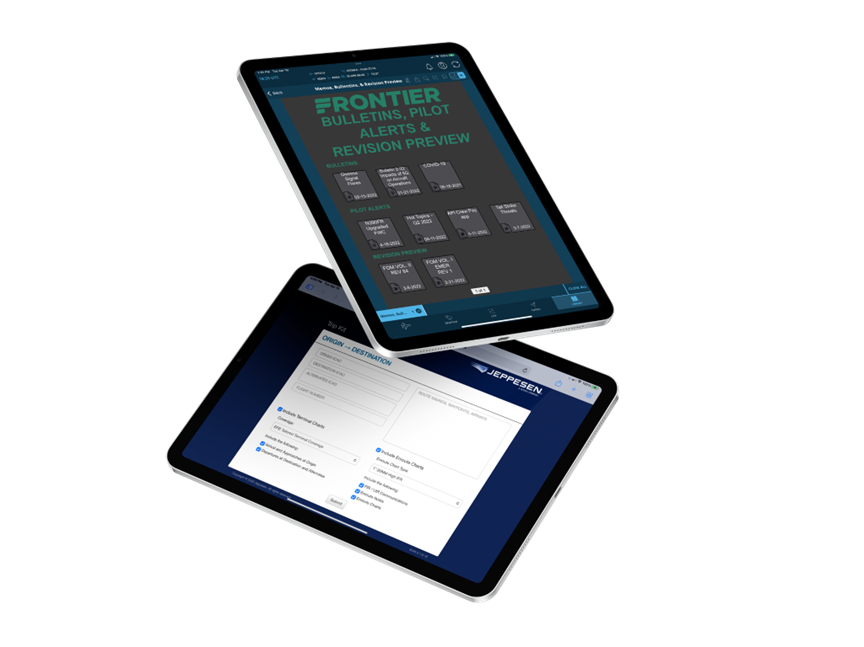 Flexible Implementation and Focusing on the Pilot Experience
We had challenges to overcome in our rollout as pilots adopted these new processes. From document management and signature capture, to oceanic procedures and more, we allowed for a flexible approach to implementation, focusing on usability to improve our pilot user experience. A flexible approach to our Aviobook integration meant we were able to add or import a range of different elements for validation by flight crews. This data included schedule import and on-time performance display. This was all part of enabling more efficient preparations and planning.
Moreover, with smart EFB solutions we have been able to streamline flight preparation including pilot awareness of procedural or operational changes. We had recently implemented Vistair DocuNet™ as our Document Management System (DMS) and wanted to ensure this product was easy to access from Aviobook. One of the challenges with a large DMS is that there are approximately 750 pushed documents available to our pilots at any one time. This is a huge number of documents with varying levels of importance. Many of the 750 are memos, bulletins, or updates to include leadership communications. However, with our ''keep it simple'' philosophy we wanted to find a way to streamline flight preparation. As a solution, we created what we call 'flat sheets.' Flat sheets are tiles hosted inside AvioBook that act as a one-stop-shop to enable pilot awareness for the most critical Flight Operations changes. From the flat sheet in Aviobook, pilots can deep link directly into DocuNet and provide must-read digital compliance statements and become instantly familiar with any critical operational changes that may have been published since their last trip.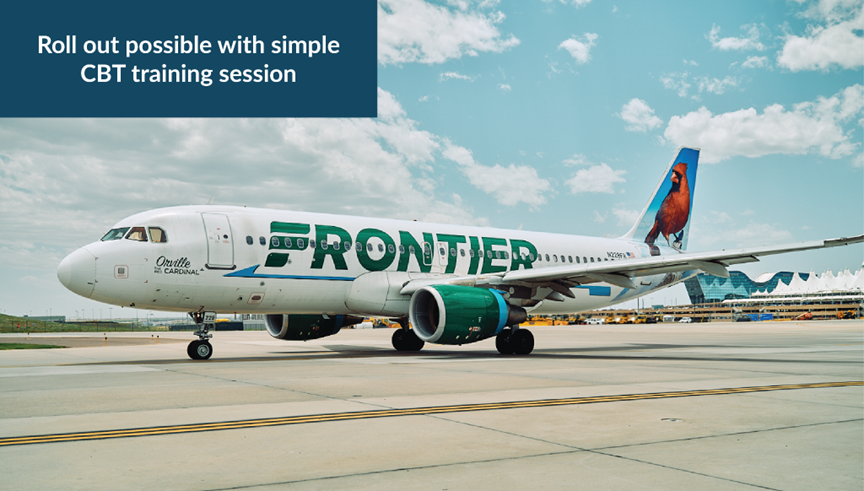 Remember the 'circle and tick' Oceanic procedure? Through Aviobook we found a solution to automate and immediately access a means to fill out a post-flight report of fuel scoring and waypoint validation. The improved solution has greatly simplified the process for pilots and has been a win for the digitization project. The easy adoption of AvioBook by our pilots has led to a seamless transition and maximization of our original goals toward total digitization, and subsequently, cost savings.
In the challenge of signature capture, we made use of the flexibility afforded by the iOS system and utilize both hand-scribed signatures and digital thumbprint technology to satisfy the regulatory requirements of user validation.
Annotations were another key paper-like feature that pilots enjoy. We showed them how they could use annotations in AvioBook, writing on their dispatch release and highlighting paragraphs they thought useful. Essentially, they could still use the release in the same way as they had on the earlier paper releases.
The initial pilot testing phase was rather simple. We realized that by keeping it simple and familiar, pilots would only need a simple Computer Based Training (CBT) Module to become operationally ready. During this training we emphasized the similarities of using AvioBook to the existing paper processes.
IMPLEMENTATION PHASE 2 – PROVIDING SMART SUPPORT
Following the successful launch of Phase 1, in August 2022 we kicked-off the next implementation phase that was built around the 'Phase of Flight' module from AvioBook. This Phase includes checklists, airport information, and greater database integrations.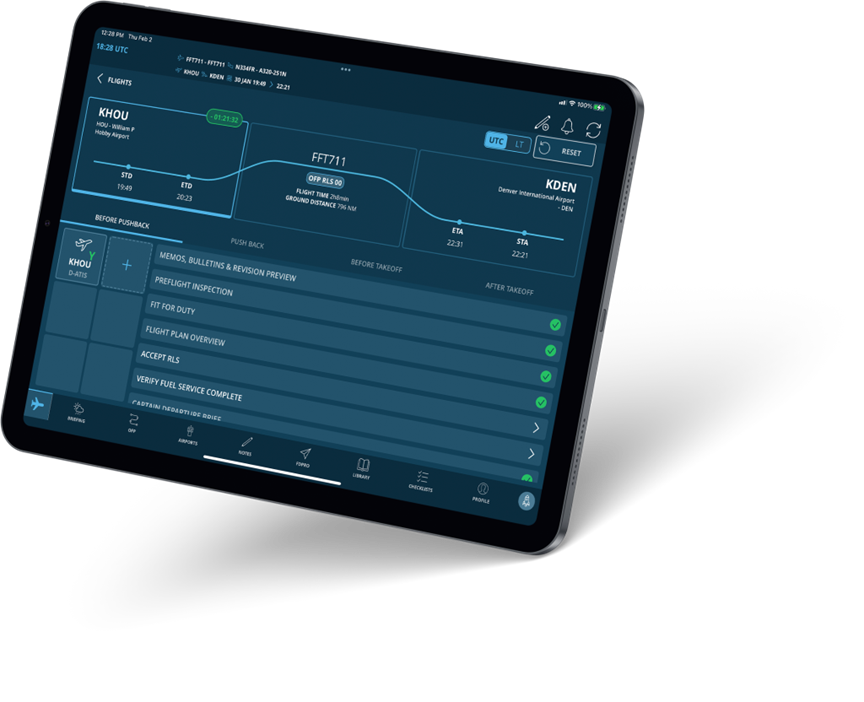 The Phase of Flight module goes one step past checklists. Pilots understand how to use a checklist, but Phase of Flight provides an interactive workflow for pilots and summarizes the expected flow of events for each flight, signature requirements, and normal checklists. It also helps an airline emphasize the philosophy and standards of their normal and expected processes and is easy to modify to drive further integrations within an operation. Put succinctly, phase of flight offers visibility over operations and tasks that pilots need to complete to ensure task completion in an organized manner that aligns with each phase of a flight from preflight to completion.

Digital Checklists
Phase of Flight integrates seamlessly with the Checklists module provided by AvioBook. At Frontier, Phase of Flight has created an opportunity to easily create and update digital checklists. Digital checklists allow Frontier to easily maintain standardization across our fleet, are efficient for administrators to update, and present a seamless workflow for pilots.
Checklist updates can be accomplished in minutes and pushed to the pilot group without the time-consuming task of printing, laminating, and transporting them to the aircraft. For even a smaller operation like Frontier, digital checklists represent cost savings that can exceed US$100,000 per revision. While we still currently print checklists, the adoption rate to digital checklists has been astounding and, in an increasingly paperless world, this will position Frontier pilots for easy adoption to an entirely paperless flight deck in the near future. Additionally, digital checklists within AvioBook provide instant access to other modules, are appropriately lit, and much easier to read at night. Features in the digital checklist also include the ability to override items that are not applicable, or the ability to pause a checklist (for example, while awaiting fueling completion) and resume at the appropriate time. Once complete, the phase of flight module directs the pilots to the next phase element or appropriate checklist.
Airport Information
To improve ease of workflow, and as an aid to situational awareness, we elected to add our company airport information pages directly into the phase of flight module. Risks, highlights, company contact frequencies, and security sensitive elements can now all be updated instantaneously and presented to pilots. Previously, we were pushing those updates through our aeronautical data chart provider which caused an unscheduled update to our aeronautical charts any time we updated the Aeronautical Information Publications (AIPs).
The geographic location of the iPad can be used to provide information about the nearest airport and suitable alternates, even while in flight. During a flight diversion, pilots are immediately presented with the closest airports alongside their limitations and restrictions. The practicalities of this solution are clear. We are currently improving the Airport Information module with digital ATIS, NOTAMS, and current weather so that the pilot has critical decision data in one place.
Widgets
The final element in Phase 2 is widgets. This has been a collaborative effort with AvioBook to build practical widgets for pilots. Information such as digital briefing cards, tarmac delay information, or jump seat briefing cards have all been moved within AvioBook allowing us to edit them electronically.
One example of a widget that is available to pilots in the preflight phase of flight is the countdown timer. The countdown timer is a real-time widget that ensures time awareness in the completion of crew preflight duties. The countdown timer changes colors approaching and after departure time as well. This small visual tool provides pilots an accessible reference to optimize on-time performance.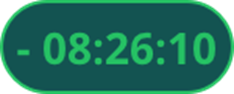 In that vein, with AvioBook we have developed a delay widget which is soon to roll out. The delay widget represents an amazing opportunity in the data capture of costly micro-faults in our operation that can be processed immediately to further improve operational efficiency. The delay widget works by pilot activation. For example, if our aircraft pulls up to a gate but doesn't have marshallers, ground power, or a jetway driver, a pilot can use the widget to start a timer. When the time is stopped, the widget disappears. On the back end, we use the A4A cost of delay, at $80.52 per minute, as the average cost per minute of a delay for a 121 operator. So, a three-minute delay costs $240. That information is critically important for Frontier's operations, and when presented to an airline's operation team, creates a compelling justification that can be addressed and rectified at the operational level through both qualifying and quantitative cost data. This data is then directly accessible to our system thanks to the Business Intelligence integrator.
Brad Lambert, VP of Flight Operations summarizes this project perfectly. "The operational rollout of Aviobook represents a multi-year effort to focus on our commitment to Operational Excellence through better use of technology. Electronic Dispatch Release allows us to further our commitment to maintaining our status as America's Greenest Airline and enhances the safety and communication tools our pilots have access to while preparing for and operating every flight."
SUMMARY
Frontier Airlines remains committed to deploying the best technical solutions for both Flight Operations and our supporting networks within the company. AvioBook serves as the operational epicenter for all things Flight Ops and perfectly integrates with other company legacy systems to ensure operational reliability and provides opportunities for data management during critical system failures. As a Flight Ops Technologists, I challenge all of us to think about our daily operations and how we can improve our existing systems to become better integrated with a focus on breaking down any communication silos between our operational work groups.
I recently learned of Dr. Fogg's passing. He knew nothing about EFBs, iPads, or systems integrations. However, his legacy lives on today in a system that will ensure that future generations of Frontier pilots learn to love the stories buried in the simple dispatch release.
End…

Contributor's Details
Casey Meeks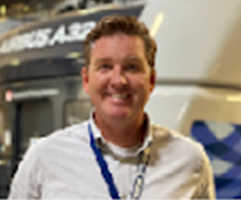 Casey has been with Frontier Airlines for more than 21 years as an APD, Line Pilot, and Flight Ops Technologist. As the Technical Standards Captain, Casey has led Frontier Airlines through four generations of EFB Programs and continues to work to find unique solutions to ensure America's Greenest Airline remains on the leading edge of digital solutions used to empower Flight Operations.
Frontier Airlines

Frontier Airlines operates 120 A320 family aircraft and has the largest A320neo family fleet in the U.S. The use of these aircraft, Frontier's seating configuration, weight-saving tactics and baggage process have all contributed to Frontier's continued ability to be the most fuel-efficient of all major U.S. carriers when measured by available seat miles (ASMs) per fuel gallon consumed. With more than 230 new Airbus planes on order, Frontier will continue to grow.
AVIOBOOK
AvioBook offers a comprehensive and integrated suite of ground and flight applications, systems and solutions that connect all stakeholders and key assets in a safe and secure manner. Proven solutions from AvioBook make communication between the cockpit, cabin and back office faster and more efficient. With the integrated and secure AvioBook application suite, pilots, cabin crew, dispatchers and ground staff can be securely connected to each other, making communication more efficient and driving value throughout the operation.
Comments (0)
There are currently no comments about this article.