Aircraft IT OPS Issue 55: Spring 2023
Subscribe
CASE STUDY: MYAirline builds the right foundations for success
Author: Capt. Dharmaraj Naiker, Director of Flight Operations, and Capt. Kuhan Ananthavadivel, Head of Safety and Quality, both at MYAirline
Subscribe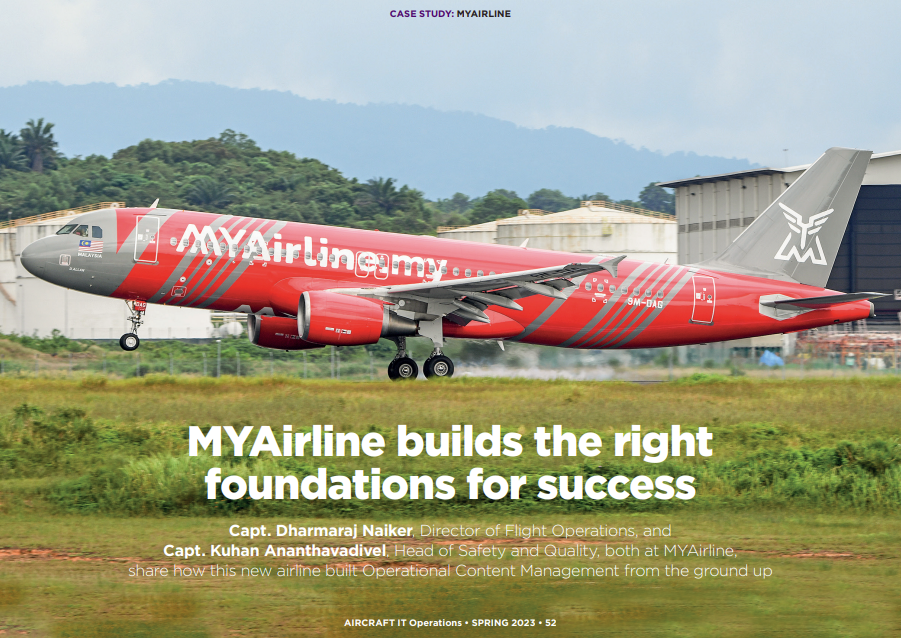 Capt. Dharmaraj Naiker, Director of Flight Operations, and Capt. Kuhan Ananthavadivel, Head of Safety and Quality, both at MYAirline, share how this new airline built Operational Content Management from the ground up
MYAIRLINE
MYAirline is a very new airline. The core management group of ten people was recruited in early 2021 and, in the second quarter, we started the necessary processes with the Malaysian Aviation Commission (MAVCOM) to get our ASL (Air Service License) granted. Once that had been granted, the next step was the AOC (Air Operator Certificate) approval process. After that, the challenges really started with a real pressure to finish our work quickly, efficiently and effectively in order to meet the timelines that we had established. The manuals were the first project that had to be completed.
MYAirline is a new low-cost carrier (LCC) operating from KLIA2 in Kuala Lumpur, and we were awarded our provisional Air Service License by MAVCOM on 22 December 2021, followed by our AOC on 1 October 2022. Currently with 300 staff, MYAirline had three A320 CEOs ready to fly at the time of writing. The plan, over the next five years, is to grow the fleet to 50 aircraft and, while starting with domestic services, we plan to operate regional services very soon.
OPERATIONAL CONTENT MANAGEMENT REQUIREMENTS
Before work could be done with the manuals, we had to establish our requirements for them. (figure 1).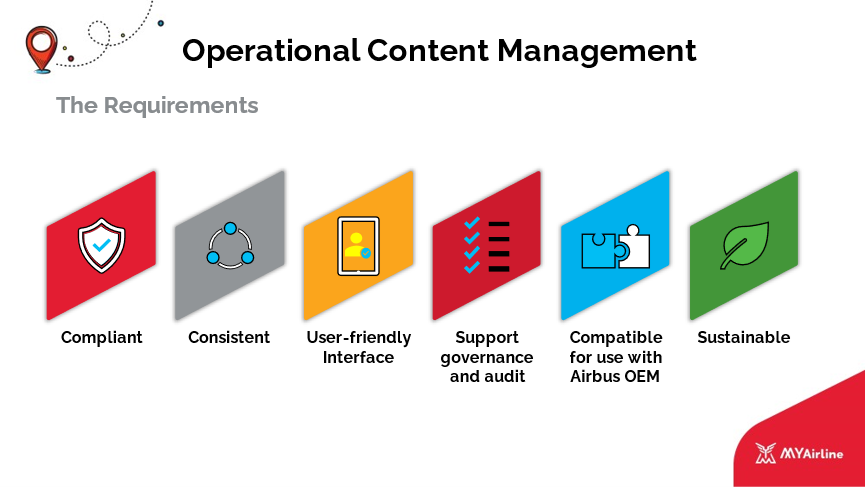 The first and mandatory requirement was that our manuals had to be compliant. To achieve that, we referred to three sets of legislative and advisory documents published by the Civil Aviation Authority of Malaysia, we also referred to IATA's Standard and Recommended Procedures as IATA membership was one of our long-term goals. That meant meeting all of the legislative requirements by incorporating all of the required and guidance materials into our manuals.
We also wanted our manuals to be consistent: having harmonized manuals is very important to us. When you try to use Microsoft Word to write manuals, and there are, say, 15 SMEs (Subject Matter Experts) working on those manuals in different areas, there are bound to be cases where one manual refers to a particular topic that also appears in another manual but the two might reflect different, even divergent content. This would easily be picked up by a regulator and would suggest not only carelessness but also that the team could not work together and get agreed definitions of given topics.
The next requirement was that the Operational Content Management (OCM) system supporting our manuals had to have a user-friendly interface – not just for end users, but also for the manual content writers. As mentioned before, time was of the essence in completing our manuals, which meant that people taking on the authoring had to be able to work directly on those, effectively and fast; otherwise, there was no way that we would have been able to finish in time.
Moreover, the manuals had to support all governance matters and audits that we will face. Whilst the AOC audit was the first and most important audit for us, we are planning to get our IOSA certifications in a few years, so we had to look at all of the governance materials that came with that, plus all of the audits that we would have to face as part that AOC certification process. That meant that we had to ensure that all our manuals would be easily and accurately referred to during the documentation phase of audits.
We also needed the OCM system to support all of the OEMs' (Original Equipment Manufacturers') documentation and we needed it to work on XML and HTML, to support XML editing of Airbus manuals.
Finally, as part of our vision and mission statement, we had committed ourselves to be sustainable, so we tried to reduce any use of a paper option. We didn't want anyone to think that they could work on a paper and then try to import that into an authoring system. We wanted to work right from the start with an authoring system. These requirements generated the challenges that we anticipated facing, and which we addressed through our management of change exercise.
THE CHALLENGES
The first obvious challenge was that these manuals had to be created from scratch. We eliminated the option of templating from existing manuals, because it would be unethical and furthermore it would mean inheriting errors and inefficiencies.
The company launched with ten of us but, by the time the manuals had to be written, we had 15 SMEs and had onboarded 15 technical writers to help us work on their production. It meant that we had to make the most effective use of our available expertise in an effective manner. That meant there would be times where the SMEs would be concentrating on the material and making sure that they sent the writers exactly what they wanted to be written, as well as consult with each other to ensure continuity. Having to do this in the midst of Covid and across multiple Zoom calls with everyone involved proved to be a challenge. It was paramount to get everything in order if we were to achieve harmonized and really congruent manuals.
We needed our processes to be agile and the material to be correct, but we also needed it to be comprehensive. The technical writers had to work quickly and efficiently to get everything written as we wanted; so, they also had to be agile. Of course, being a low-cost carrier means keeping costs as low as possible, but without compromising safety or quality – that's always going to be one of our primary goals.
SPECIFYING THE SOLUTION
The solution was obvious: We could not work with or through a paper medium, so we needed an authoring system that allowed us to work directly in their platform. It had to be easy to adopt, with minimal set-up because of the cost and time benefits that we'd gain, and it had to be able to reproduce the exact layout we intended. To support the human factors elements in our manuals, the idea was to reproduce the appearance of a paper manual but in an electronic form, with the same feel and touch because most of the end-users had, at one time, used paper manuals. Taking them to a whole new appearance would be difficult, and it would require additional change management. Being user-friendly and intuitive from the start was the approach we decided to take.
We also needed to map regulations and recommended standards. Writing a manual requires complying to a standard, and the best way to achieve this is to have a standard mapping directly to its location in the manual. The writers knew exactly why they were putting these words onto the manual so it made sense for that to be associated with a certain civil aviation directive, or civil aviation guidance material, or guidance from IATA directly. The manuals also had to be able to cross-talk; we could not have two manuals saying two different things about the same subject. So, in the digitalization of manuals, we wanted to take advantage of the reusable content concept. A lot of reusable content needed to sync across all of our manuals.
The flight safety documentation system that we intended to create required 28 different manuals, and the Civil Aviation Authority of Malaysia would need to review and accept or approve all of them. These 28 manuals had to have content that would be reusable, and it had to be the same content consistently appearing in these manuals. Plus, the XML and HTML component had to exist so that we could work with Airbus, our fleet's OEM.
FINDING THE RIGHT SOLUTION
The key consideration was that we wanted a mature and reliable partner, with a proven solution that had strong references in the Asia-Pacific (APAC) region. We needed a solution provider who was experienced enough to help us, teach us, show us and guide us through the process because we had a very tight timeline. They would need to be able to support our timelines, have a user-friendly solution and deliver strong customer training and support. We had technical writers, but they had all been used to different systems, such as Word or Pages. We needed them to receive training not only to put the words into a platform, but also to create tables and processes, to establish procedures and, in all of this, they needed to know how to do it efficiently and quickly.
We also needed a solution where both SMEs and technical writers could work together. Having a team of technical writers replicating content shared in paper by SMEs was not an option. We wanted all contributors to the process to work together in the same system to collaborate effectively and finish manuals faster.
Finally, we were looking for good governance and simplicity; we needed to get the job done, but we didn't want to sacrifice good governance. We needed to have an audit trail, and to know that people were working on authoring the manuals, at what speed they were working, and how fast we could prepare these manuals.
IMPLEMENTATION
We evaluated partners to help us in our project and the company who best met our requirements and specifications was Comply365. We started the implementation in August 2021 (figure 2).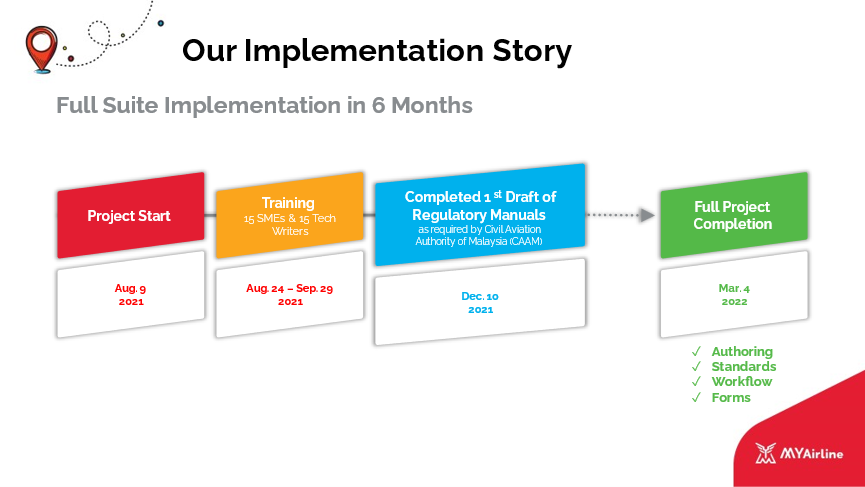 The initial training phase for the authoring platform (ProAuthor) took us almost 20 days. The full suite took a little longer, and by December 10 we had created our first drafts of regulatory manuals. It was a very quick process for the creation of all the 28 manuals that were required as part of our FSDS (Flight Safety Documents System). Then, finally, in March 2022, we managed to complete the full suite. That full suite from Comply365 involved not only the authoring, but also automated workflows, distribution and electronic forms. They had different roles, which we'll look at later in the article.
The implementation involved eight departments (figure 3). While creating the initial requirements for the Flight Safety documentation system, we realized that there were going to be even more manuals to be created – for example, an announcement handbook for cabin crew members, as well as a manual to assist them in how to manage sales.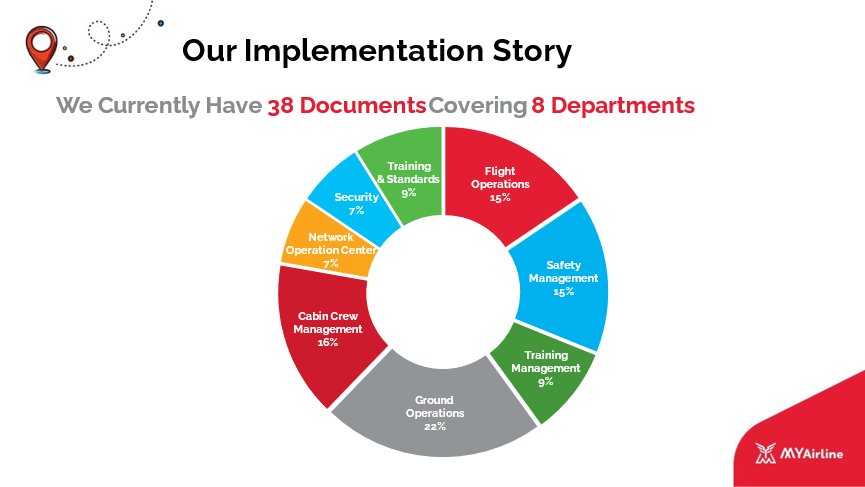 As a result, we created further manuals, which meant that 38 documents were finally submitted for compliance.
Figure 4 shows the process from start to end.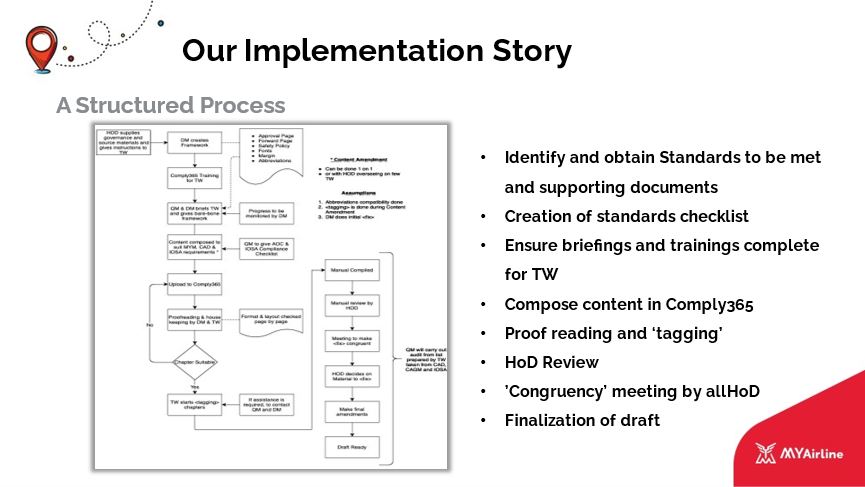 Essentially, the authoring process involved us first deciding on the standards we wanted to meet (CAAM, IOSA, etc.), then creating checklists for these standards and which specific words we wanted to replicate from the standard. This would then be translated into simpler language, but it still needed to meet the requirements. After creating it, the technical writers were simultaneously completing their training so that we could give them the material to write. Lastly, they started to compose the content, followed by proof reading and tagging. The tagging in this case is identifying the reusable content and identifying the master manual for that content.
If, say, the material was part of the safety policy, there could not be another manual reflecting anything different from the original safety policy decided in our Safety Management System manual. So, we tagged it, made it reusable content and told all technical writers and SMEs that, if they were taking anything from Safety, they needed to take it from this location. Comply365 allowed this to be done within their platform.
This was also true for anything that was shared, such as required forms, because we wanted all relevant material to be available for all manuals: so, forms appear as reusable content in those manuals. If anything in reusable content is changed, users will be informed of the change, and then they'll incorporate that change. Therefore, all MYAirline's manuals will remain congruent.
Finally, we had to review the manuals to make sure they were all correct and that we were happy with the product. Meetings were held to ensure our manuals were congruent because we understood how content with a specific purpose might sometimes be written differently across manuals. But we wanted to be sure they were all worded in exactly the same way to prevent misunderstandings when the users of the manuals read the material.
THE MANAGEMENT OF THE CHALLENGES
The challenges we faced were quite interesting, and we effectively addressed them.
First was the 'Front Matter', which is the term used to designate the part that precedes the actual content of a manual. In most manuals, the arrangement of the Front Matter is the choice of the author, but in Comply365 that's slightly different, for reasons such as tracking effective pages or highlighting revisions. That translates into a better user experience, such being able to tap the revision highlights and get directly to the location in the manual where that material was updated. However, the regulator was used to seeing the manuals ordered in a certain way. To address that, MYAirline engaged with the regulator to explain the purpose and advantages in terms of helping users locate the information they need in a much faster and convenient way. Civil Aviation Authority of Malaysia assessed the new proposed logic and eventually approved it.
The last problem was a little workaround that we needed: The authorities required a wet signature and a wet stamp on the manual to show approval and acceptance. To get that in Comply365 we had to print the page, get it stamped and signed, scanned and then put back in the platform. It took a little more effort than we had expected, but fortunately it only involved a few pages.
Thankfully, all manuals were approved by the Civil Authority Aviation of Malaysia and our AOC was issued, effective as of 1 October 2022. That milestone was followed by the next interesting phase.
As part of the audit that we went through, there were findings from the regulator that we had to address and, in some cases, this meant the need to produce circulars and notices. Comply365 helped us to create circulars and notices, and we now moved from creating content in the ProAuthor platform of Comply365 to the distribution feature. Comply365 allows us to push out notices and circulars to all relevant staff on the same platform. This meant that all the circulars and notices could be better managed and co-located. The next question was, how were we going to ensure compliance? Again, Comply365 allows for the reader to sign the document electronically; that way, we keep a count of which manuals, circulars and notices have been read and when they were last accessed. This enables us to show the authorities that not only had we created the documents but that they are being used, circulated and read, as well as being updated regularly.
When we initially started the project, it was the CAAM regulatory documents that were to the forefront of our minds. However, where possible we had also worked hard to include the relevant IATA ISARPs into our manuals. Comply 365 had provided us the IOSA XML framework which meant we could 'tag' or mark a portion of content in our manuals as being put there for the purpose of meeting a regulatory or IATA audit item. This would ensure that any future author attempting to amend this manual would realize immediately that this statement is linked to a standard and should be treated with care. It also meant that by printing out these tagged sections we can very quickly create an inventory of 'statements' that we had written in explicitly to match a standard. This would make facing an audit much more convenient.
Finally, we are conducting surveys. As part of the Comply365 package, we are able to capture data through the Forms365 solution. In Forms365, it is possible to run a survey; so, we are now asking users to tell us how the documents can be improved and made more effective so that they will be more inclined to use them, and use them well.
FROM A HEAD OF DEPARTMENT'S PERSPECTIVE
Here's a little history about the Civil Aviation of Malaysia, which initially adopted EASA for their regulatory documents. Because CAAM is not a member of EASA, nor do we have any MOU (Memorandum of Understanding) with them, we are not able to have the updates or the latest information. Two years ago, the Civil Aviation of Malaysia, to which Capt. Dharmaraj Naiker was seconded, decided to adopt all of the ICAO Annexes. The CAAM started developing new manuals and new compliance material and all these documents were then uploaded to their website.
Some start-ups might be tempted to take shortcuts; perhaps try and get a manual from an existing airline similar to what they plan to be and edit the manuals to fit their brand. In MYAirline, because of the new requirements with the Civil Aviation of Malaysia and our intent to tailor make our manuals, we used Comply365 to start writing our manuals from scratch. This meant we required training in the use of ProAuthor. Comply365, was able to provide us access to training; also, they could do it online so that the people who are using this platform are able to be trained and understand how to write the manuals on Comply365.
No experience or even knowledge of XML is required as it is fairly easy to create content in the Comply365 platform. Authoring can be done in XML to write the manuals. Also, the text can be imported into ProAuthor using a basic intuitive computer program; it doesn't require sophisticated computer knowledge. The next thing is the indexing; paragraphs and numbering were automatic, and the styling was very customizable. In a nutshell, Comply365 was very useful; it was accommodating and was very easy to use for people who are using it for the first time.
In any airline, the organization needs to comply with regulations and directives so all the manuals that have been developed must meet the required standard. With the aid of Comply365 we managed to complete our AOC process within the CAAM charter timeline of 90 days. To be exact, we completed the AOC process in 77 days, which was a record for the regulator.
Comply365 also aided us in getting the MYAirline EFB approval; in the EFB approval process you have to show proof of how documentation will be managed, the reliability of the system, and the requirements to meet all of the regulations and directives. Comply365 was there to ease the approval process for our EFB.
Tracking and ensuring that all manuals, circulars and notices are being read and acknowledged was easy because the Comply365 system allows us to monitor who has and who has not read, opened or acknowledged the circulars and manuals that have been issued. This feature would also allow regulators to audit and see how many people have or have not read a given circular or manual update.
Last but not least, the manuals and other documentation were easily distributed and accessible to all users using Comply365.
Looking at the authoring process (figure 5), it doesn't need a lot of people – just two people to write a manual. It takes three to four working days for a manual that consists of about 340 pages on average.
Producing and distributing Circulars, can now be done in seven minutes rather than the seven days that the process could take if handled manually. Finally, when it comes to accessing the content, just look for the keywords and it takes you about nine seconds to get to the portion of content that you want.
WHAT'S NEXT FOR MYAIRLINE?
Using Comply365 has given us efficiencies and ensures that MYAirline will have strong governance from the start. It has also enabled the integration of workflows and electronic forms into the MYAirline documentation ecosystem across all departments. This has been an exciting start to our new airline, and we now look forward to further exciting things to come.
Ends…
Contributor's Details
Capt. Dharmaraj Naiker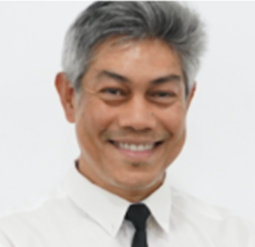 As Director of Flight Operations and with over 34 years of flying experience, Captain R Dharmaraj Naiker is responsible for maintaining competency in flight performance. Prior to joining MYAirline, he commanded A320 and A330 aircraft with AirAsia for more than 20 years. His qualifications include Safety Management System (SMS) for Airlines by IATA Training & Development Institute, Flight Operations Inspectors Classroom and On-the-Job Training Course by ICAO COSCAP-SEA and Authorised Examiner (AE) Theory Course by CAAM.
Capt. Kuhan Ananthavadivel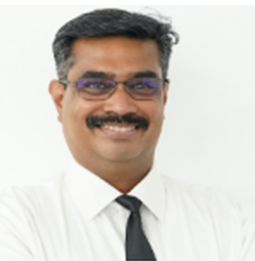 With over 30 years of experience in aviation and type ratings on A330, B737 and
B777 types, Captain Kuhan Ananthavadiel was appointed MYAirline Head of Safety & Quality in May 2021. He spearheads Integrated Quality and Safety Management System (IQSMS) for the airline. Captain Kuhan has held various positions in flight safety and quality and holds a Master's degree in Business Administration from University of Southern Queensland and a Bachelor's degree in Management from Multimedia University.
MYAirline

MYAirline is a privately-owned airline registered in Malaysia and was awarded its provisional Air Service License by MAVCOM on the 22 December 2021 plus Air Operators Certificate on 1 October 2022. With more than 300 employees, MYAirline has a fleet of three A320s CEO, which will grow to 50 over the next five years. While initially operating domestically, the plan is to expand into the international market in a year.
Comply365

Comply365 provides enterprise SaaS and mobile solutions for content management and document distribution in highly regulated industries and supports the world's most mobile and remote workforces with targeted and personalized delivery of job-critical data that enables safe, efficient, and compliant operations. Comply365 improves operational efficiency, compliance, and effectiveness through an integrated solution that covers the entire document lifecycle from authoring to personalized and targeted distribution of content: an integrated and end-to-end solution.