Aircraft IT OPS Issue 57: Autumn 2023
Subscribe
CASE STUDY: FDM data key to easyJet's flight efficiency
Author: Taylor Bradbury, ETS Manager, easyJet
Subscribe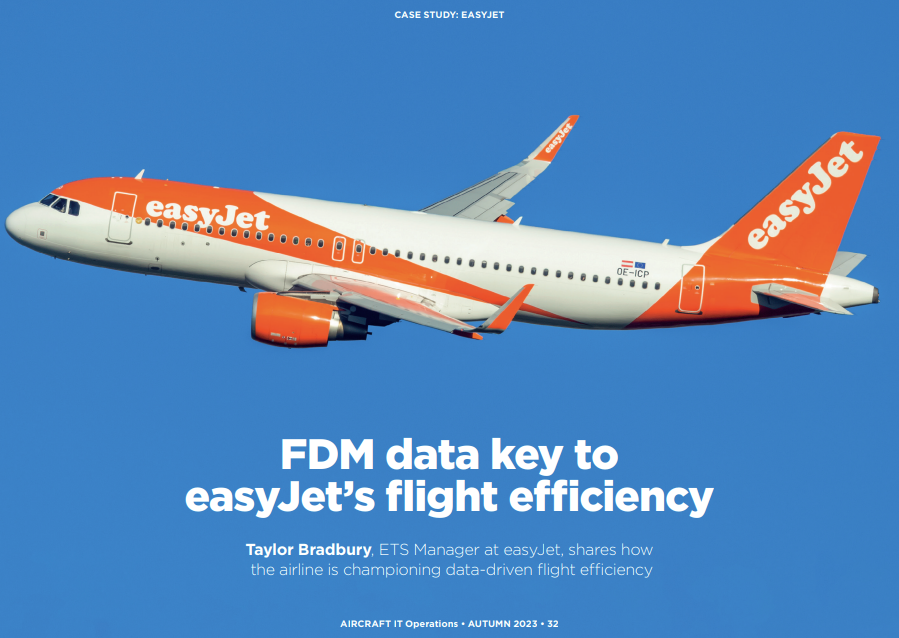 Taylor Bradbury, ETS Manager at easyJet, shares how easyJet is championing data-driven flight efficiency
Before we dive into the main content of this article, a brief introduction to easyJet Operations will help the reader to understand the context for our case study.
INTRODUCTION
easyJet has long been working to reduce its carbon emissions. In September 2022 we launched our Road Map to Net Zero, what we believe to be the industry's most ambitious plan to achieve net-zero carbon emission by 2050 due to its focus on zero carbon emission technology. Alongside the transition to zero carbon emission technology, the roadmap features a combination of fleet renewal, operational efficiencies, airspace modernisation, Sustainable Aviation Fuel and carbon removal technology.
Fuel efficiency is a key element in the operational efficiencies we are working on to help up reduce our carbon emissions every day.
We have implemented 32 fuel initiatives at easyJet and, like many other airlines, we've gone through the IATA Fuel Handbook as well as all the Airbus documentation and identified those initiatives that we feel are relevant to easyJet's operations and offer an effective solution.
As part of these initiatives, and because easyJet has made the step change to include FDM (Flight Data Monitoring) data in our reporting, is important to get the fuel reporting and efficiency message out to the bases and to the crew. So, we had to find a way of disseminating that information to those bases and crew quickly and in an easily usable form.
EZY NET ZERO ROADMAP
The plan is to achieve Net Zero by 2050 (figure 1.1).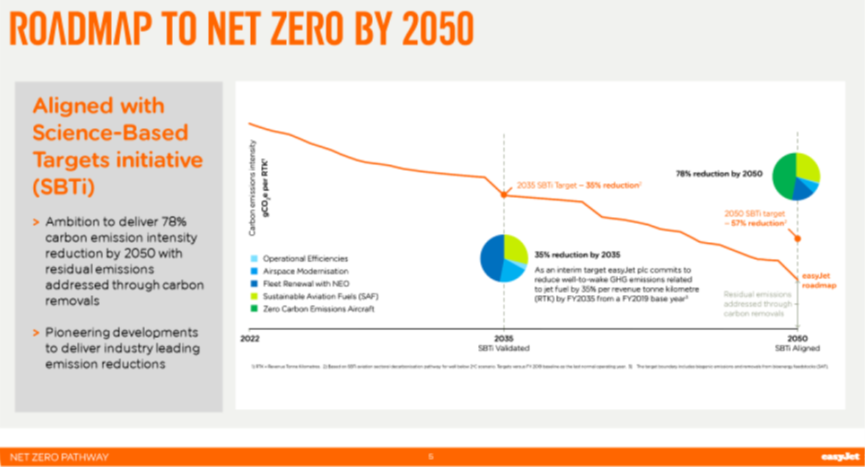 Figure 1.1
You can see that we're also targeting a 35 percent reduction in emissions by 2035, which has been validated by the Science-Based Targets initiative (SBTi), making easyJet the first low-cost airline worldwide to announce that its interim target has been validated by SBTi.
The flight efficiency aspects together with airspace efficiencies are anticipated to contribute a 12 percent reduction in the KPIs (Key Performance Indicators).
In figure 1.2 you can see the different programs, factors and initiatives that will drive the required reduction in emissions.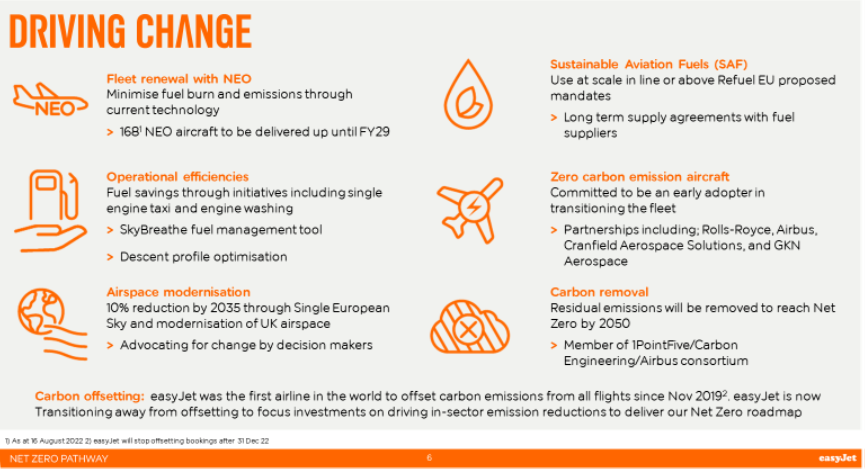 Figure 1.2
A significant contributor will be the fleet renewal program, with the NEO fleet. These aircraft are at least 15% more fuel efficient than the aircraft they replace and provide a 50% noise footprint reduction. Fleet renewal is crucial for decarbonisation as it replaces older aircraft with younger, more fuel-efficient models. easyJet will be making a list price investment of $21bn over the coming years to continue to renew its fleet.
easyJet one of the largest single brand operators of A320neo family aircraft in Europe. Switching to more fuel-efficient current generation aircraft as well as upgauging to larger aircraft has a significant impact to reduce carbon emissions in the short term due to higher absolute fuel efficiency and lower emissions per seat.
As part of operational efficiencies, we're introducing descent profile optimization which will help the airline to achieve substantial and permanent carbon emission reductions in the short-term by enabling the optimization of aircraft descents. Last year, 2022, we received the first A320neo from Airbus that is equipped with the latest Satellite Landing System (SLS) technology which helps to further improve the efficiency of its operations, reducing fuel usage. This comes in addition to the use of AI (Artificial Intelligence) and adjusting standard operating procedures, which helps to reduce fuel usage and therefore carbon emissions, for example single-engine taxiing on arrival and departure, using advanced weather information to improve navigation performance and engine washing to remove debris, which improves the air turbine performance. This is complemented by flight efficiency partnerships with key stakeholders such as Airbus, Collins Aerospace, NATS and EUROCONTROL.
We are also introducing the SkyBreathe® fuel management tool because we are expecting that to be a significant catalyst for greater flight efficiencies.
EASYJET FUEL REPORTING
Where are we in terms of our fuel reporting? Far more advanced than when I first joined easyJet twenty years ago. With the Airbus fleet came the opportunity to take advantage of ACARS and actually start looking at some of this data and in 2007, we engaged Rolls-Royce to be easyJet's fuel reporting provider and the key initiatives that we looked at including
Single Engine Taxi In/Out;
Reduced Flaps Landing;
GPU Usage on the turnaround
In 2020, there were a couple of key areas that we wanted to consider. We wanted to look at how the data is captured and the integrity of the data; we also wanted to look at various scenarios and how a fuel reporting solution would respond to them. A key element was how we communicate with the crew and how we could engage the crew in using this data. Plus, we wanted to understand initiative optimization. This was sent out to several providers and, ultimately, SkyBreathe® from OpenAirlines came back with the most comprehensive responses and were most attuned to where easyJet wanted to go. The contract was awarded to OpenAirlines in October 2021.
WHY OPENAIRLINES SKYBREATHE® WAS CHOSEN
The solution is focused on flight efficiency and OpenAirlines clearly understood what we were trying to achieve. It also gave us the opportunity for more detailed FDM data integration, which was very positive, and the actual and potential savings were based on performance models, taking into account easyJet's SOPs (Standard Operating Procedures) and the operational environment including weather and AIP (Aeronautical Information Publications) data.
Without doubt, one of the biggest features that impressed us at easyJet was the MyFuelCoach™ application. This App provides feedback to individual crew on their own performance; it also provides pilot briefing on future flights, using information that has already been put into the system; and it provides the opportunity for crew to give feedback. We also, where we had to send information out to other parts of the organization, got the capability to generate pre-defined reports to calculate achieved and potential savings based on actual flight and environmental conditions. Importantly, all of the required information was available from the single source, SkyBreathe®.
SKYBREATHE® IMPLEMENTATION
SkyBreathe® employs data inputs from several sources (figure 2) and applies its own data cleansing, checking and consolidation processes.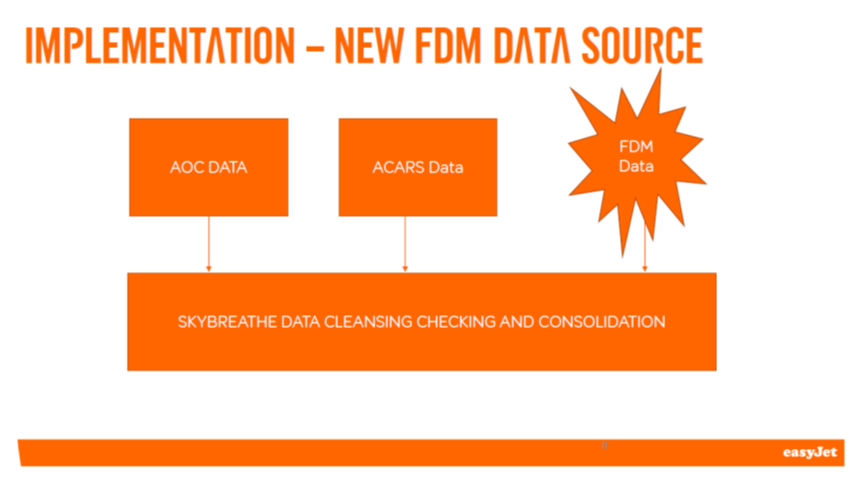 Figure 2
These sources are AOC (Airline Operations Control) data, which is available from easyJet's system TOPS (Total Operations System), and includes fuel data and flight planning data. It also takes in ACARS data. That is what we had been doing previously but the gamechanger with the real potential impact was the FDM data.
FDM DATA NETWORK AND BASE APPROVAL
Prior to the investment pack that we took to the business to define that we wanted from this solution and to request funding, we had to talk about the costs and the non-financial benefits. Non-financial benefits include things such as engagement with the crew and information going out across the business.
SKYBREATHE® APPLICATION NETWORK AND BASE
Figure 3 shows that the SkyBreathe®application has two sides to it.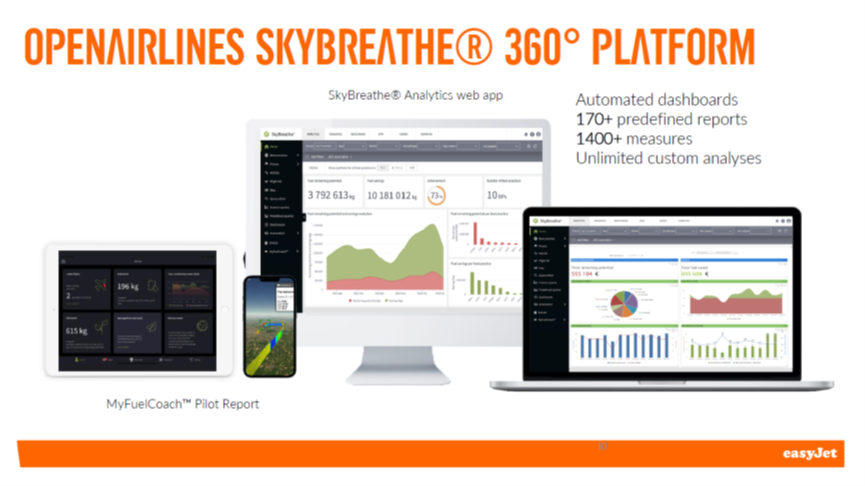 Figure 3
There is the Analytics web app with the network and base information. The other side is MyFuelCoach™, the app that the individual crew members will get which will show them how they are actually performing and pilot briefing for future flights.
MYFUEL COACH™ IMPLEMENTATION
The roll-out was split into two distinct phases. One was implementation for Hangar 89, which is our Head Office, and for Base Management: the other was the implementation of MyFuelCoach™ App for flight crew.
The key parts of this were the use of the data. Individual flight data will only be available to the pilot who flew that flight, which we are clearly able to demonstrate this with the OpenAirlines SkyBreathe® solution.
Figure 4.2 adds in the initiatives that SkyBreathe® will unlock for us initially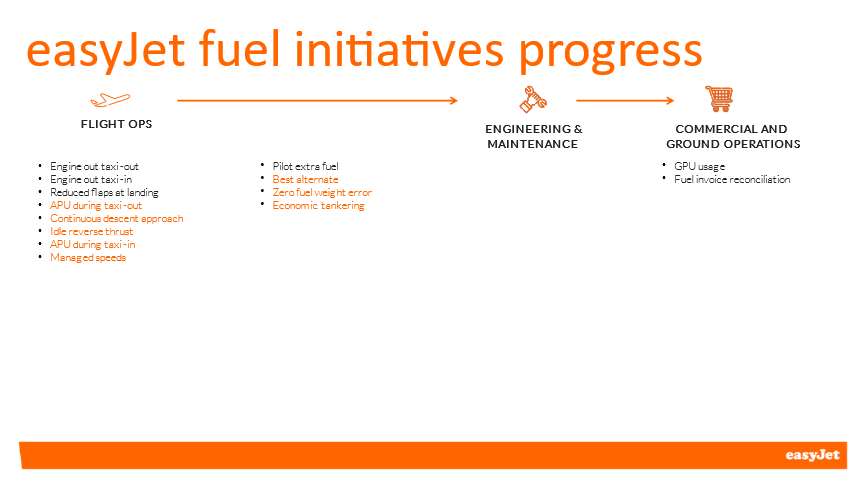 Figure 4.2
And we know there are many more possibilities to be unlocked.
Network and base are available now so, what we could do then, for example, is look at the network and base, look at the opportunities that exist, and drill down to specific initiatives. So, we could start communicating to the crew and working with them on looking at where the opportunities are and offer improvement.
The example on the right of figure 5 is single engine taxi.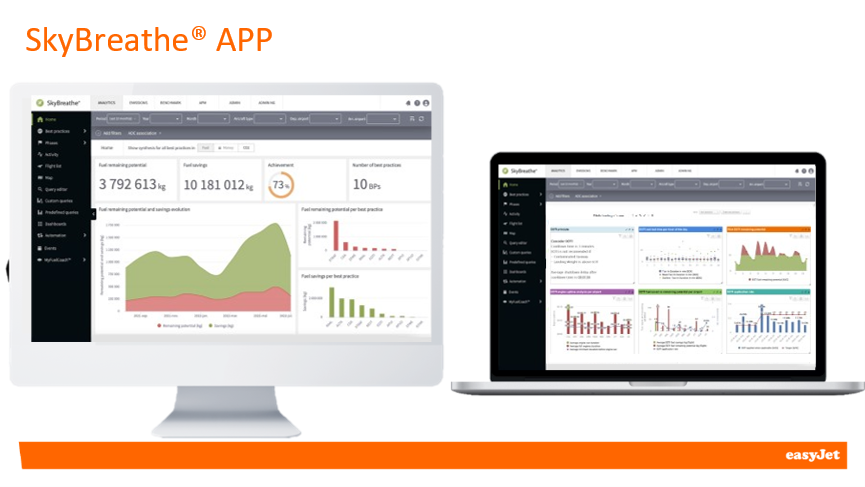 Figure 5
It shows some of the opportunities that exist in red as well as time of day opportunities. It could start a communication between the base manager and the base crew about where the opportunities are and start looking at how they can improve things.
MyFuelCoach™; figure 6 shows the individual performance that pilots see.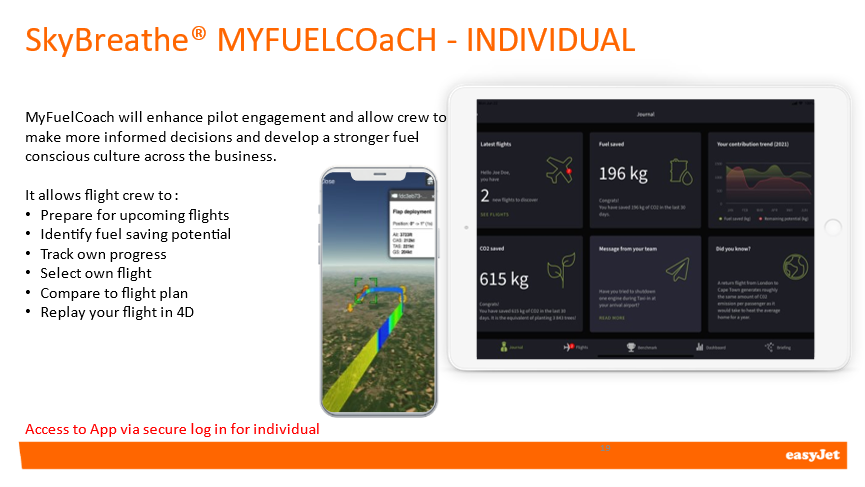 Figure 6
Pilots can prepare for an upcoming flight and look at the data from previous flights; can identify any fuel saving potential and can track this. They can select their own flight, compare it to the flight plan and, if need be, replay the flight in 4D. They can log in via company iPads and see only their own data.
MYFUELCOACH™ IMPLEMENTATION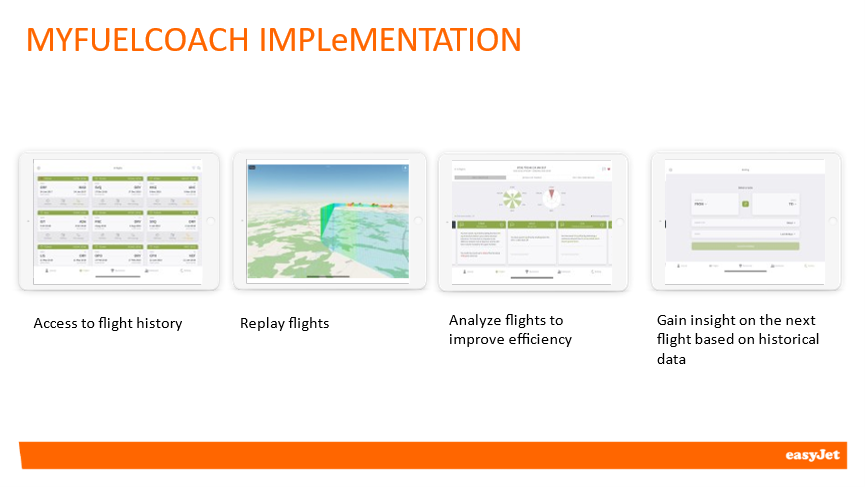 Figure 7
In figure 7 you can see that the crews will be able to access their flight history, replay their flights, analyze their flights to see how they could improve efficiency and gain insight into how their next flight will operate.
SUMMARY
Where are we? The UAT (User Acceptance Testing) of SkyBreathe® app and MyFuelCoach™ was completed in early December 2022. Then we planned to conduct roll-out and onboarding of the SkyBreathe® app after a successful UAT, while the MyFuelCoach™ trial continued. At the time of writing, we were hoping to extend the trial to a wider community in early 2023. We have been working with OpenAirlines, it has worked well and plan to roll-out MyFuelCoach™ this year. We do believe that it will be a gamechanger.
Contributor's Details
Taylor Bradbury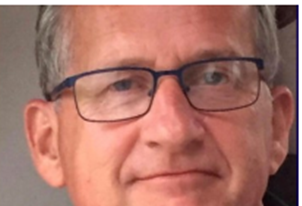 Taylor started his career as a Flight Operations Performance Engineer with Saudi Arabian Airlines and became the Senior Manager, Flight Operations Performance Engineering. In 2021, he joined easyJet and has taken various Management roles focusing on the delivery of flight and operational efficiencies, including operational approval of electronic charts across the easyJet fleet, the introduction of ACARS Reporting for Fuel Reporting and the implementation of Fuel and Emissions Reporting systems.
easyJet

easyJet is a low-cost European airline using cost advantage, operational efficiency and leading positions in primary airports to deliver low fares, seamlessly connecting Europe. One of the largest airlines in the world, easyJet has a modern fleet of 308 A320 family aircraft, operating 927 routes across 34 countries and 153 airports. easyJet is investing in new generation aircraft and is aiming to become the world's most data-driven airline.
OpenAirlines

SkyBreathe® is an innovative eco-flying solution based on Cloud, Artificial Intelligence, and Big Data to save fuel and reduce airlines' carbon footprint by up to 5%. SkyBreathe® is now a 360° eco-flying platform designed to give airlines all the tools they need to build and grow a successful fuel efficiency program, and is the most widely used eco-flying solution in the world. Its active community federates more than 50 airlines who, in 2022, saved more than 1 million tons of CO2.
Comments (0)
There are currently no comments about this article.