Aircraft IT MRO Issue 54: Winter 2022
Subscribe
Articles
| Name | Author | |
| --- | --- | --- |
| Case Study: Achieving productivity gains through an Integrated M&E System | Julien Lebeau, Project Manager, Air Tahiti | View article |
| Case Study: Managing and synchronizing devices of all types at Air Canada | Keith Dugas, Director, Maintenance AI & Connected Operations, Air Canada | View article |
| Case Study: Digital transformation and mobile apps for paperless maintenance | Juan Miguel Sánchez García & Francisco De Borja Mas Boned, Air Europa | View article |
| Case Study: Enabling continuous data exchange between Lufthansa and Rolls-Royce Digital Services | Lena Duken, Airworthiness Engineer, Deutsche Lufthansa AG Jeff Winter, Senior Consultant, Deutsche Lufthansa AG | View article |
Case Study: Achieving productivity gains through an Integrated M&E System
Author: Julien Lebeau, Project Manager, Air Tahiti
Subscribe
As with any case study, a key part of the story will be the subject of the article which, in this case, is Air Tahiti. So, before we look at the case study, let me first tell you something about Air Tahiti.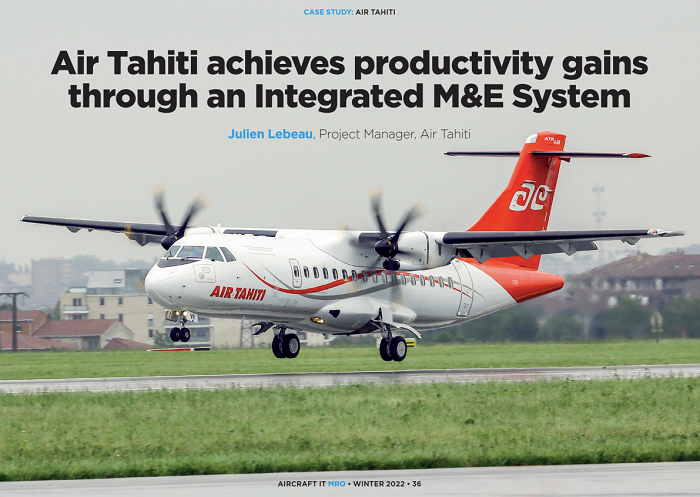 AIR TAHITI
Operating from and in French Polynesia, in the middle of the Pacific Ocean, halfway along a line between San Francisco and Sydney, Air Tahiti works in a unique environment. The network is as large as Europe but largely over water (figure 1). To travel to anywhere outside of the territory always entails a five- or six-hour flight – in short, it's quite remote. There are 1,200 people working in the company and just ten aircraft. The reason why there are so many employees is that we undertake all of the ground handling for the network as well as the catering as well as the usual airline divisions of Flight Ops and Technical department to do the maintenance with our own C-checks and Heavy checks, because it's easier for the airline to do its own work in such a remote place. Air Tahiti carries almost 800,000 passengers a year, twice the population of French Polynesia, with a fleet of nine ATR-72 and one -42 aircraft.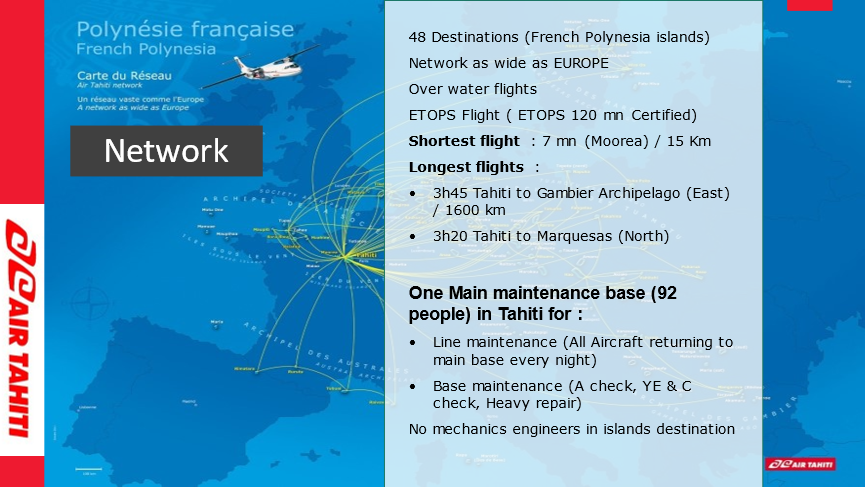 Tahiti itself is right in the middle of the territory with the Marquesas Islands as far away as Sweden is from Paris. Air Tahiti connects 48 destinations within the 120 islands of French Polynesia; we have ETOPS (Extended Twin Engine OPerationS) flights as well as having both the shortest (at just seven minutes) and the longest (at four hours) flights operated by ATR aircraft. Because of the wide variation in flight lengths, the aircraft are rotated to different flights in order to roughly equalize wear and tear across the fleet. The airline has only one maintenance base in Tahiti with around 90 people working there. All maintenance is carried out at that base; there is no line support to the other destinations but we do carry out our own C-checks, as I mentioned above.
THE CHALLENGES WITH THE OLD SYSTEMS
Working with a legacy system to manage maintenance and stores, Air Tahiti experienced a number of pain points (Figure 2).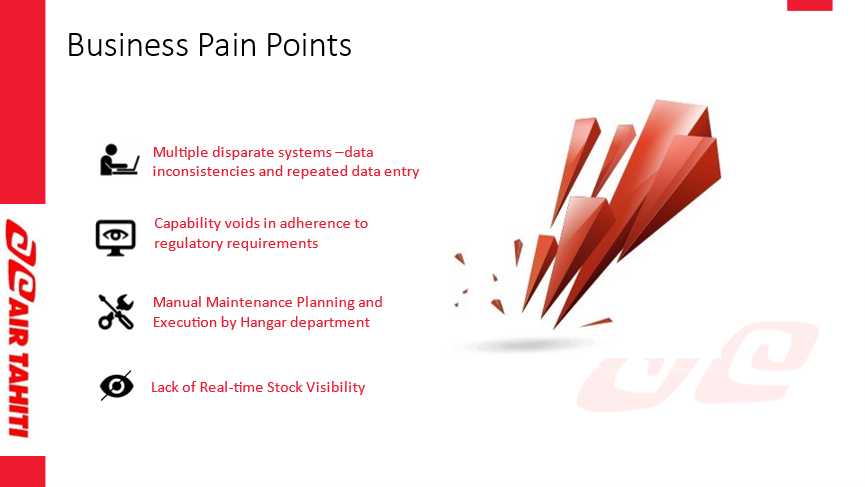 We were using multiple disparate systems which led to data inconsistencies and the need for repeated data entry. There were also capability voids when it came to the airline's adherence to regulatory requirements; as well as planning and execution of maintenance, the upkeep of the manuals was the responsibility of the Hangar department. Finally, there was a lack of real-time stock visibility.
A NEW MAINTENANCE IT SOLUTION FOR AIR TAHITI
So, ten years ago, Air Tahiti implemented Ramco Aviation Solution, using on-site servers because there were some network issues; today, some functions have been moved to the Cloud as those issues have been addressed. The solution's scope (figure 3) includes…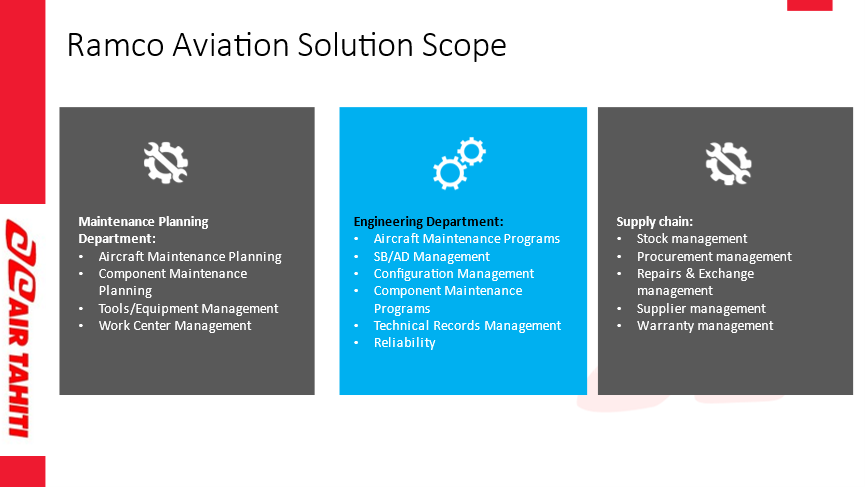 … Maintenance Planning Department, where it is used for the maintenance processes; aircraft maintenance planning and component maintenance planning as well as managing tools and the Work Center; Engineering Department where it manages the aircraft maintenance programs, SB/AD (Service Bulletin / Airworthiness Directive) management, the ATR maintenance manuals and our own maintenance manual; Ramco solutions also allow the airline to keep track of technical records and reliability. As an airline in a remote place, we need a reliable supply chain and good stock management to avoid any shortage of parts. Ramco manages that as well as procurement, repairs and exchange, supplier management and warranty management.
Looking at Ramco in use it will help you to see how it works with the Planning Board (figure 4.1) which allows the Planning Department to forecast and schedule the maintenance of aircraft.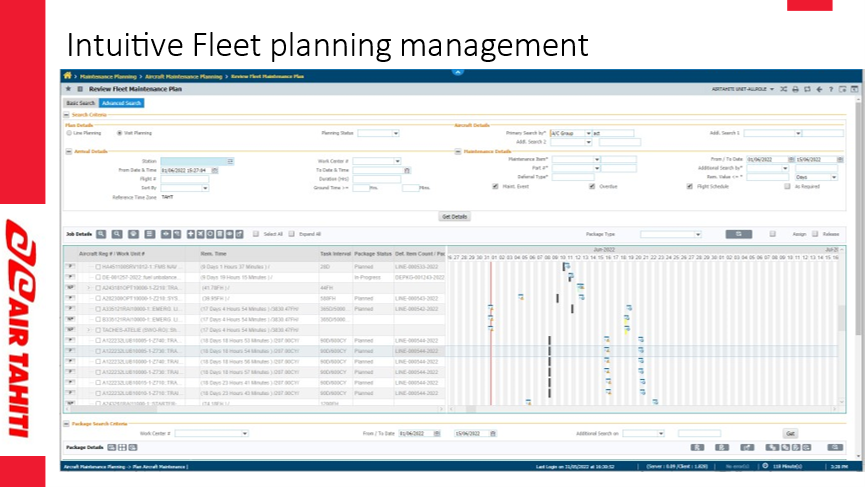 It enables the user to visualize all of the fleet, aircraft by aircraft, and, on the timeline, there are all the maintenance events that are due or planned with the facility to toggle between planned work and unplanned work to help maintain schedules and planning for all the airframe and component tasks required on the aircraft. The screen covers the components on the aircraft and users can follow the maintenance for the parts that are going into stock in the warehouse. This timeline was a big change for Air Tahiti. Before that, we were only using paper 'Due Lists' without any graphical view of the schedules; the timeline changed how we used an integrated system.
Figure 4.2 is a screen that can show users the parts supply chain performance.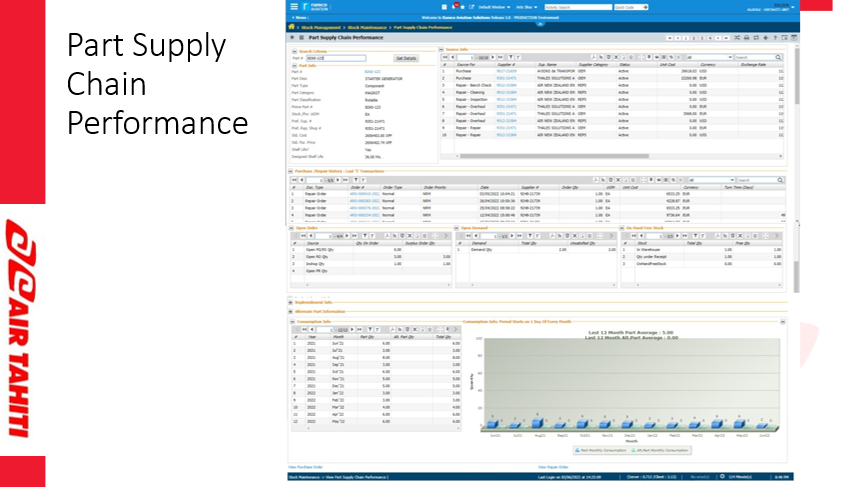 On this screen, you can see at a glance all of the suppliers that can be used to repair parts or from where uses can purchase, for example, a starter generator, with all of the suppliers and their costs plus some historical information with links to go into historical transactions for more information, also some parts on the screen where users can see the parts that are on order as well as where parts have been used. This was a game changer for us with its good visibility of the data and history allowing users to focus on their work.
There are also some workflows that users can reconfigure in the application to set authorization levels for purchasing and repairing parts (figure 5).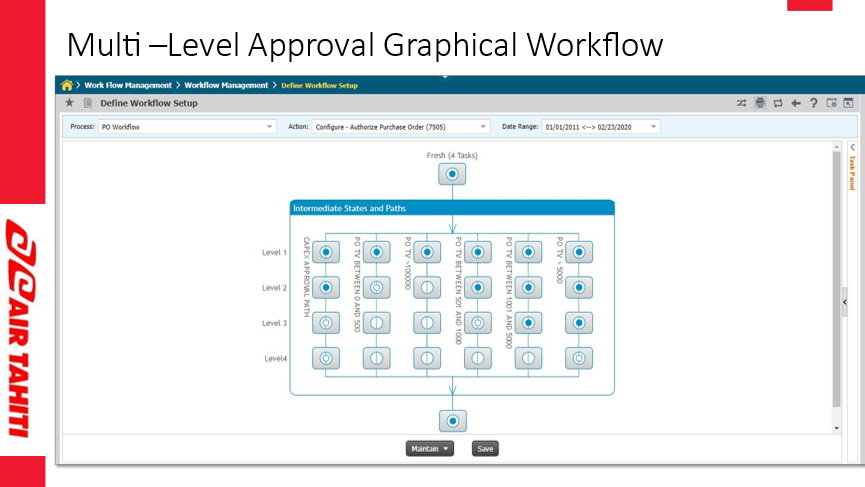 Some workflows can be defined to include, depending on the price of the part, who can authorize its procurement. Workflows can also be defined for purchase and repair orders. Ramco empowers the user to configure each warehouse and segregate, for instance, serviceable and not serviceable parts as well as to define some strategies for the warehouse in terms of picking parts when they are required for mechanics or the planning department (figure 6).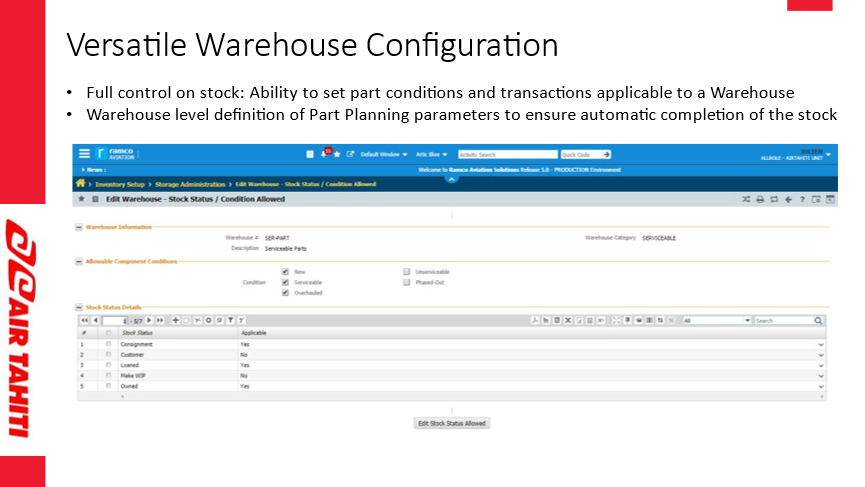 Some screens, that are called Hubs, offer a good view on activity (figure 7.1)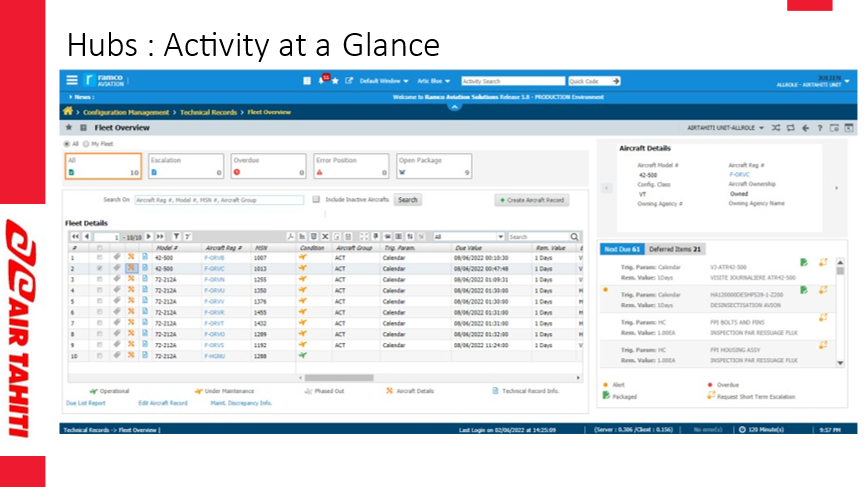 For example, figure 7.1 shows the fleet availability with all the aircraft on one screen. Users can see the next due date for the aircraft's maintenance and some later dates. That's one example and another one is for the inventory operations (figure 7.2).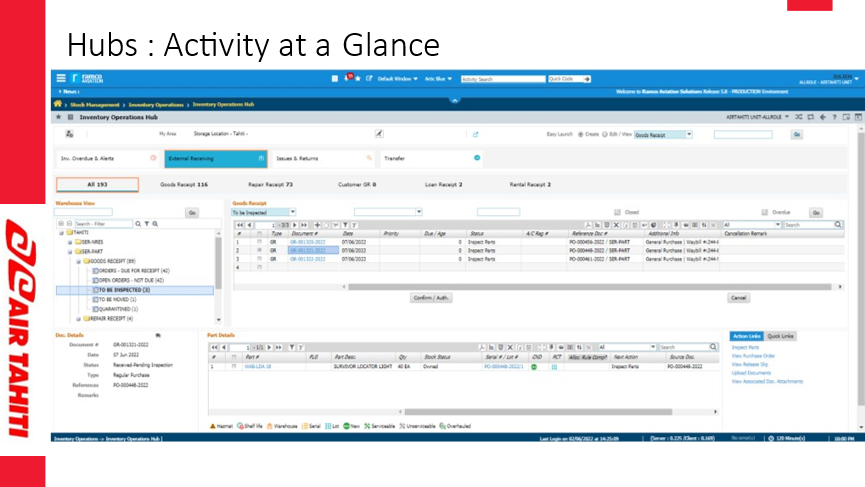 Users can see that it focuses on external receiving for several warehouses and if the user picks one warehouse, as illustrated in the figure, it can be seen that there are three transactions to be inspected with the transactions and what they are about. This helps give a very good view of activities at a glance but it also it allows end users to work directly from the screen, so they can launch the transaction for, say, inspecting the part, direct from the screen. It can be used by management but also by end users to pick up that transaction that they have to do.
BUSINESS BENEFITS REALIZED
Having implemented a system, the question always has to be, how has the business benefitted? I'm glad to report that we can see clearly the benefits that the Ramco solution has delivered for Air Tahiti (figures 8.1 and 8.2).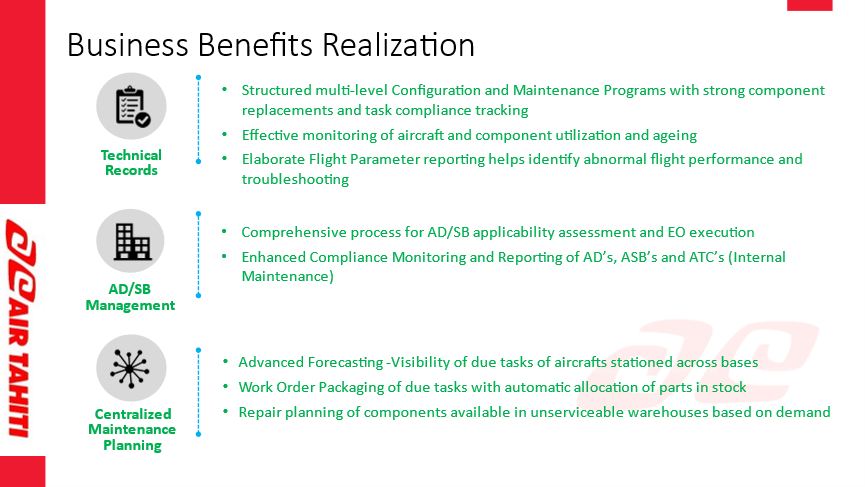 Already from the system, in terms of technical records, we have a structured and multi-level configuration set in the system along with the maintenance program with strong component replacements and task compliance tracking. There is effective monitoring of aircraft and component utilization and aging plus an elaborate Flight Parameter reporting helps identify abnormal flight performance and supports troubleshooting. AD/SB management is fully supported in the system giving Air Tahiti a comprehensive AD/SB applicability assessment for execution of engineering orders (EOs). Compliance monitoring and reporting for ASBs (Advisory Service Bulletins) and ADs and With regard to maintenance and planning, as shown above in figure 4.1, all maintenance can be forecast in the application, all work orders are created from the screen and users can look into the work order, the maintenance program, ASBs, ADs and the necessary parts are requested and reserved automatically. We can also manage all components with the same solution.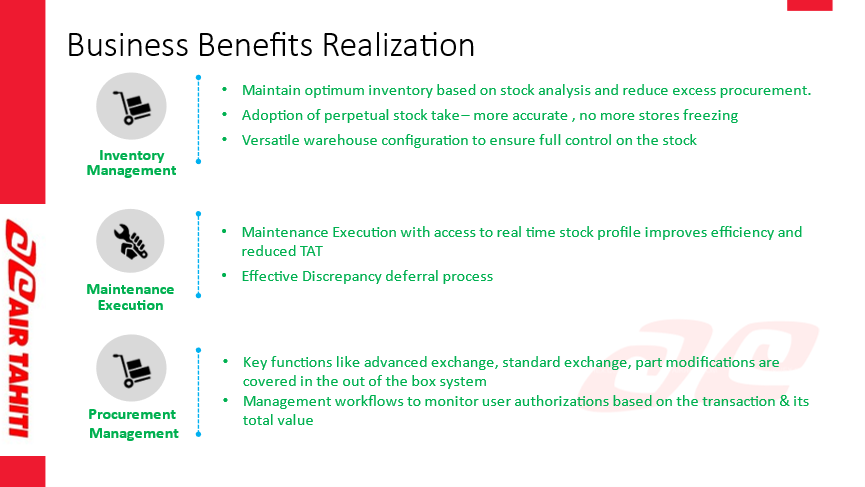 With inventory management, as I've said already, our territory is remote and so our stock levels need to be very safe. The application allows us to keep track of stock levels with inventory stock analysis that has enabled the airline to reduce the incidence of excess procurement and to move to a perpetual inventory stock take. Previously, we were undertaking wall to wall inventory stock takes which was very time-consuming and inaccurate plus, it isn't feasible to do a real wall to wall stock check in just one or two days. Now, with perpetual inventory, we are able to count 20 to 50 parts a day which is less time consuming and more accurate than before.
We have been able to improve maintenance execution with the Ramco solution because of the tools it makes available plus, for the mechanics, the screens are clear and useful so that they can record several tasks and discrepancies in the same few clicks. For procurement management, the solution supports everything including part modifications, advanced and standard exchanges and other transactions which are all covered in the system. Also, the workflow management, as previously noted, offers managers the opportunity to manage who does what, i.e., to monitor user authorizations so that the right people do the right tasks; it also shows the total value of each transaction.
LOOKING TO THE FUTURE
For the future, having this system which is running smoothly gives Air Tahiti confidence, should we need to grow the fleet and/or increase the number of destinations. We are also considering going more mobile, using Ramco tools, and would like to reduce paper in the business because paperwork is time-consuming. The Ramco application is modular and is what we are looking for, because it could help in reducing paperwork, plus the application provides some AI/ML (Artificial Intelligence / Machine learning) functionalities that Air Tahiti does not use right now but that could help the processing of the mechanics' work.
I hope that this article will inform readers and encourage any who face particular and non-standard challenges such as those faced by Air Tahiti, to consider that step to a more modern way of doing things. At Air Tahiti, we have enjoyed considerable benefits from our solution.
Contributor's Details
Julian Lebeau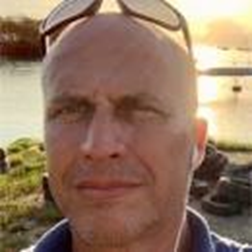 Julian joined Air Tahiti in 2006 to manage the transition between an old legacy IT system and an off-the-shelf. He is experienced at implementation and administration of M&E/MRO systems into an operational environment. He also has knowledge of various functional areas from engineering and planning through maintenance reporting and fixing to logistic and store management. Julian has also worked on the analytic and KPIs side of such projects.
Air Tahiti Nui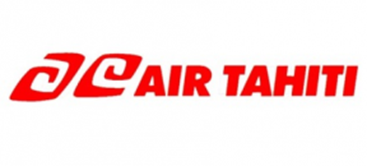 Air Tahiti, the main carrier in French Polynesia, covers a network as vast as Europe. Connecting Tahiti to the outer islands for more than 60m years, the airline is inspired by the lives of legendary Polynesian heroes. There is an emphasis on reducing the business's impact on the environment as well as supporting culture and communities in French Polynesia. The fleet includes seven ATR-72, two ATR-42 and three Beechcraft King Air B200 aircraft
Ramco Aviation

Ramco Aviation software offers Maintenance solutions on cloud and on premise with multi-tenant capability and next-gen mobility, catering to the needs of Heli-Operators, MROs, Airlines, Defense and Charter operations. Next-gen mobility solutions for maintenance operations are available through an app ecosystem where MRO supervisors, mechanics, pilots, storekeepers and customers can seamlessly execute critical operations on the go, from anywhere, anytime.
Comments (0)
There are currently no comments about this article.