Aircraft IT OPS – July / August 2020
Subscribe
Aircraft IT Operations 2020 survey: COVID-19 and the response of aviation IT developers and vendors
Author: John Hancock, Editor, Aircraft IT Operations
Subscribe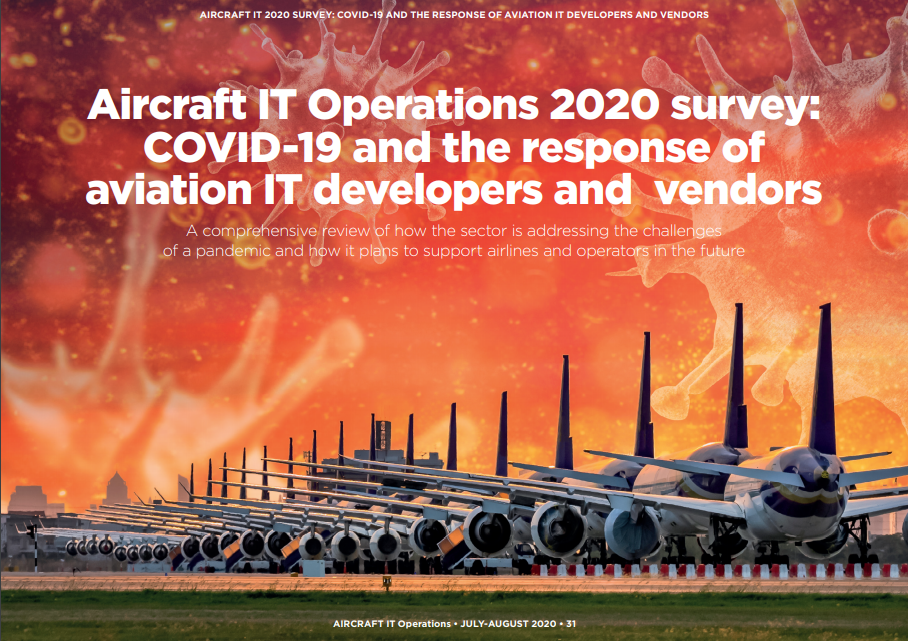 A comprehensive review of how the sector is addressing the challenges of a pandemic and how it plans to support airlines and operators in the future
We know that the COVID-19 pandemic has had more impact on commercial aviation than any other peacetime event. And we know that, in any situation, the more information you can have, the better. So we surveyed the vendors on the Aircraft IT panel to find out how the pandemic is seen from their and their customers' point of view as well as what the future might hold. Our survey was divided into three distinct parts in order to first obtain a high-level view of how aviation IT developers and vendors are responding to the COVID-19 pandemic and the effects that it is having on commercial flying. Then to see how solutions are being used during the COVID crisis and how vendors have adapted and, finally, looking ahead, to consider what will be the future for the aviation technology sector following the COVID crisis.
SECTION 1: HOW IT DEVELOPERS AND VENDORS ARE YOU ASSISTING CUSTOMERS DURING THE COVID-19 CRISIS
In the first part of the survey, we wanted to establish a global understanding of how developers and vendors were responding to the COVID-19 pandemic and its fall-out, citing specific areas of activity. So, we asked whether respondents had made any changes or additions to their solutions such as providing support for remote workers, or special offers or incentives for new or existing customers. We also wanted to know whether developers and vendors felt there is anything airlines or MROs could be doing during this pandemic period with which the vendor's software and/or solutions might assist them.
Responses have ranged from no activity in this regard to the offer of free services during the duration of the pandemic.
Martin Lidgard, CEO and founder of Web Manuals said: "The aviation industry has been hit particularly hard by the COVID-19 pandemic and are under a number of financial pressures. Ensuring compliance and safety during this time through up-to-date digital manuals should not be another cost to worry about. This is why Web Manuals will be offering this package for free for the next four months, with no contract obligations. The supporting complimentary training ensures that these customers are fully onboarded and can begin digitizing their documents straight away."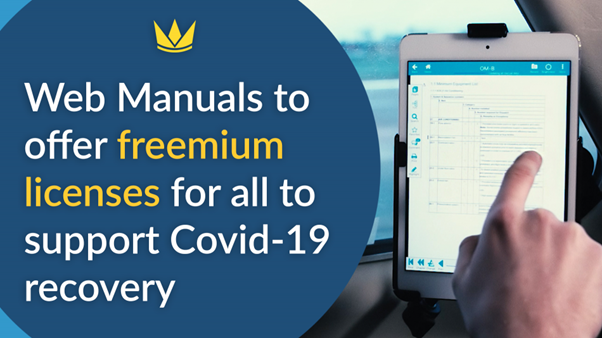 In a similar vein, AVTECH "have extended the free trial of the premium version of proFLIGHT. This means that the pilots that are still flying can access high-resolution weather forecasts tailored for their flight to make their flight as safe, comfortable and cost effective as possible."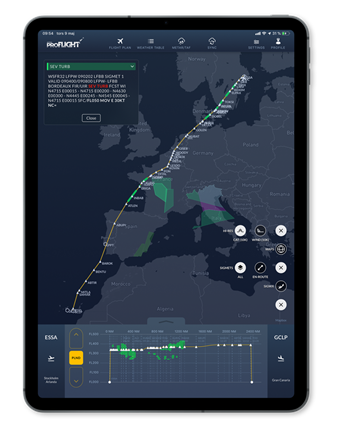 Most respondents have focused on the needs of customers to manage their way through the current crisis, a majority have also started to look to the future and how airlines might be able to operate successfully in the post-COVID world. NAVBLUE offers a service for the end of the immediate crisis before moving back to operations, "NAVBLUE safety experts propose a comprehensive set of methodologies to support Airlines in executing hazard identification and risk assessment before getting back to a normal situation. This service also covers the necessary change management that Airlines may have to assess to support their transformation."
Working during the pandemic
This dual approach is reflected in some of the responses we received. Bytron told us that, "During this tough period, our main objective from the outset was to maintain business as usual and above all, support our clients by continuing to push forward and deliver their requirements. Our latest skybook update that went live in April is an excellent example of this. We addressed several essential areas that will be vital for operators moving forward as skybook will now integrate with more solutions than ever before. This update creates a seamless automated flow of data between operating systems that will significantly reduce workloads, save time and improve accuracy at a time when carriers will be looking for every efficiency possible."
Of course, nobody could have predicted what has happened and so the comment from Evoke Systems, "Real life is about reacting quickly, creatively and professionally to the challenges at hand, especially when they could not have been envisioned. Having training data within a training management system is crucial when you need to react with critical real-time data to facilitate rapid decision making." is very true. Typical of the kind of initiatives designed to help airlines deal with the current situation Evoke Systems also reported that, "Alongside our trusted clients we have been monitoring the regulatory changes regarding aviation license extensions across the world. Many of our customers have already been in touch requesting amendments to rules and validity periods during this new exemption period."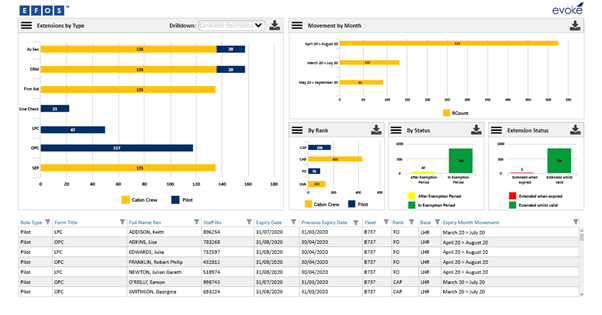 Vistair have told their customers that, "We are assessing our systems to ensure essential functions are equipped to change business operations as and if needed to support customer requirements. We will continue to monitor and manage this situation for any potential risks of disruption, we will take any required actions and provide additional communication to our customers as necessary." As part of its response to the COVID pandemic, Viasat tells clients that, "We're living in extraordinary times. COVID-19 is changing the way we live and work. Like you, we're relying on connectivity to keep in touch, keep busy, and just keep going. Our focus is, and always will be to keep [customers] connected — no matter how hard it is."
Some airlines have assigned passenger aircraft to freight use, sometimes removing and sometimes retaining the seating. In either case, this has meant a change to the operating rules and regulations and, in turn the operations manuals. As Comply365 put it, "We've seen many of our airlines…reconfiguring their passenger aircraft for cargo flights in the midst of COVID-19. Others have conducted special missions to repatriate stranded citizens. In both circumstances, updating your operations manuals is a necessary step in the process." Even during the current circumstances, there can be no let up on standards and regulations but software can help with the organization of materials to ensure continued compliance. Also, of course, changing the use of an aircraft will change other factors required in order to operate it safely. As Smart4Aviation observed, "… our customers were able to successfully convert their pax configurations into cargo configurations, by taking the seats out and strengthening the floor so cargo could be shipped. With the change of configuration and with the support of our weight and balance system flights were soon on their way to carry cargo and crucial medical equipment around the globe."
The influence of the pandemic has been felt in many different ways including the impact of the additional procedures and restrictions on dispatch and on turn-around times. While this might not be such a huge issue during the pandemic, faster dispatch is always a goal for airlines and so a technology solution that mitigates against the delaying effects of additional procedures and requirements will be welcome. One such solution is mobile capability. "Some of our customers sped up the implementation of remote dispatch with our mobile applications, which meant that crew no longer needed to visit the busy crew rooms for preflight duties. Instead they could go directly to the aircraft as the required documents were uploaded on their device." Smart4Aviation again.
Another interesting fall-out from the pandemic is that some airlines have had to solicit financial support from their governments and, as Safety Line said, "… what we've been seeing is that rather than cutting corners, existing customers recognize not only the savings they can achieve, but also [fuel management's] contribution to further reducing their CO2 footprint –  something many airlines have committed to in connection with bailout discussions with their respective governments." Storkjet drew together the various considerations here, tying together turn-around times and fuel efficiency, "Turn-around times may increase due to various COVID related restrictions. While all these issues are challenging from a commercial standpoint, from fuel saving standpoint they should be considered as opportunities."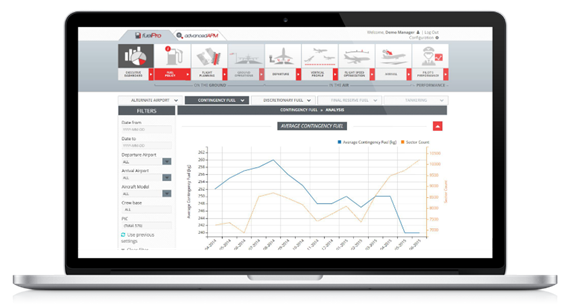 One consideration for every airline and operator is the need to be able to maintain the same or better standards of safety based on the same or better quality of maintenance processes. While not strictly an Operations mater, maintenance is a concern for Operations and a key factor in aircraft reliability and availability. There is also a cross-over consideration with the technical log book or techlog. Bringing technology to that function is something that will benefit both Operations and MRO processes. "With reduced flying programmes, now is the perfect opportunity look at implementing Electronic Tech Logs in order to reduce cost and increase efficiency. In order to assist operators, we are providing dedicated implementation support including remote training sessions. We are also offering price reductions to enable operators to start the transition with minimal cost until normal flying resumes." This comment from TrustFlight to the survey reminds us that, while it is important to address the challenge of working with COVID-19, there is also an opportunity to grasp. The industry could never have arranged a six month or more virtual break in operations during normal times and so one bit of value to take away from this awful pandemic is for airlines to use the time to establish the resources they will need to ensure success in the future.
Working in the post-COVID world
One recurring theme has been the need, more than ever, to consider the costs and cost effectiveness of whatever solutions are in use. Airlines could be forgiven for thinking that they had already squeezed to most return from the least costs but new technologies and digital possibilities offer further changes to processes and operations that will make even more savings and efficiencies possible. As one respondent put it, "COVID-19 has, without doubt, had a dramatic impact on aviation. As the industry starts to look towards the long road back to some form of normality, one clear thing is the need for efficiency, and the potential to do more with less. Carriers now need to find ways of saving across every sector and each flight."
Like any employers, software developers and vendors have had to look to the welfare of their own workforces and adapt their own working practices accordingly. They have also all seen the need to contribute to ensuring that, when the crisis is over, the industry will not only be in a position to quickly return but also will be able to instigate further improvements and developments going forward. "During this tough period, our main objective from the outset was to maintain business as usual and above all, support our clients by continuing to push forward and deliver their requirements." This, from Bytron, is typical of responses in this regard.
Part of that concept of returning to business done better as opposed to business as usual has included the integration of systems and an emphasis on automation of processes. Bytron again, in a comment reflective of the general tone, explained, "skybook will now integrate with more solutions than ever before. This update creates a seamless automated flow of data between operating systems that will significantly reduce workloads, save time and improve accuracy at a time when carriers will be looking for every efficiency possible." Other EFB suppliers considered the growing use of cloud-based solutions which, in a future world, will reduce the need for IT admins to continually update or ensure that they are up-to-date with the solutions they use. It will also enable them to only pay for the parts of a solution that they are using. Several respondents highlighted this development including dgBirds who pointed out that, "… you pay exactly for the service you're using, per day, per user, as a Cloud service. Our… 'EFB as a Service' is already suited for this kind of situation and our customers may deactivate all accounts not necessary, so that they automatically won't be charged for these accounts."
Another key element in the post-COVID world will be the need to not only restore comparable service quality in a non-comparable operating environment but also to be able to react more rapidly and nimbly to any future events. Lufthansa Systems consultants "have partnered with the data scientists at ZeroG to offer innovative and progressive network planning solutions, including sophisticated demand forecasting models, that enable airlines to effectively plot a comprehensive and sustainable recovery from this crisis." but continued to ask, "… how do you recover your networks using data from a world that no longer exists?" answering themselves with, "To overcome this dilemma you must learn quickly from the daily changing global situation and volatile booking behavior and shift from a seasonal development approach towards a daily network development approach, and from a fleet perspective to a step-by-step phasing-in of aircraft network development perspective." If this reads as complex, that's probably because it is. Lufthansa Systems also supplied a useful infographic looking at Crisis Management and Crisis Recovery.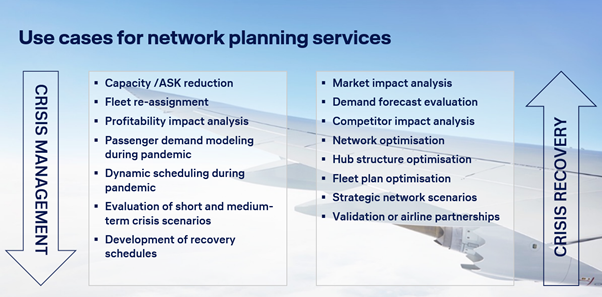 Airlines will need to be agile in the new world, to not only catalog a range of anticipated disruptive events but to also have in place processes to cope with wholly unanticipated events. What a number of respondents involved in the planning side of the business confirmed is that they are either developing or creating new capabilities that will enable users to plot almost infinite numbers of possibilities and, as importantly, to suggest potential strategies for coping with those situations. In this context, coping includes recovery and, again, a number of respondent vendors have already started to device ideas for that and the software to support those ideas. NAVBLUE, a provider of 'risk assessment and operations conformity services under COVID-19' is proposing, "a comprehensive set of methodologies to support Airlines in executing hazard identification and risk assessment before getting back to a normal situation. This service also covers the necessary change management that Airlines may have to assess to support their transformation."
We have already alluded to the fact that, while some developers have been creating new solutions, others have been developing established solutions but some respondents reminded us that the now popular mobile and web-based structures of many solutions are already well-suited to the demands of what we anticipate will be the post-COVID order. "Since our solutions combine mobile device and web functionality, we didn't have to change anything to allow customers to use the service once COVID-19 had an impact on normal office work. One day the customers accessed the service from the office – the next from home." was how Nvable put it, adding, "These are not new features, but they are features that allow airlines to be agile in their response to the recent challenges." Ultramain, also, has improved its ULTRAMAIN ELB v" Mobile which, "fully replaces the paper technical log, cabin log, journey log and damage log, including signatures [and] enables flight crews to easily find accurate fault codes, thereby improving accuracy, reducing trouble shooting and simplifying analysis."
And just as IT developers and vendors have been 'fast-tracking' developments such as touchless processes, so, also, airlines and aircraft operators have been accelerating their adoption, take-up and implementation of new technologies. One respondent to the survey noted, "Some of our customers sped up the implementation of remote dispatch with our mobile applications, which meant that crew no longer needed to visit the busy crew rooms for preflight duties. Instead they could go directly to the aircraft as the required documents were uploaded on their device." TrustFlight added that, "we have tailored our services due to COVID-19 in order for operators to use this time as an opportunity to implement new digital processes as well as identify areas to increase efficiencies and cost savings within their business. With reduced flying programmes, now is the perfect opportunity look at implementing Electronic Tech Logs in order to reduce cost and increase efficiency. In order to assist operators, we are providing dedicated implementation support including remote training sessions. We are also offering price reductions to enable operators to start the transition with minimal cost until normal flying resumes."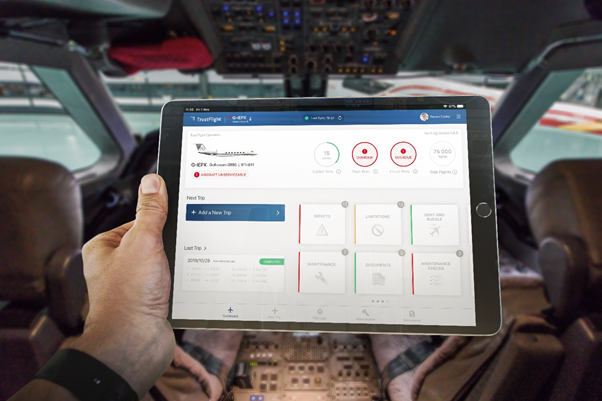 So, as well as a challenge, the pandemic, like any crisis, has heightened users' readiness to consider and progress with new ideas that will not only make it easier to work during the period of challenge but will also serve them well as a progressive step to improve future processes and operations. In summary, it seems that aviation IT vendors have stepped up to the plate in this pandemic with not only software solutions but also with ideas on how to use the opportunity of a long break in service. This particularly includes putting in place the processes and supporting technologies that will ensure not only a smooth and well-managed return to service but also a better way of working in the future to more easily recover the losses of the pandemic and restore the fortunes of the business.
Looking into the even longer-term future, Safety Line reports that, "rather than cutting corners, existing customers recognize not only the savings they can achieve, but also OptiFlight's contribution to further reducing their CO2 footprint – something many airlines have committed to in connection with bailout discussions with their respective governments. In line with this, we were proud to announce in April that we have joined the Solar Impulse World Alliance for Efficient Solutions."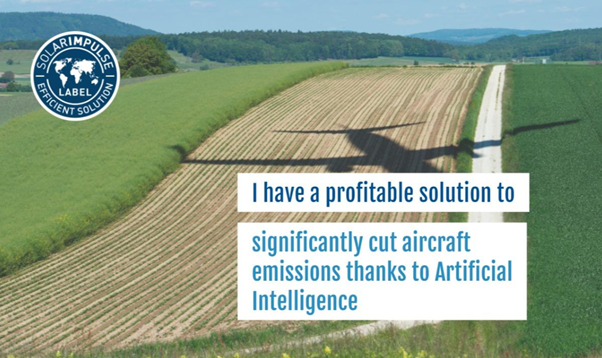 SECTION 2: HOW SOLUTIONS ARE BEING USED DURING THE COVID CRISIS AND HOW VENDORS HAVE ADAPTED
Our next group of questions were designed to discover how different vendors are applying their solutions in the current circumstances and how the pandemic has influenced the ways in which they run their businesses. There were six questions in this part.
Question 1: Have you seen increased or reduced usage of your software during the pandemic? Please provide a percentage figure.
Experiences varied from "remains mostly the same" to "Because our Software is mostly used by pilots, we see a decrease of up to 75 % in the civil aviation Industry". Most report having seen between 10% and 75% reduction in use of their products commensurate with the reduction in flying activity but, against this, most have seen little, if any reduction, in interest for their products for future application. Typically, "On the one hand, we have understandably seen a reduction in the number of aircraft and flights [using our product] during the pandemic however we have seen very little impact in terms of onboarding new operators and requests for enhancements from existing customers." Interestingly, several respondents identified the difference between cargo and passenger activities with comments such as, "Our customers include a mix of cargo operators and passenger carriers. There has been no change in usage on the cargo side, but the passenger carriers have experienced severe cutback, and the use of our software has decreased with them." Also, from a different respondent, "Some of our cargo clients were flying basically at the same pace." Another respondent highlighted the fact that some flying activity has centered around aircraft moving to and from maintenance facilities. Most vendors were phlegmatic about the situation with one summing that up as, "We see tendencies of a reduced usage; however, we predict that during/after the summer we [will be better able to] see how the pandemic actually has affected us." Encouragingly, it seems that all users are active, albeit at lower levels of activity, and are taking the chance to prepare for the future.
Question 2: Which modules or aspects of your software applications are being most used during this particular period (the last 2 months prior to the June survey)?
Looking at all the responses, there was, again, some link to activity with one saying, "Our usage profiles are similar to pre-COVID, albeit at reduced levels." or another, "The modules that were previously used are still being used to the same degree, just with fewer transactions." and yet another, "It is hard to give an answer on this, as our products are used by our customers as soon as they are flying. But as the flights have reduced proportionally the usage of our products has gone down in the same pace. However, our pilot application has continued to grow, with a lot of users from the cargo sector." was how one respondent described it, while another explained, "Because EFB Software depends on operational flights all modules of our Software are affected, due to the limitation of the amount of flights." And, from yet another about the cargo sector, "We see an increase in cargo-specific functionality as cargo airlines are operating at their full capacity." It certainly seems that vendors have noticed an uptick in the use of dispatch and flight planning tools with comments such as, "we believe that the crew and flight planning tools are seeing more use as they adjust to the ever-changing landscape in the midst of the pandemic." and "weight & balance and load planning solution are definitely [applications that have stood up during the pandemic]. Next to our clients flying solely cargo other airlines were looking at alternatives where they took cargo packages in the cabin on the seats after covering them, which was fully supported by our solution."
With regard to dispatch and planning, one respondent reported, "We have seen constant demand for our EFB Application, our Dispatch Portal and above all our EFF enablement capability." And another that they had seen most use for their, "Network Planning tools and demand forecast modelling." There has also been good reported use of documentation, "Digital Flight Plan, Meteorology, Notam, Documents and Manuals." as one respondent put it, and, "Documentation, for pilots to maintain their competencies and for the airline to deliver information about COVID crisis, sanitary measures, while in confinement." as another said. And, finally, with another reference to maintenance, "The defect management and line maintenance activities [and related Software activities] are more in use…"
Question 3: Which of your services are in more demand during this period? Data management, bug fixes, training, system configuration, other?
Of the fourteen respondents to this question, four have experienced no real change from pre-COVID to the time of the survey. Another four have seen some extra demand for training services and implementation support with one reporting, "We have seen an increase in the number of operators using this period to better plan new roll-outs by increasing training and working on process changes." and another that had assisted with, "the introduction of the new…Training Forms." It also seems that airlines have taken the opportunity to undertake some of those 'must get round to' jobs with four respondents citing a range of such projects from bug fixes to integrations from, "… airlines see this as an opportunity to roll out features/systems." to, "Data management, machine learning." and, "We have been assisting more with data analysis." One respondent has been, "quite busy with virtual Fuel Efficiency workshops with existing customers." One other respondent has seen that, "… the pilot application has continued to grow and we have got new users from a (for us) new segment of pilots, the cargo operators." The numbers reflect that a couple of respondents mentioned more than one category.
Question 4: How has the COVID-19 experience altered your product plan? Consider the next 3 years which all sources indicate will be challenging for commercial aviation?
There were a variety of responses to this question and, while one respondent did say that COVID, "has stopped commercial actions since the beginning of the year." it was heartening to see that optimism prevailed not in a starry-eyed way but with developers and vendors having clear ideas about what they were going to do and, more importantly, how they planned to achieve that. Typical was the response, "COVID-19 has delayed our projects, but we do not think the need for our products will be reduced after the crisis but rather the opposite. With another focus in the industry where the demands on the airlines from the passengers will be higher, our efficiency products will be needed more than ever before." and "All of our implementations are paperless Ops implementations. We expect to see an increase in market demand for paperless systems where transactions are captured at source in real time using mobile devices." Like some of their customers, developers and vendors are using the opportunity of COVID-imposed stasis to improve their own positions. "COVID-19 has not changed our product schedule. We use the current situation to more focus on development to improve our Software." was one response as was, "We have decided to accelerate modernization efforts of one of our products."
As we've said, the optimism is not starry eyed. "… our future priorities very much center around new solutions and modules that help to drive towards more automation, increased accessibility, improved data capture and sharing, integration and much more besides." and, "… we are thinking about diversifying more by adopting our products or new products to other markets. This could be e.g. other forms of transport like maritime, rail and/or health." are typically upbeat responses to the pandemic, as also is, "We haven't decreased investment in R&D. Connectivity and data will be important, in some ways more so (better situational awareness, same results with less staff, etc.)"
There was also a strong focus on helping customers to move out of the COVID restrictions by adopting more of the advanced solutions that are already in growing use, including, "our consulting and data modelling focus has shifted to help airlines develop quick and well-informed recovery plans." and, "the way the world is looking towards online solutions more than ever will strengthen our roadmap and our ongoing dialogue to understand what our customers need next." One respondent has plans to put more power in the hands of customers, "to allow airlines to adopt our solutions increasingly on a self-serve basis. This year we have introduced a full remote windows deployment solution… "
Finally, "Although it will take time for our existing customers to return to pre-COVID traffic levels, we expect to continue adding new customers to compensate for that." From one respondent that seems to sum up the positive but realistic mood of the sector on future plans.
Question 5: Most businesses globally have announced some reduction in staffing and size. Are you seeing the same in the software space? Is your company making any adjustments?
Perhaps understandably, responses to this question were less direct than those to previous questions, "We are adapting as necessary and in line with demand" was how one respondent put it. One respondent did simply say that, "… we have reduced the IT team." While another limited their comment to the current crisis, "… reduced work time for all personnel [to] 60% due to COVID-19." As with much of the present situation, some, including two of the eleven who answered this question, are deciding to await the post-pandemic time to see how the land lies then. Their comments, "We have not had to make adjustments yet although we keep it in review." and, " So far, we've had no need to do so. Actually, we were able to acquire new customers recently. Our software will soon make their business processes more efficient and in turn deliver savings." speak to some of the current uncertainty. Two respondents told of a pause, "… we are not reducing staff. We have put a pause on hiring in Q2 but that's it." and, "We have slowed down new recruitments during the crisis, but are still planning to invest in growth when traffic picks up." Encouragingly, three respondents were very positive, "Our staff has actually increased over 30% since 2019." was one while another told us, "No, we continue to add staff worldwide." and, "We have actually still been hiring throughout this period, both in our software development and implementation teams."
It seems that a combination of efficiency and the prospect of resumed growth in the post-COVID world plus the increased need to remove paper and physical contacts from as many processes as possible are encouraging the aviation IT sector to adopt as bullish approach to the pandemic and its aftermath.
Question 6: Please share with us any additional thoughts you have regarding the use of your solutions at this time.
While we hoped that our questions had covered all the bases, we know that, in practice, things often emerge that were not foreseen. So, we wanted to let our vendors who had contributed to the survey responses to have the last word on this section.
Some responses confirmed previous comments around the opportunities that are there to be leveraged as a result of either the down time enforced by the pandemic and the need for airlines and operators to embrace new processes, methods and ideas in the post-COVID world. "This period still represents a unique opportunity to implement process improvements and new technologies where both the regulators are receptive and also there is less risk in implementing these changes due to reduced flying." was a typical response in this regard. There was also further mention of the new prominence of cargo operations, "As mentioned above, we see a reduced use of our products due to reductions of fights. However, we have been in contact with more cargo airlines than usual as they operate more now than before the pandemic. We have a positive outlook on the future and that this crisis could be an initiation for transformation in the industry." or, "We are currently seeing a situation where commercial travel is almost non-existent and EFB solutions are therefore currently not in full use in all areas. Nevertheless, there are many areas of the aviation industry, such as air cargo, which continues to run in regular business. In these areas, digitalization is more important than ever and will continue to gain in importance." and, with a very positive spin, "technology has an important part to play in allowing airlines to operate flexibly and allow them to achieve more with fewer resources… The recent challenges have sharpened the focus on how important those two attributes are for any organization." There was a note of caution in a response that suggested, "This is a time for internal reflection for many companies, especially passenger carriers, as they evaluate each expense line item to determine whether they absolutely need to keep it on the books. They certainly are not looking to incur large new expenses, so getting an airline to switch to a new ERP or flight and crew management system at this time is nearly impossible unless the new solution
can show an immediate ROI.
One response was quite specific in the advice it offered for the future, responding, "We've seen many of our airlines reconfiguring their passenger aircraft for cargo flights… Others have conducted special missions to repatriate stranded citizens. In both circumstances, updating operations manuals is a necessary step in the process. We offer a few tips to make that process more efficient and streamlined: Enable effective collaboration between your technical publications staff and subject-matter experts; reuse content, wherever possible, by establishing a 'single source of truth'; streamline approvals – by enabling your Regulators to approve changes digitally; publish incremental updates to get the content into the hands of the pilots, flight attendants and crew more quickly, and reduce download time and bandwidth/data consumption; and finally, easily monitor compliance so that you know that the crew has received, read, and understood the updates in order to operate safely."
As the 'passenger to cargo' reconfiguration is clearly one that our vendors have seen across the board, this convenient infographic from Comply365 shows some of the issues with regard to paperwork.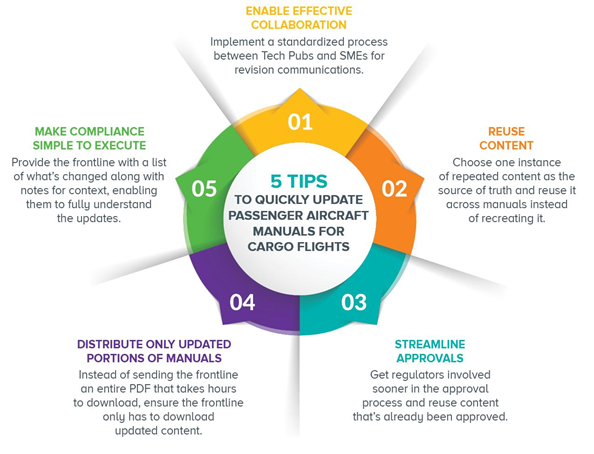 Overall, the responses were positive with one respondent confirming that, "The aviation industry will still exist post COVID so software that supports the industry will still be needed. We see a greater demand for systems that support paperless operations… and COVID will only accelerate that trend." Another noted that, "Airlines seem to be coming out of the crisis with strong sustainability commitments." which can only be positive. But we'll conclude this section with what one respondent reminded us, "As someone smarter said, Aircraft will continue to fly, that's what they are designed to do. They might be in different structures (airlines) but they will surely continue to fly. So, solutions which help with optimizing operations – flight/maintenance – will continue to be relevant. We don't see this as something that reverses trends towards more data and analytics, on the contrary, data and analytics are now seen as something that could 'save the world'."
SECTION 3: WHAT WILL BE THE FUTURE FOR THE AVIATION TECHNOLOGY SECTOR FOLLOWING THE COVID CRISIS?
In this section, we wanted to discover some very practical ideas about what the future holds for aviation IT following the current crisis, yes, but also in broader terms. This is a fast moving, nimble and agile sector, so it is not unexpected that developers and vendors in the sector would be able to come up with some great and inciteful responses to this question. As with section one, the material relates to each responding vendor's field of capability and so each was telling us about how they see the future in terms of their own product range.
As we've seen in the previous sections, a number of respondents made the distinction between getting through COVID-19, the adoption of technologies, solutions and processes that will address the issues that this pandemic has raised and the longer-term business imperatives.
Question 1: Will technology need to adapt to meet a new industry post-COVID? For example, do you think touchless interfaces, such as voice interactive functions, will be a focus moving forward?
Most of the comments here focused on that adaptability that typifies the sector but there were also some notes of realism. For instance, Bytron suggested, "It's hard to say because the impact has been so widespread and has touched so many. We've already seen a clear need to use more online services and a shift towards technologies that can help reduce physical contact. Cash payments are seemingly becoming a thing of the distant past, so this may well result in more confidence around the world when it comes to using virtual solutions where once we would favor human contact." Pointing also to the challenges, which cannot be ignored, DextraData (Logipad) added, "Voice interactive Interfaces [offer] a good opportunity. Current voice interactive solutions need an internet connectivity inside the cockpit. Unfortunately, most airlines do not have this option available today. On the other hand, experiences are missing, and users must change their familiar way of working, therefore it will take some time to establish interactive functions."
Nvable summed up the responses, "Technology will place an increasingly important role in helping organizations operate flexibility, safely and whilst controlling their costs. Strategically this will remain important as fleets return to service and the world cautiously opens up. This may involve new monitoring of COVID-19 related data (such as passenger test statuses and staff test results) but will also involve the wider adoption of non-COVID related solutions that just improve processes because the priorities have shifted."
Question 2: It is said that this era is an opportunity to accelerate digital transformations rather than slow them down. Do you share that sentiment? Why?
There was more or less unanimity in the answers to this question: all shared the sentiment to one degree or another. Variations were more in the senses of how the outcomes might be distributed and timing, ranging from, for instance, Conduce, suggesting, "There will be no overall effect, some well-funded Airlines will take the opportunity to invest in new systems, whereas many airlines that operate 'hand to mouth' will cutback and may cease to trade, but overall the global airline digital transformation will continue." to Lufthansa Systems', "Absolutely…there is no better time to make use of data and automation. Most airlines face a reduction in workforce and will need to adapt to working smarter with less." In a similar vein and putting the emphasis on passengers, AVTECH suggested, "… Changed passenger requirements will increase the demand for new solutions to increase efficiency, safety and comfort." while Honeywell added, "… Data and analytics are as important as medical innovations to keep passengers move to their destinations in a safe and sustainable way." Looking to the business consequences of COVID-19, Smart4Aviation offered a note of realism in answer to the question, "There is always a cost factor to digital transformations and despite the support measures from governments, the first priority of our clients will be to get back to business as usual. In parallel there may be room for digital transformations but if that gets priority is really the question now." And, in yet another slight variation of emphasis, StorkJet looked at the drivers of digital transformation, "As new technology appeared like fast servers, on-board internet connection, artificial intelligence and EFB, this built business opportunity to create solutions that can optimize operations in real time. There is huge area for improvement and that's where StorkJet put main focus in R&D projects." But, notwithstanding the different emphases, the overall conclusion was positive, reflected in the response from Trustflight, "… If anything, current circumstances have forced the change for both operators and also the regulator. Operators have learnt how to adopt new technologies and systems quickly, and regulators have learnt how to incorporate regulatory changes to support this (e.g. FAA remote aircraft inspections). There will also be a push for organizations to adopt digital transformations where they can benefit from measurable cost savings." AFSys took a pragmatic view, "[We] firmly believe this because it will be a necessity rather than a desire, since the digital transformation of airline organizations is a means of reducing costs." Comply365 offered a neat summarization, "As corporate offices reconsider the need for physical presence in the office, and a new population of employees has proven their ability to perform effectively from 'home,' the need for digital transformation will expand. Old school set-ups, such as paper files in a cabinet, are no longer practical."
Question 3: We are all operating in a somewhat virtual world today. General consensus is that some of this will be normalized and is here to stay. What would you say are the virtual tools in your software or processes and do you think these will be more widely used once the industry emerges from the crisis? For example: collaboration, technical support, training, handovers, etc.
While the tools themselves varied from vendor to vendor, there was again a reasonable, positive consensus around the likelihood of their continued and wider use once the industry emerges from the crisis. Most seem to feel that, while the pandemic might have delayed it, there was already a movement in the direction of using more virtual tools. The response from eTT Aviation offered clarity, "Virtual meetings are ubiquitous now with everyone becoming Zoom, GoToMeeting, and WebEx experts. These tools are not as good as face to face meetings in many cases. However, for some cases they are just as effective such as for tech support and training delivery. That is where I see that it is here to stay." Others, like Nvable, extended the response to embrace their own business model, "We made the shift to primarily provide remote support and all the associated technologies some time ago. This happens to be in line with our strategy to provide self-serve solutions. More broadly it makes sense in a world whether businesses expect to 'just use' software and do not particularly want the introduction costs of 'consultancy' (in whatever form). We have long believed that the industry should adopt virtual technologies and, yes, we believe recent events will sharpen the focus on those." Ultramain made a similar point, "We agree with the general consensus. Virtual tools provided and used in our software start with the fact our software is fully paperless allowing individuals to record and share data in real time. With respect to implementing our software, we have shifted to providing more implementation support remotely using collaboration tools, video training, and cutover support. In fact, we recently saw our first implementation go-live with no onsite support by our staff. It was all provided remotely." Taking a slightly different approach in keeping with how they view their own business, Safety Line explained, "We believe we will still need to support our customs in their time zones and have therefore opened an OptiFlight customer support office in Asia. Increased use of virtual tools will however facilitate the integration of remote staff with the global team." Looking to the future, Web Manuals added, "Collaboration between technology companies is here to stay, and gone are the days where a solution would be cobbled together across several different platforms offering slightly different things. At Web Manuals, we have partnered with many digital document and template providers to ensure that compliance managers can access all the documentation and manuals they need in one place."
Question 4: Do you believe that there will now be faster adoption of paperless,
e-signatures, and other digital methods for execution? If so, please explain why.
One advantage we have at AircraftIT is that we see trends through the articles that vendors contribute to the publication. Paperless processes, e-signatures and digital executions have been increasingly important elements in those articles in the past few of years but, of course, not everybody has yet adopted them. Now, with the need to minimize physical contacts or shared materials (paper), this question becomes very pertinent.
That change of imperative was very much reflected in DextraData's response, "… because contactless working will become more important especially in the next months and even years. Before COVID-19, digital tools were often 'nice to have' instead of necessary. With the current situation things look different and the focus is very much on the digitalization of business processes. This will certainly bring a digital boost. With Logipad, we already offer a paperless solution that integrates features such as e-signature and face-recognition and are happy that we can support our customers in digitizing their processes and business."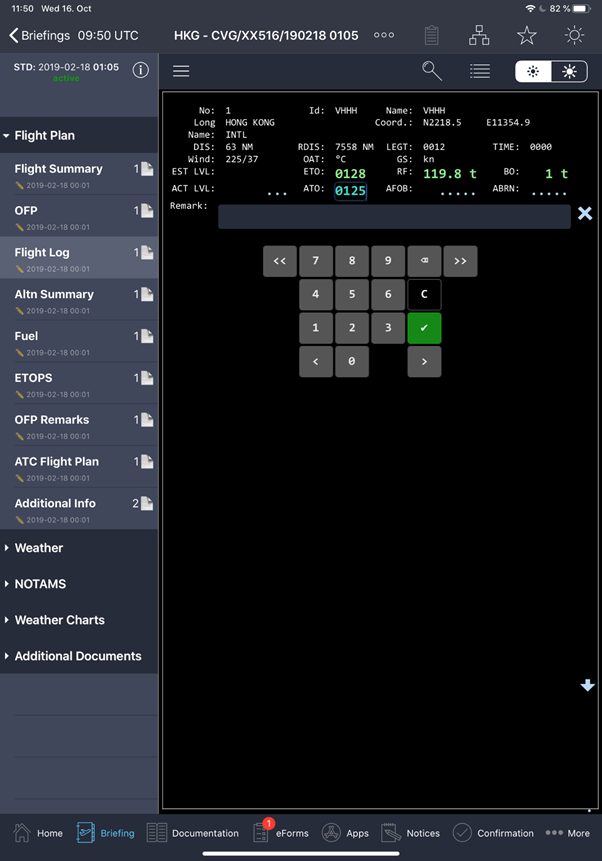 Nvable's response took a similar but slightly different line, "The adoption of the digital approaches had long been acceptable – and we have found that in virtually every region when we have discussed such solutions with aviation authorities. However there has also been a measure of reticence, sometimes from the authority, other times from the airline itself. As more airlines adopt these approaches and see the benefits of making the transition it is inevitable that adoption will more rapid." Looking more closely at specific processes, Smart4Aviation shared this, "In some areas we have seen this with our current customers, where they sped up the implementation of remote dispatch with our mobile applications, which meant that crew no longer needed to visit the crew room for preflight duties. Instead they could go directly to the aircraft as the required documents were uploaded on their device." And others related the answer to the current situation, like eTT A viation, "Perhaps. We think most air operators want to go paperless or at least paper-less. The fact that much of their workforce is working from home is undoubtedly moving them towards less paper and more e-signoff solutions."
Question 5: Do you believe that business analytics, machine learning and artificial intelligence tools will become more pressing and prevalent? If so, please explain why.
This was interesting inasmuch as, although all respondents were positive about the answer, their positivity came from different places and was about different outcomes. There was no doubt where Lufthansa Systems was coming from on this one. "Absolutely. Data from the past cannot necessarily be relied upon in the post-COVID world. Machine learning and AI will play a big part in re-defining the data used to make customer experience and operational decisions." Honeywell approached the answer from a slightly different but equally valid perspective, "Staff levels will be reduced at Airlines, so operations will need to rely on less manual work and more automation across the board." Taking yet a different but, again, equally valid tack and also agreeing with the premise in the question, Ultramain suggested, "Yes, as these technologies become more mature and available." Safety Line took a quite opportunistic approach in answering this question, "As hardware evolutions may be slowed down due to the crisis, machine learning and AI will be the fastest way to achieve disruptive technology advances." AFSys summed up the practical aspect of this question, "Regarding the solution we offer, without a doubt. They are necessary tools for analysis, detection of possibilities for improvement and optimization of resources." As we said, all were positive but in different ways.
Question 6: Please share with us any additional thoughts on the post-COVID aviation technology landscape and how your solutions can assist your customers and future customers.
As in section 2, this question was a catch-all, blue sky invitation. Some respondents broadened the topic out to the wider sector whose economic outcomes will, of course, have a significant impact on aviation IT. "Conduce expect that the airline market will substantially shrink, maybe by 50% in the next 2 years. In the Airline world it will be a case of 'Survival of the fittest' and only the strongest players will get through this. "The most efficient airlines with effective electronic systems such as ELB in place are more likely to succeed." Was a typical response. Others were bullishly opportunistic about grasping the future, "StorkJet plans to take advantage of COVID and put focus on R&D in area of fuel efficiency solutions. What we see is missing on the market now is the lack of information about precise saving potential and indication of fuel penalty that comes from non-compliant flights. Thanks to using machine learning models the results will reflect real airline operations." AVTECH was a respondent who emphasized the contribution technology could make in the post-COVID era, "Increased passenger demands on airlines for efficiency, safety comfort and timeliness. Airlines need to improve their decision support through available technology solutions to meet the demands of passengers. In this challenging time where the airlines may not be able to make excessive investments, our solutions are particularly interesting as they provide state of the art information and decision support without requiring investments. AVTECH solutions can be part of an airlines strategy to recover from the crisis and to develop into the future."
SUMMARY
One of the astonishing things about this survey was just how much vendors had already clearly been considering the subject of the COVID-19 pandemic, its impact and its aftermath, and how willing they were to share that thinking with our readers. Even within the very large space we have allocated for this survey, we have still had to exercise some editorial control but we believe that the information used has been representative of most or all streams of opinion on each subject. It has reminded us, as if we needed reminding, what a far seeing, innovative and resourceful sector it is in which we work.
Comments (0)
There are currently no comments about this article.