The reliability analysis in the aeronautical maintenance is becoming more and more important each day.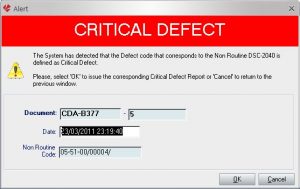 Through the use of this Module it is possible to do multiple and complex
analyses in a simple and easy way, obtaining precise and trustworthy
results.
The Reliability Module considers the automatic generation of Recurrent
Defect Alerts (with recurrent criteria previously established by the
user) and Critical Defect Alerts.
In addition, through the use of a specific data mart, the analysis of
technical defects by ATA, tendencies, technical defects by fleet,
technical defects by component, meantime between defects, meantime
between removals, etc.. are easily performed.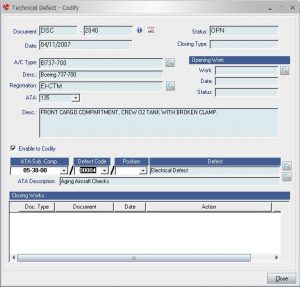 Main Functionalities:
• Record and administration of Cabin Defects Report
• Administration of ATA codes
• Administration of Defects and Corrective Actions
• Association of Defects and Actions to ATA codes
• Codification of Technical Discrepancies
• Record of Delay and Cancellation reports
• Generation of Recurrent Defects reports
• Generation of Critical Defects reports
• Generation of Critical ETOPS Defects reports
• Administration of Recurrent Defect Criteria
• Analysis of Recurrent Defect with different Recurrent Criteria
• Long Term Analysis (trends)
• Analysis of Reliability by fleet/aircraft
• Analysis of Component Reliability (URR, FR, MTBF, MTBUR, etc.)
• Analysis of Dispatch Reliability
• Analysis of technical discrepancies
• Generation and administration of Long Term Reliability reports (trends)
• Reports for Scheduled and Non Scheduled removals
• Reports of Confirmed and Non Confirmed Defect for non scheduled component removals