OpenAirlines is an innovative consulting and software company with world-class experience in optimizing the airlines' operations. OpenAirlines' main domains of expertise are flight operations, with a special focus on Fuel savings and the Environment, Crew Management and OCC.
Fuel experts since 2006
OpenAirlines was founded in 2006 by Alexandre Feray in Toulouse on a core principle: to help airlines optimize their operations and to reduce their environmental impact. 
Drawing on years of R&D, SkyBreathe® came into the market in 2013 as an innovative eco-flying solution based on Cloud, Artificial Intelligence, and Big Data to save fuel and reduce airlines' carbon footprint by up to 5%.
Rewarded by many innovation awards, the software is now used by a very active community of 58+ airlines worldwide, including Air France, Norwegian, Korean Air, flydubai, and UPS…
The company comprises a highly qualified, committed team of Fuel Experts, Data Scientists, and IT Specialists located in Toulouse, Hong Kong, Miami, and Montreal.
OpenAirlines is the world leader in the market of airline environmental software thanks to SkyBreathe® 360° platform, offering a range of complete solutions answering all the critical requirements to make an airline succeed in its fuel program.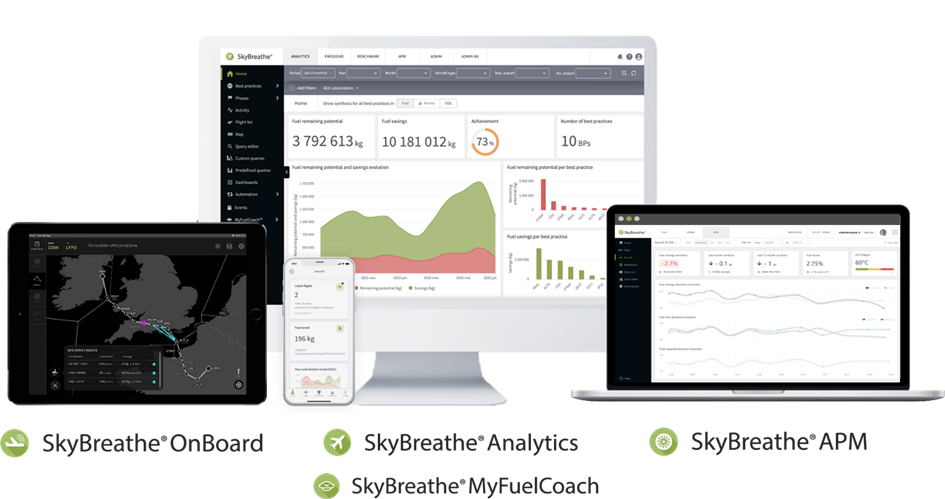 Unlock the power of your data-and people
SkyBreathe® computes the savings on each flight using sophisticated algorithms based on physics and AI, trained on the world's largest fuel efficiency dataset. The software analyzes billions of data records from all types of data sources, including complete FDR records, operational flight plans, ACARS, and more. It combines them with environmental data from actual flight conditions to identify the most relevant saving opportunities.
Engage your pilots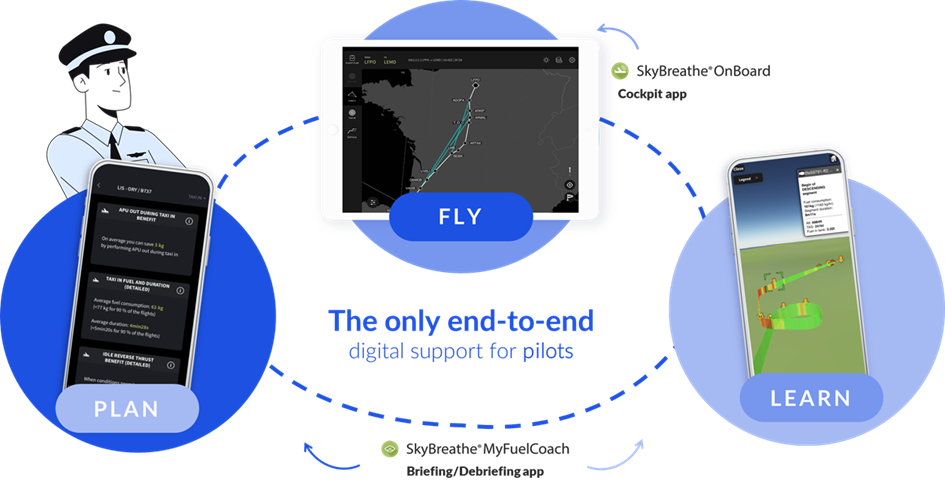 SkyBreathe® MyFuelCoach™ and SkyBreathe® OnBoard together provide the pilot with a complete experience that ensures continuous fuel optimization. Pilots benefit from accurate and actionable fuel insights across the life cycle of a flight, from flight planning and pre-departure preparation to in-flight operations and ground handling. It gives them more control and the confidence to apply fuel-saving measures while keeping safety a top priority.
Join the largest community for Fuel Efficiency
The SkyBreathe community is the most prolific and innovative. That is why we can proudly state "Together we are Pioneers". Every year and a half, OpenAirlines organize OpenDay events where the SkyBreathe users (around 60 airlines) meet and exchange ideas to improve their savings and operations – making sure innovation never stops and building together the future of aviation!
Don't miss out on the next one!