More Details about EFOM
EFOM (Electronic Flight Operations Manuals) is an XML-based content management system for flight and ground ops documentation. The software is developed and continuously improved to optimize airline processes. It is a proven solution that integrates all legacy aircraft by Airbus, Boeing, Bombardier and Embraer.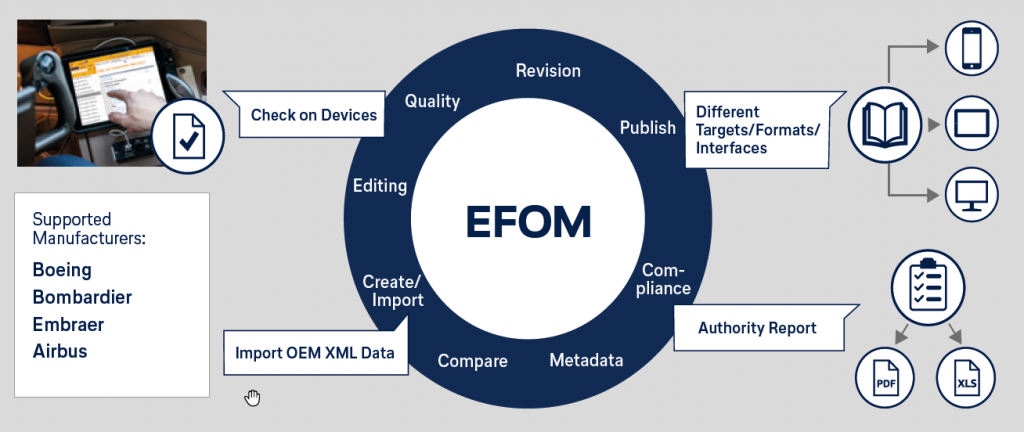 Avoid redundancy
Import modules for manufacturer XML data available
Tasklits guidance enables checking of the changes
Library functionality available
Single-source publishing in different formats
Open for customized enhancements
Powerful effectivity management
Flexible to integrate new documents
Generates reference reports for EASA, IOSA or other authority audits
Expandable for new publishing back- ends?
Free definable variants for filtering documentation
Open system to support future formats
Content management system
Editing: hyperlinks, graphics, effectivity, text guidance with defined structures, etc.
Regular link check with a consistency check
Configuration management functional- ity for fleets, variants, tail signs and serial numbers
Usage of library units to avoid redundancy
Versioning mechanism: one version per check-in. Each check-in of a document unit creates a new version, which can be viewed in the window status history of the EFOM work- bench. In this way, the whole working process can be reviewed
Workflow: this status-driven workflow controls the essential operations that are applicable to all information nodes
Management of manual revisions
Free definable revision profiles
Make revision function: as a result a frozen customer document is created and stored separately in the database, including all graphics and metadata
EFOM's revision generator always uses the latest accepted text elements for assembling a revision, with auto- matic insertion of ATA iSpec 2200 revision markup
Revision comparison and revision highlights
Workflow: this status-driven workflow controls the essential operations that are applicable to all information nodes
Preview and publishing
Reader target group publishing (e. g. cabin or cockpit)
Different publishing backends (electronic or paper) for different formats
Publishing for different workflow states
Import module
Import for manufacturer SGML or XML data available
Tasklist guidance through manufacturer changes
Search – simple and extended – to find everything quickly and easily