Logipad is an Electronic Flight Bag solution, which enables flight crews to perform flight management tasks more easily and efficiently with only one solution. Logipad enables small, medium-sized, and even large airlines a safe and secure EFB solution package. The software is available as an on-premises as well as a cloud-based solution. It stores and retrieves data and documents, digitizes workflows and processes and helps you to achieve a paperless cockpit.
Logipad Electronic Flight Bag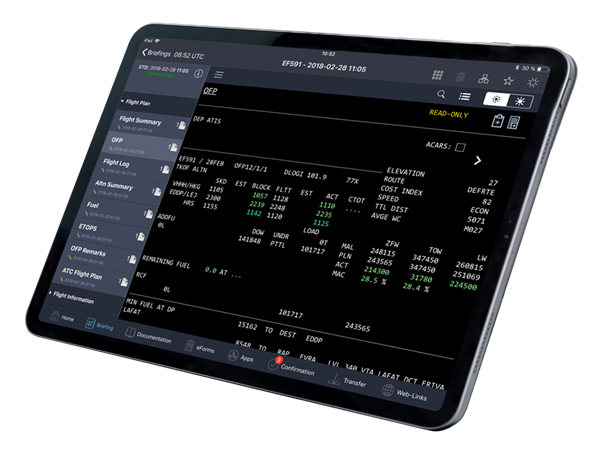 Logipad EFB Modules
Logipad Electronic Flight Bag is the right choice if you are looking for a highly customizable, flexible, and comprehensive information management solution. The complete solution package focuses on three main areas:
Briefing / Electronic Flight Folder Module
Documentation Module
eForms Module
These modules support your processes before, during, and after the flight. In addition, it helps you to support and enhance existing business processes. Providing efficient process support is our guiding principle and it is important to us to understand the business of our customers and their requirements.
About DextaData
DextraData is the company behind Logipad. As an owner-managed IT consulting company and independent software vendor, DextraData has been supporting its clients with IT solutions for 25 years. The developer team also brings more than 15 years of experience in the aviation industry.

Features and Tools of the Complete Solution Package
Briefing Manager Tool
Electronic Flight Folder
Customizable eForms
eForms Generator
Device-to-Device communication
QR-code scanner
Day and Night mode
Partial EFF updates
Priority Sync
Full-text search
Document prioritization
Role-based management
Notices view for pre-flight documents
Configuration of individual devices
Data exchange with third-party systems & applications
Custom dashboard for reports
Power-BI interface
eSignature with user-based certificates
Runs on iOS and Windows devices
Ready for cloud-based or on-premises environments
Seamless integration with existing mobile device management systems
Protected Access with oAuth authentification and biometric authentification
Supported third-party flight operations systems and applications:
LIDO, PPS, NavBlue, Skyplan