CREW MANAGEMENT SOFTWARE
Your one-stop for all things Crew. We have integrated a complete functionality for crew planning and control into an intuitive, reliable toolset that keeps everyone in the loop, while providing assistance with the management of duty roster, endorsements and FTLs.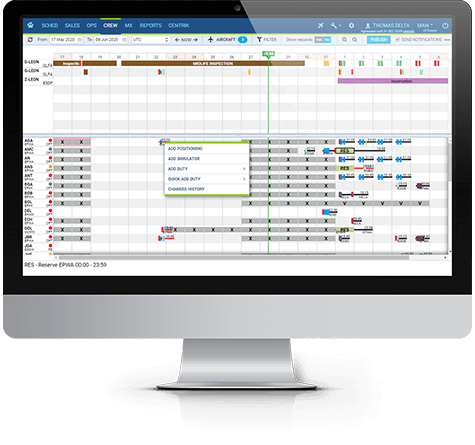 A complete crew planning suite
Manage your roster in a most efficient, comprehensive way. Organise duties of your team, add positionings, handle duty requests and notify crew members about any changes with automated notification messages.
Crew data in one place
Track every single crew endorsement required to fly legally, alongside with airport requirements, required simulator sessions and every other detail. Have your team notified if they are nearing expiry dates.
Advanced Flight Time Limitations tracking
Have peace of mind as every single regulation on crew duty limits included in your Operations Manual is reflected in Leon. Keep notified of any irregularities through automated warnings and notices and use this data for the purpose of compliance management. With Leon, hundreds of AOC holders stay compliant with authorities all around the globe.
Fluid communication with Leon Mobile app
Your crew members are always up to speed on their duties with our mobile application, available for both Android and Apple devices. Let your team browse their duties offline, or upload Journey Log after the flight. Having an on-the-go access to their schedule, endorsements, FTL calculations, PAX data and even checklist items is another huge boon for the whole team.
Expand your business with Leon