Ecmanage is a wardrobe mangement system for aviation companies and airlines to control the complete ordering process of workwear, personal protective equipment (PPE) and/or tools. Ecmanage takes the stress out of obtaining and delivering workwear and PPE for your company/customers.​ In addition, it can be as simple as you like, and can be extensively customised to your needs ander desires.
Many customers have chosen Ecmanage, such as the KLM Royal Dutch Airlines, Brussels Airlines, Eurowings and Keulen-Bonn Airport.The main reason that these parties have chosen Ecmanage is the security of the system. Ecmanage is ISO 27001 and NEN 7510 certified.
Standard modules
Our system is used by suppliers of workwear and personal protective equipment, customers with their own company clothing and those who order their workwear. Ecmanage has a large number of standard modules that you can always make use of when purchasing Ecmanage. In addition, we offer further extensions for those customers who wish to configure their customer environments even more specifically.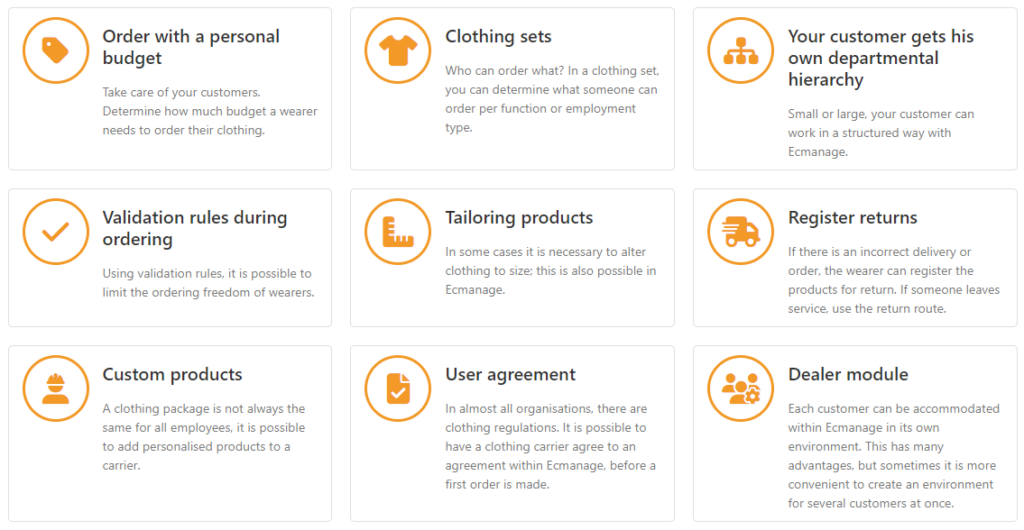 Additional modules