Next Conference
Airline & Aerospace MRO & Flight Operations IT Conference – APAC 2019

The Airline & Aerospace MRO & Operations IT Conference is the world's only event to address the key issues relating to the development of IT and it's key use for aircraft maintenance and flight operations.

Date: 30th – 31st October 2019

New Venue for 2019: InterContinental Hotel, Bangkok, Thailand

https://www.aircraft-commerce.com/conferences/bangkok-2019/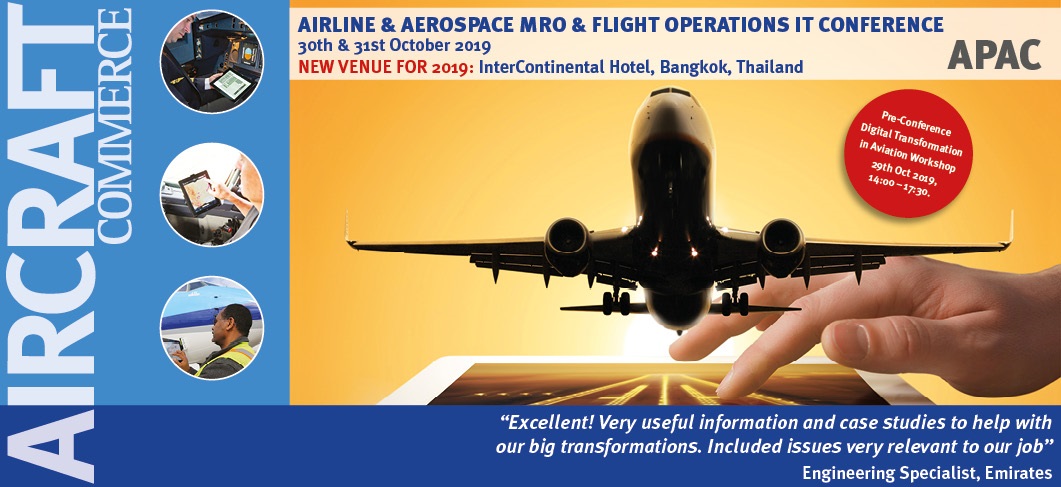 Aircraft IT is affiliated with Aircraft Commerce organizer of the world's leading MRO and Flight Operations IT Conferences. Over the past six years, Aircraft Commerce events have set the standards in the EMEA, Asia/Pacific and Americas zones, successfully bringing together IT Vendors with airlines, MROs and aircraft operators in those regions.
Each event offers delegates from airlines, MROs and aircraft operators a wonderful opportunity to review their entire aircraft maintenance and Operations IT platform in just two days and each event follows the same format:
A large exhibition area provides IT vendors with the ideal platform to demonstrate their software solutions while, at the same time, allowing airlines, MROs and aircraft operators the chance to try out all the major systems under the same roof over just two days.
A conference agenda of keynote presentations, IT user case studies and interactive workshops ensure that delegates receive key information on the pressing issues and trends in this rapidly developing industry sector.
Beyond the structured events, there are also outstanding opportunities for networking between delegates from airlines MROs and operators to exchange ideas and share experiences.