CrossConsense's portfolio stretches from AMOS Support, BI-Management, Data Migration and Hosting to the products Aircraft Fleet View (progressive web app for up-to-date fleet status), and ACSIS (tool for predictive maintenance).
"Since being established in 2002, we basically think from the perspective of the user. We are not pure IT geeks and it is exactly that which characterizes our services and products. Thus, we distinguish ourselves from most of the specialists for the implementation of solutions. We can't do otherwise, because in the DNA of CrossConsense are many years of experience in Airlines, in the area of procurement, engineering and maintenance. We know your job as if it were ours. And THAT you will feel immediately!"
NAME OF PRODUCTS MARKETED
• Aircraft Fleet View
• ACSIS
KEY BUSINESS/SOFTWARE AREAS
• Support
• Consulting
• Business Intelligence solutions
• App and dashboard development
CrossConsense's portfolio stretches from AMOS Support, BI-Management, Data Migration and Hosting to the products Aircraft Fleet View (progressive web app for up-to-date fleet status), and ACSIS (tool for predictive maintenance).
"Since being established in 2002, we basically think from the perspective of the user. We are not pure IT geeks and it is exactly that which characterizes our services and products. Thus, we distinguish ourselves from most of the specialists for the implementation of solutions. We can't do otherwise, because in the DNA of CrossConsense are many years of experience in Airlines, in the area of procurement, engineering and maintenance. We know your job as if it were ours. And THAT you will feel immediately!"
AMOS Support: CrossConsense has a long tradition in providing support for AMOS. You have one single point of contact (no separated responsibilities for hardware, database or application support) for 1st and 2nd level. CrossConsense realizes well-planned and perfectly organized data migration projects for airline customers. CrossConsense also offers Reporting and Business Intelligence Analytics for AMOS customers.
Aircraft Fleet View is a user-friendly Progressive Web App (PWA) developed by CrossConsense that gives you an always up-to-date view on your airline's fleet status. It indicates AOGs, delays and other important information. It provides the right level of detail to be useful but not crowded with information.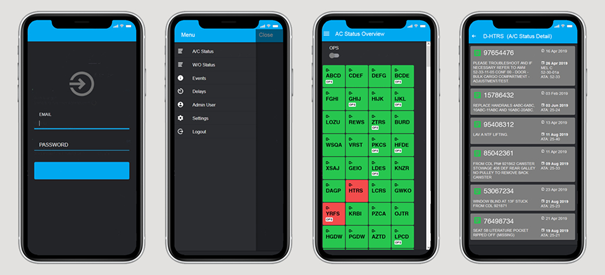 ACSIS is a powerful software tool developed to assist any airline, aircraft operator, MRO facility and OEM to avoid AOGs, delays and turnbacks, as well as improve aircraft utilization, and enhance safety. ACSIS integrates with any MRO / M&E Software solution to deliver better insights into aircraft health and potential future problems which can then be dealt with during scheduled maintenance.