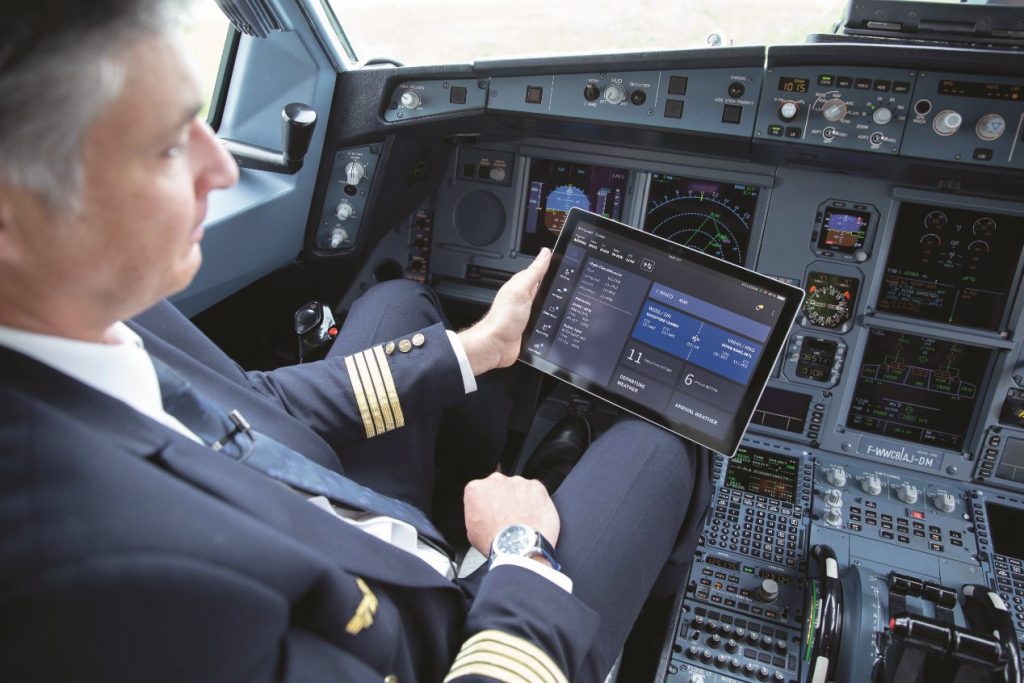 Toulouse, France, November 12th 2020
In November, NAVBLUE and Ultramain Systems signed a cooperation agreement to integrate Ultramain Electronic Logbook (ELB) into NAVBLUE's Electronic Flight Bag (EFB) applications.
ULTRAMAIN ELB replaces aircraft paper flight logs with an easy-to-use, touch-screen interface that speeds communication between cockpit crews and ground maintenance teams. ULTRAMAIN ELB enables faster turnaround times, so aircraft spend more time in the air and less time on the ground.
NAVBLUE's Electronic Flight Bag (EFB) includes an Electronic Flight Folder application in the cockpit and a ground tool which manages the workflow between OCC systems and the on-board applications. It covers all mission data required for a flight, including archiving of any reporting and associated data.
Airlines are constantly looking for integrated solutions to facilitate their daily operations and this cooperation agreement will allow them to have their EFB and ELB solutions in the same platform.
"We are very excited about what this agreement means to the aviation community", said John Stone, Vice President of Product Management for Ultramain Systems. "Products contained within NAVBLUE's Electronic Flight Folder and ULTRAMAIN ELB already operate in the hands of common customers, it's a natural conclusion that the two products should be interoperable. Through both purposeful technical advancement and unforeseen worldly events, the aviation industry will react to the need for digital products and the efficiencies they bring. The partnership will evolve the flight deck ecosystem with best in class digital products. This agreement will allow users to seamlessly navigate, and data to freely flow, between NAVBLUE's EFB and ULTRAMAIN ELB providing a more streamlined flight deck workflow. This will be a game changer in the industry."
Juergen Thevenin, Head Of Business Development & Partnerships at NAVBLUE said: "I am pleased to see NAVBLUE and Ultramain Systems joining forces to bridge flight operations and maintenance applications in a seamless interface. Integration and data exchange will simplify user experience and push innovative features such as automated performance update depending on aircraft technical status."