Streamlining Aviation Maintenance & Operations with Seamless eTechlog Integration in AMOS 23.6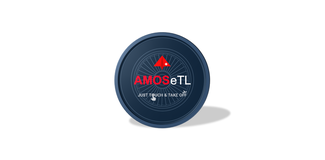 At a glance
– AMOSeTL now available for production use in AMOS version 23.6
– SunExpress scheduled as first go-live customer in October 2023
– AMOSeTL sets a new standard for electronic technical logbooks with its streamlined integration capabilities
Around two years ago, Swiss-AS has initiated its AMOSeTL project, and the first line of code has been written in November 2021. Today, we are pleased to announce a major milestone: the release of AMOSeTL in AMOS version 23.6 ready for productive use. We are also thrilled to share that SunExpress, one of our esteemed funding customers, is scheduled to go live with AMOSeTL in October 2023, marking the first productive implementation of this innovative solution.
AMOSeTL represents the culmination of extensive research, development, and dedication to delivering a mature and functionally advanced product. The strong traction and interest we have received from within the aviation industry confirm that we are on the right track. We are confident that this first implementation will showcase the full potential of AMOSeTL and further solidify its reputation as an industry-leading solution.
SunExpress will complete the final phase of the "Paperless Aircraft Maintenance Operations Project" with the use of AMOSeTL, as it will ultimately replace the paper-based Technical Log System. SunExpress is the first airline to implement paperless aircraft maintenance in Türkiye and among one of the few airlines worldwide. SunExpress is constantly improving its processes for greater efficiency and sustainability.
AMOSeTL: Redefining Integration
One of the key selling points of AMOSeTL lies in its unique integration capabilities. Unlike other solutions, AMOSeTL eliminates the complexities and costs associated with configuring complex interfaces. Our streamlined approach offers a plug-and-play integration experience that is unparalleled in the industry. By leveraging AMOSeTL's pre-built integration capabilities, AMOS customers can enjoy a seamless and successful deployment, saving valuable time and resources.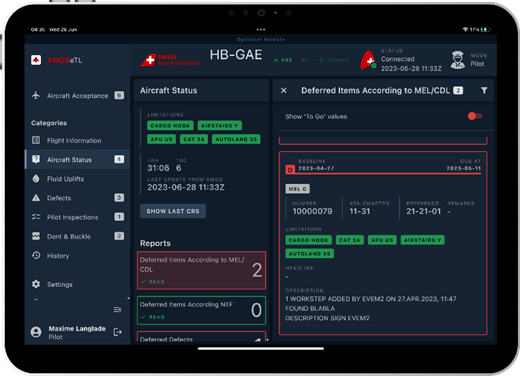 Concrete Examples of Seamless Integration:
– When a pilot opens a PIREP, AMOSeTL instantly generates a workorder in AMOS
– Defect closures or deferrals by maintenance are automatically synchronized with AMOS, providing real-time updates
Furthermore, it offers a two-way communication, ensuring seamless integration accross the whole product suite. Indeed, closing a workorder from AMOSmobile/EXEC or AMOS will update AMOSeTL in less than a second.
Pilots, mechanics, cabin crew, and back-office staff will always have the most up-to-date data at their fingertips whenever connectivity is available. Additionally, AMOSeTL seamlessly works offline for several legs, automatically pushing data to AMOS as soon as it is back online.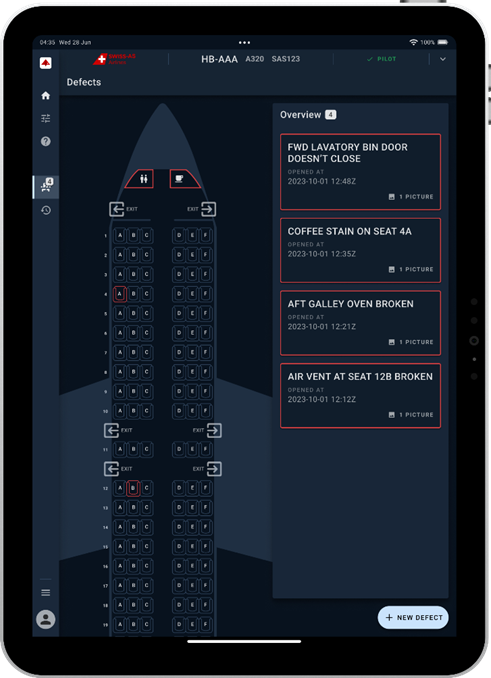 As we move forward with our funding and new customers, our product roadmap is focused on continuous improvement, with regular updates and enhancements planned to ensure that AMOSeTL remains the natural choice for an AMOS customer looking for an electronic technical logbook.
Please contact our dedicated team at marketing@swiss-as.com to learn more about AMOSeTL and how it can digitize your Techlog book management.
Conduce and Jazeera Airways are pleased to announce that on 15 December 2022 Jazeera Airways received full approval from the Kuwait Directorate General of Civil Aviation (DCGA) to use eTechLog8 as the primary Tech Log system and remove the paper-based processes.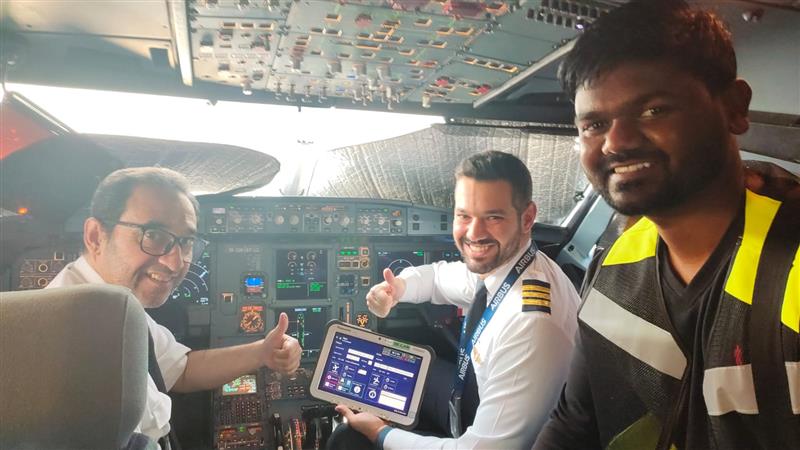 Jazeera Airways is the first airline in Kuwait to fully implement an electronic technical logbook (ELB) solution and have achieved the milestone in record time, just 8 months from contract agreement to full Technical Log paperless operations.
This is particularly impressive considering Jazeera's busy fleet of 19 aircraft. In addition to the ELB project, multiple new routes have been added, and Jazeera have taken delivery of two new A320 Neo aircraft, which used eTechLog8 in parallel with the paper from their very first flight.
The first paperless flight was operated by 9K-CAK on Monday 19th December, from Kuwait to Istanbul on Flight J9301.
Head of Engineering, Raghed Al Kaasamanicommented "We are delighted to have received full approval for eTechLog8 and are very proud to be the first ELB operator in Kuwait."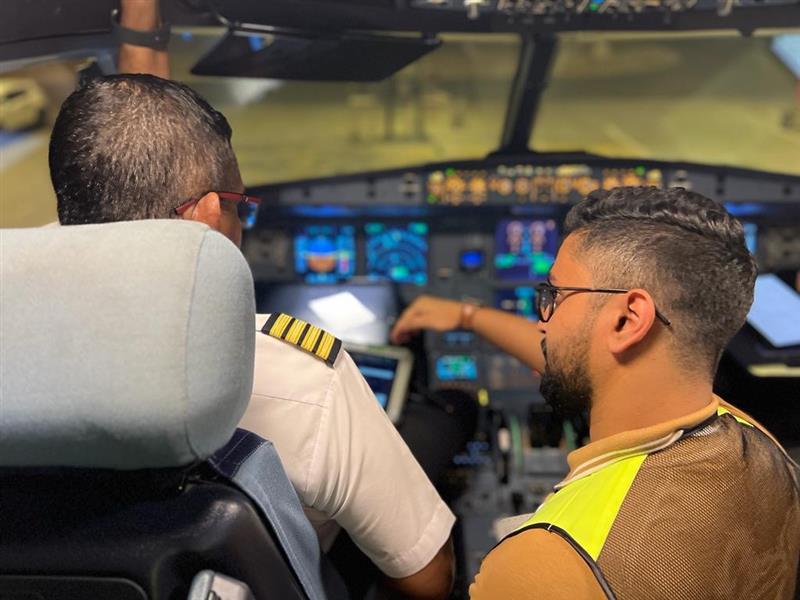 Conduce CEO Steve Russell noted that "Jazeera Airways going paperless on the now fully approved eTechLog8 is a superb way to end 2022 for both Conduce and Jazeera. The short project turnaround demonstrates how the airline use of an ELB has come of age and how a well-managed implementation can quickly deliver significant cost and efficiency gains."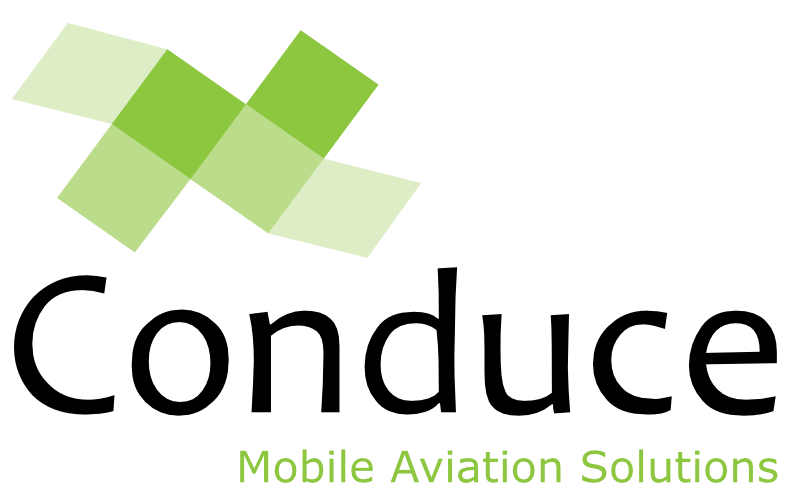 About Conduce: With offices in the UK and Australia, Conduce provide robust mobile solutions for the world's airlines. eTechLog8 is the leading ELB solution to replace paper technical logbooks. Certified around the world, eTechLog8 is also fully integrated with leading MIS/MRO back-office airline systems. (www.conduce.net)

About Jazeera Airways: Jazeera Airways operates commercial and cargo flights out of its Jazeera Terminal T5 at Kuwait International Airport. The airline flies to over 45 popular destinations across the Middle East, Central and South Asia, Africa and Europe comprising high-demand business, leisure and weekend destinations. (www.jazeeraairways.com)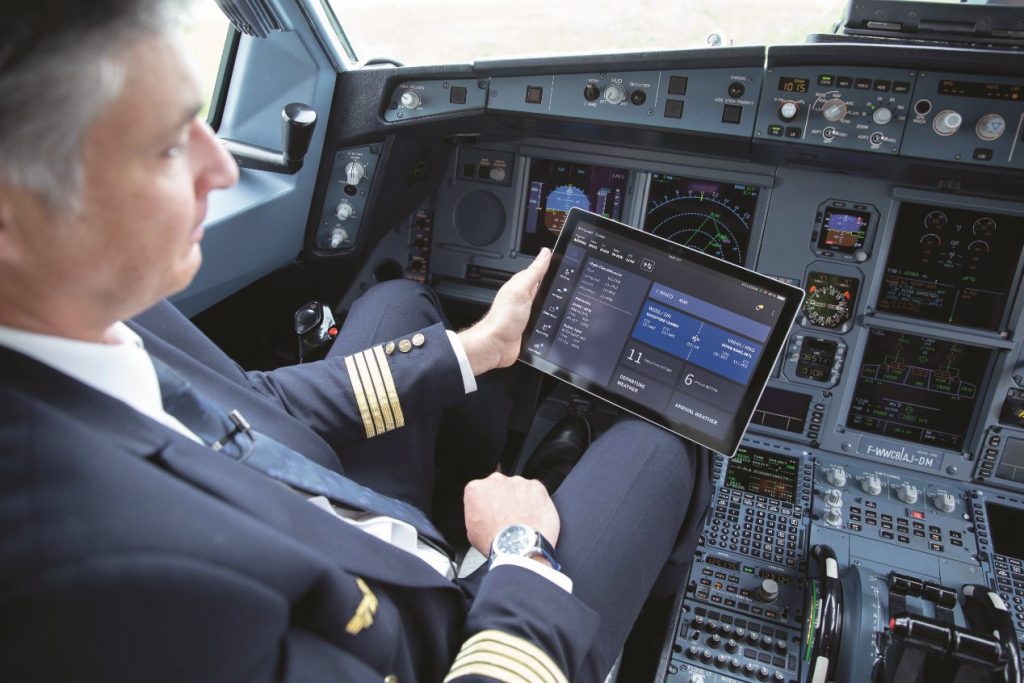 Toulouse, France, November 12th 2020
In November, NAVBLUE and Ultramain Systems signed a cooperation agreement to integrate Ultramain Electronic Logbook (ELB) into NAVBLUE's Electronic Flight Bag (EFB) applications.
ULTRAMAIN ELB replaces aircraft paper flight logs with an easy-to-use, touch-screen interface that speeds communication between cockpit crews and ground maintenance teams. ULTRAMAIN ELB enables faster turnaround times, so aircraft spend more time in the air and less time on the ground.
NAVBLUE's Electronic Flight Bag (EFB) includes an Electronic Flight Folder application in the cockpit and a ground tool which manages the workflow between OCC systems and the on-board applications. It covers all mission data required for a flight, including archiving of any reporting and associated data.
Airlines are constantly looking for integrated solutions to facilitate their daily operations and this cooperation agreement will allow them to have their EFB and ELB solutions in the same platform.
"We are very excited about what this agreement means to the aviation community", said John Stone, Vice President of Product Management for Ultramain Systems. "Products contained within NAVBLUE's Electronic Flight Folder and ULTRAMAIN ELB already operate in the hands of common customers, it's a natural conclusion that the two products should be interoperable. Through both purposeful technical advancement and unforeseen worldly events, the aviation industry will react to the need for digital products and the efficiencies they bring. The partnership will evolve the flight deck ecosystem with best in class digital products. This agreement will allow users to seamlessly navigate, and data to freely flow, between NAVBLUE's EFB and ULTRAMAIN ELB providing a more streamlined flight deck workflow. This will be a game changer in the industry."
Juergen Thevenin, Head Of Business Development & Partnerships at NAVBLUE said: "I am pleased to see NAVBLUE and Ultramain Systems joining forces to bridge flight operations and maintenance applications in a seamless interface. Integration and data exchange will simplify user experience and push innovative features such as automated performance update depending on aircraft technical status."