Enhances its Digital MRO journey with Ramco Aviation Suite

Dubai, UAE/ Chennai, INDIA – March 2, 2023: Etihad Airways Engineering, one of the world's leading aircraft maintenance and engineering solutions providers, has partnered with global enterprise aviation software provider Ramco Systems to implement its Aviation Suite V5.9. The project was officially announced at the 2023 edition of MRO Middle East, held at Dubai World Trade Centre, Dubai.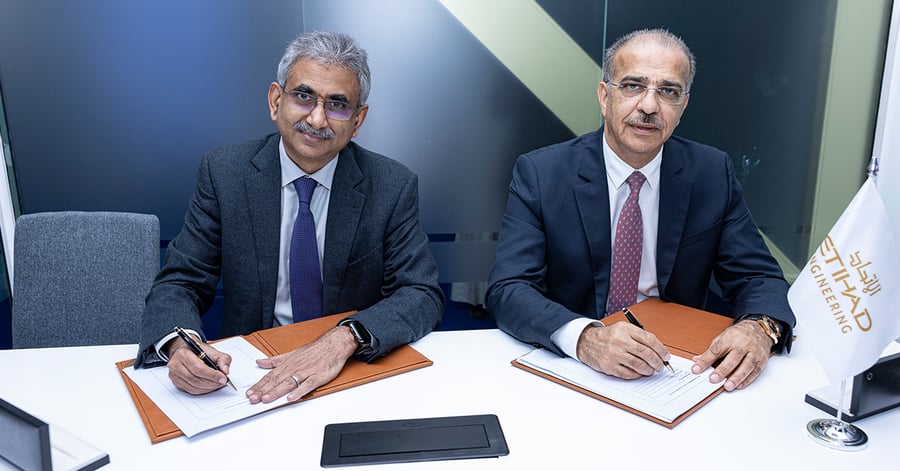 (L-R) P.R. Venketrama Raja, Chairman, Ramco Systems with Abdul Khaliq Saeed, CEO, Etihad Airways Engineering, during the signing ceremony at the 2023 MRO Middle East, Dubai

With modules covering Contract & Quote Management, Maintenance Planning, Hangar Maintenance, Component Maintenance, Supply Chain Management, Engineering, Quality, Digital Task Cards, ePublications, and Customer Billing, Ramco's integrated Aviation Suite will streamline multiple operations across Etihad Airways Engineering, offering the organisation a single source of information with real-time visibility. In addition, Ramco's digital tools such as Ramco Anywhere mobile apps, dashboards, and integrated customer portals, will seamlessly digitise Etihad Airways Engineering's operations, enhance process efficiencies, and help them go paperless.
Abdul Khaliq Saeed, CEO, Etihad Airways Engineering, said, "At Etihad Airways Engineering, we are passionate about integrating next generation technologies in today's emerging aerospace trends in readiness for the future. By deploying Ramco's state-of-the-art Aviation Suite, Etihad Airways Engineering will be able to deliver innovative solutions and services that will not only provide outstanding customer experience but will also optimise our cost and turnaround time by efficient resource utilisation. We are all set to leverage the power of automation with Ramco."
Etihad Airways Engineering is a part of ADQ, offering industry leading aircraft maintenance and engineering solutions including airframe maintenance, component repair, overhaul services and technical training, with a team of around 2,000 professionals from around the world. The organisation takes pride in the reliability and on-time delivery of its services and is driven by a dynamic culture of excellence in everything they do. The company has vast experience in providing total maintenance solutions for Airbus and Boeing aircraft including advanced composite repair, cabin refurbishment and component services around the clock from its facility adjacent to Abu Dhabi International Airport. Cutting edge processes and solutions are used at the facility from a dedicated centralised planning and control (CPAC) facility for heavy maintenance to automated tool management and live dashboards across the business to monitor the progress of every project in real time.
Etihad Airways Engineering is the first organisation in the Middle East to be granted an extended Part 21J Design Organisation Approval by the European Aviation Safety Agency (EASA) to undertake major cabin design and modification.
P.R. Venketrama Raja, Chairman, Ramco Systems, said, "It is remarkable to witness the trust that Ramco Aviation has been winning from renowned aircraft service providers such as Etihad Airways Engineering. Situated in the heart of one of the world's most prolific aviation growth markets, Ramco's association with Etihad Airways Engineering will play a key role in driving digitisation and increasing overall operational efficiency at Etihad Airways Engineering. With Ramco's next-gen Aviation Suite infused with artificial intelligence and machine learning, we look forward to building a digital MRO journey at Etihad Airways Engineering."
Ramco Aviation Suite is trusted by 24,000+ users to manage 4,000+ aircraft globally. With 90+ Aviation organizations onboard, Ramco is the solution of choice for top Airlines, 3rd party MROs, large Heli-Operators, leading Defense organizations, and major Urban Air Mobility companies around the world. Available on cloud, Ramco Aviation Suite provides accessibility with 'Anywhere Apps', significantly accelerating organizational efficiency and agility. Ramco is changing the paradigm of enterprise software with Artificial Intelligence based solutions, intelligent voice enabled user experience, and advanced features such as digital task cards, offline maintenance capability, conversational chatbots, HUBs and cognitive solutions.
About Etihad Airways Engineering
Etihad Airways Engineering is the largest commercial aircraft maintenance, repair and overhaul (MRO) services provider in the Middle East, and a part of ADQ. The company offers maintenance services around the clock, including design, advanced composite repair, cabin refurbishment and component services, from its state-of-the-art 500,000 sqm facility located in Abu Dhabi, adjacent to Abu Dhabi International Airport, with 140,000 sqm of aircraft parking area, aircraft hangars covering 66,000 sqm, and a custom-designed hangar that can accommodate up to three Airbus A380 aircraft simultaneously. The company has successfully completed maintenance projects over the years for airlines from all over the world.
Hong Kong, China / New York, USA – May 28 2020 – IDMR Solutions Inc., a global leader in technical documentation management and electronic signatures designed exclusively for aviation, announced today the successful implementation of its flagship product, InForm, for Hong Kong Aircraft Engineering Company Limited (HAECO). HAECO is one of the world's leading aircraft engineering and maintenance service providers.
IDMR's integrated suite of applications has proven success in increasing operational performance and decreasing operational cost while insuring airworthiness, safety and regulatory compliance at several commercial and cargo operators for fixed and rotary wings aircraft.
Despite the COVID-19 pandemic, IDMR and HAECO managed to successfully implement an end-to-end solution in line maintenance within a tight and challenging timeline. Integrated in HAECO's IT infrastructure, InForm empowers the creation, issuance and digital signoff of the electronic task cards. This is crucial for line maintenance operations which is very dynamic, and thus requires high level of mobility.
Patrick Wong, Executive General Manager, Operations Support at HAECO Hong Kong said: "InForm contributes to the transformation of our operation in line maintenance via digitalisation of task cards preparation and signoff process. The built-in intelligence of the system, together with its real time signoff and progress tracking features, enhance the safety, quality and efficiency of our operation. In HAECO, safety and quality is our top priority, IDMR Solutions is seamlessly integrated within our company and contributes to safety and quality within the industry."
Highly adaptable, IDMR's comprehensive and integrated solutions considerably improves productivity, facilitating collaboration and synergies within HAECO and its customers.
"HAECO is a valued customer and we appreciate the opportunity to help the company reach its goals," said Israel Revivo, CEO/President, IDMR Solutions. "We are excited by this partnership with HAECO. Beyond expanding our MRO presence in Greater China, this partnership is a clear sign that our clients place their trust in us to support their current and future business objectives. Our end-to-end solution will allow partners such as HAECO to accelerate and improve their paperless initiative especially crucial in the postCOVID-19 era," added IDMR's CEO. "IDMR is committed to continuing to provide airlines and MROs with the delivery of custom-built solutions that are highly scalable, adaptable, and can easily integrate with other enterprise applications. By putting in place the nextgeneration solutions, HAECO captures the best practices and functionality inherent to these applications," Revivo concluded.
About IDMR Solutions Inc.
IDMR Solutions Inc. is a global leader offering enterprise SaaS and mobile solutions for content management, document distribution, electronic task cards and e-signatures in the highly regulated aviation industry. InForm is a software engineered to provide end-to-end comprehensive business solutions integrated with leading M&E systems. InForm supports the industry leaders' remote and mobile workforces enabling safe and efficient operations. Every day, thousands of engineers, maintenance planners, technical writers, as well as maintenance technicians rely on InForm for digital delivery of operational content replacing paper-based documentation. With aviation leaders trusting IDMR, InForm is the solution of choice for several national carriers, heli-operators, ecommerce, defense and logistics contractors as well as MRO organizations. Website: www.idmrsolutions.com
About Hong Kong Aircraft Engineering Company Limited ("HAECO Group")
The HAECO Group is one of the world's leading aircraft engineering and maintenance service providers. The Group provides a comprehensive range of services encompassing Airframe Services, Line Services, Cabin Solutions, Private Jet Solutions, Fleet Technical Management, Inventory Technical Management, Component Overhaul, Aerostructure Repairs, Landing Gear Services, Engine Services, Global Engine Support, Parts Manufacturing and Technical Training. The HAECO Group consists of 16 operating companies, employing around 17,000 staff in Hong Kong, Mainland China, Europe, and the United States. HAECO Group's website: www.haeco.com
EmpowerMX, the leading cloud-based MRO platform for the aviation industry today announced the launch of Touchfree Electronic Task Card (ETC), a contact-less solution for companies that are planning to resume post-pandemic operations.
"In the new reality, paper-based operations will subject multiple users to physical contact with a paper trail, leading to potential increased spread of COVID-19" said Dinakara Nagalla, CEO of EmpowerMX. "The EmpowerMX Touchfree ETC is an elegant, mobile-ready solution that can works seamlessly with any existing MRO solution to enable operators on the floor to digitally complete tasks without coming into contact with paper."
As a fully integrated digital platform, Touchfree ETC offers engineers and field operators the ability to collaborate with remote support using built-in video technology in mobile devices. It can also record these support calls and permanently save them as part of the aircraft's records. With many MROs launching drone inspections, Touchfree ETC delivers the ability to stream the drone footage directly into the mobile device and onto the task card, as well as photos taken with hand -held devices. This will allow the MRO organization to maintain a single point of storage for all aircraft maintenance activities.
EmpowerMX Touchfree ETC is an industry-first electronic task card solution that helps MRO organizations migrate to digital operations in a very short time. Legacy PDF and images that are currently the norm are rapidly digitized with the Touchfree ETC conversion engine, which then makes all data available for any hand held digital device.
Powered by machine learning and artificial intelligence, Touchfree ETC can auto recognize the correct signatories, where they should sign, and if they are qualified to sign, irrespective of the document format. It can seamlessly deliver any technical document that engineers and field service personnel use today—including forms—through mobile devices and can be executed electronically, enabling a fully digital operation.
"Having been in the airline industry for decades, I was excited by the EmpowerMX vision to transform a paper-based operation to a fully digital process, irrespective of the source documents," said Jim Sturgis, COO at EmpowerMX. "Our product design focus has been to help MRO shops start off using ETC with current projects on the floor, even as they work to bring their legacy paper-based data to the digital realm. It is time for the industry to embrace this path towards a complete digital operation that helps minimize the impact of current pandemic crisis as well as saving very significant costs through improved operational efficiencies and increasing regulatory compliance."
EmpowerMX Touchfree ETC will meet all regulatory mandates for Clean Operations in the MRO industry, reduce the risk of contact-based virus spread, and help shops provision for workspace employee safety in a frictionless manner.
For more information, contact sales@empowermx.com
About EmpowerMX: Based in Frisco, TX, EmpowerMX is a leading cloud-based software platform that is designed to accelerate digital adoption in the Airline, MRO, and Defense establishments. Its product suite helps Engineering and Compliance, Heavy and Line Maintenance, Shop and Materials Management.