Delhi, 25 July 2022: Vistara, India's finest full-service carrier, today became the first Indian airline to introduce an e-tech logbook solution and go paperless in its operations in association with ULTRAMAIN ELB.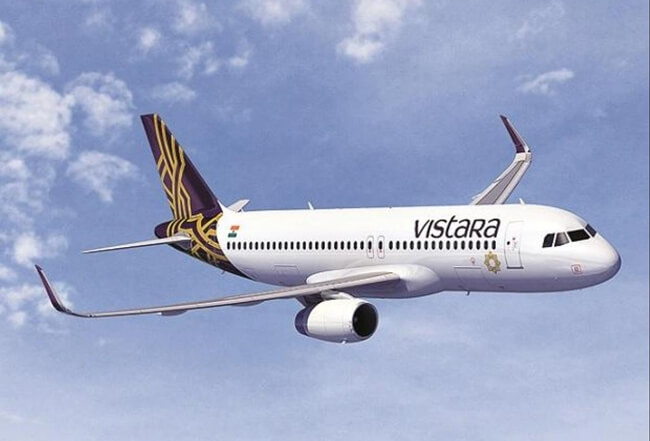 ULTRAMAIN ELB will fully replace aircraft paper technical log, cabin log, journey log, damage log, and fueling log providing a validated electronic Certificate of Release to Service (e-CRS) on flights operated by Vistara. Currently in the airborne proving stage, the ELB application will be used by Flight Crew, Cabin Crew, and Engineers on iOS devices to provide integrated workflows with Vistara's maintenance and operational systems. The airline is seeking necessary approvals from relevant authorities before fully integrating this solution across its operations. Once implemented, ULTRAMAIN ELB will enable accurate, real-time global operational visibility of the Vistara fleet resulting in more efficient maintenance, higher dispatch reliability, and increased aircraft utilization.
"As Vistara marches on its Digital Transformational journey, the focus on digital data capture, integration and automation will continue. ULTRAMAIN ELB will help digitize our aircraft paper logs and improve operational effectiveness." said Vinod Bhat, Chief Information Officer, Vistara.
"Vistara remains committed towards constantly improving operational efficiency across processes through automation and we've been investing in right technologies to achieve this goal. We are delighted to partner with Ultramain Systems, which will provide the first Electronic Logbook to seek operational approval to operate a fully electronic Technical and Cabin Logbook in India. ULTRAMAIN ELB will be integrated with various live processes like AMOS, ACARS, and ARMS for seamless operations. This application, with its completeness and ease of use, is one step towards building enterprise application integration while also focussing on sustainable operations.", said Sisira Kanta Dash, Senior Vice President – Engineering & Maintenance, Vistara.
"We are pleased to welcome Vistara to the ULTRAMAIN ELB family. As well as our well proven defect management functions. Vistara will be using ELB's refuel / defuel functions, which enable real time capture of refueling documentation using Ultramain's e-Signature capabilities. This is another important step towards the automation of Line Maintenance Operations" said Mark McCausland – President and CEO of Ultramain Systems.
Ultramain Systems provides SIMPLE MOBILE PAPERLESS Aviation Maintenance software products and professional services to airlines worldwide. ULTRAMAIN® ELB™ – the market leading electronic logbook software has been replacing paper-based processes while offering comprehensive functionality and innovative features to help make airlines processes seamless.
Vistara is India's highest-rated airline on Skytrax and TripAdvisor, and it has been the winner of several 'Best Airline' awards, besides being lauded for cabin cleanliness and safety standards. In a short span of seven years since starting operations, Vistara has raised the bar for operations and service standards in the Indian aviation industry to become the country's most loved airline and has recently crossed the mark of flying 35 million passengers.
***
About Vistara (TATA SIA Airlines Limited): TATA SIA Airlines Limited, known by the brand name Vistara, is a 51:49 joint venture between Tata Sons Private Limited and Singapore Airlines Limited (SIA). Vistara brings together Tata's and SIA's legendary hospitality and renowned service excellence to offer the finest full-service flying experience in India. Vistara commenced its commercial operations on January 9, 2015, with an aim to set new standards in the aviation industry in India and it today connects destinations across India and abroad. The airline has a fleet of 53 aircraft, including 41 Airbus A320, five Airbus A321neo, five Boeing 737-800NG and two Boeing 787-9 Dreamliner aircraft and has flown more than 35 million customers since starting operations.
For more information about Vistara, visit www.airvistara.com
MEDIA CONTACTS:
Malmö, Sweden; April 1, 2020: Web Manuals, the world leader in aviation document digitization solutions, is expanding its aviation manual community through partnerships with Black River Aerospace and Aerodox to offer additional document templates to aviation businesses worldwide.
Aviation manual creation and management company Black River Aerospace will be providing three levels of support. This will range from a template subscription to manual implementation and a full authoring and maintenance service, including manual creation, updates, and distribution throughout a company, accessed via Web Manuals' interface. All documents come with live linking to FAA regulations, IS-BAO, and ARGUS standards, meaning customers are immediately alerted to any changes.
Melissa Kearby, Partner at Black River Aerospace says: "Implementation of Web Manuals has revolutionized the way we develop manuals, halving the time we spend executing a customer's documentation. As a result, we are able to spend more quality time on relationship building and providing a phenomenal product.
"Everyone at Web Manuals is experienced and the customer service is top-notch concierge level."
Technical manual provider Aerodox will supply customized minimum equipment lists (MELs) for many types of aircraft, maximizing flight dispatch reliability.
David Burk, owner of Aerodox states: "The Aerodox team are experts in customized MELs, CDLs, and NEF programs. We are excited to apply our combined 50 years of experience to an ever-changing world of technology. Our goal is to bridge the gap between the Web Manuals' online platform and our exemplary MEL service".
Paul Sandström, Chief Revenue Officer and Director of Operations EMEA at Web Manuals, says: "We are working hard to build our community so that users can have access to more software services via the Web Manuals Store. This is only made possible through companies such as Black River Aerospace and Aerodox sharing their solutions with our customers."
Aerodox and Black River Aerospace's services will be available via the Web Manuals Store.
-Ends-
Media Contacts:
Chiara Lawrance / Heather Mullon / Dan Cooper
8020 Communications
webmanuals@8020comms.com
+44 (0)1483 447380