Springer Aerospace is MRO launch customer for IQSMS
07 Jan 2021

{{vendor.Name}}
Connect with Aircraft IT
Sign up to the Aircraft IT twitter feed for all the aviation industry's latest IT related news
Click here to learn about free Membership to Aircraft IT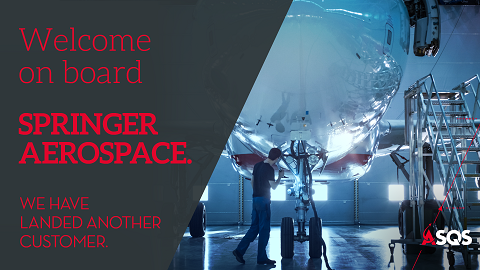 ASQS is delighted to announce that Springer Aerospace has successfully implemented three IQSMS modules, being the first MRO in North America to deploy the intuitive and integrated quality and safety management solution.
Based in Echo Bay, Ontario, Springer Aerospace provides a wide range of services including complete overhauls, heavy maintenance, regular inspections, interiors, paint, avionics, and modifications. Formed from the merger of two pioneer aviation companies (Springer Aerospace Ltd. & Skyservices Ltd) in the 1990s, Springer Aerospace offers a long-standing expertise in the field of aviation maintenance and overhaul and grew to one of the largest MRO facilities in Canada.
"We are more than excited that one of Canada's oldest aircraft maintenance, repair & overhaul (MRO) companies selected IQSMS to support its daily business. Since Canada is the destination of choice for our new ASQS subsidiary, which will open by the end of 2020, we are delighted to have won Springer Aerospace as launch customer in this region. With their new 28,000 sqft hangar facility, the ASQS team is looking forward to be a part of the added scope and capabilities the company has to offer. We are happy to be on site soon to work more closely with our new customer and to support Springer Aerospace in the optimization of its safety and quality processes", Günther Schindl, CEO at ASQS, noted.
To find out more about Springer Aerospace, please visit their website: https://springeraerospace.com.