PLAY Airlines selects KeepFlying® Fin Twin AI Platform
12 Sep 2023

{{vendor.Name}}
Connect with Aircraft IT
Sign up to the Aircraft IT twitter feed for all the aviation industry's latest IT related news
Click here to learn about free Membership to Aircraft IT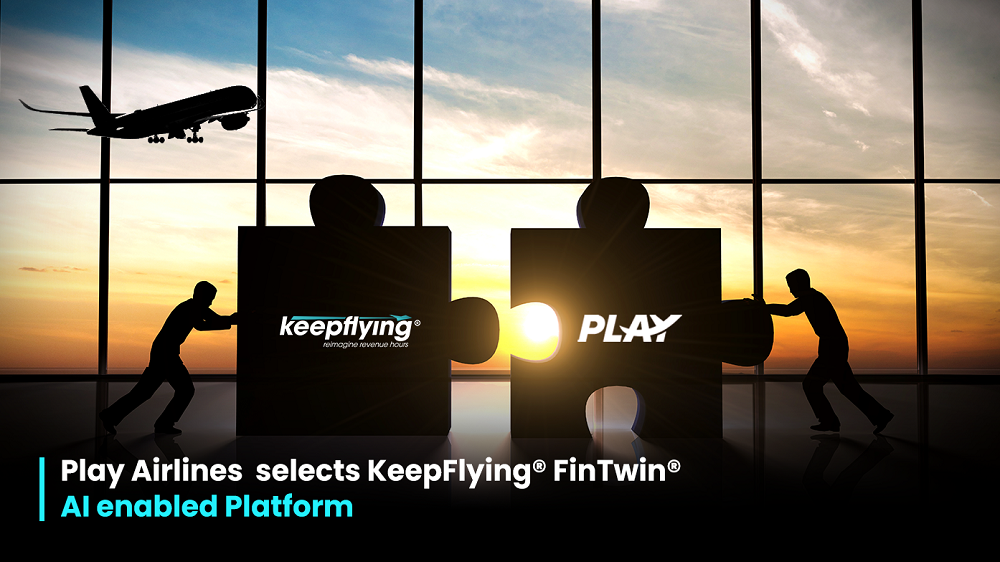 Reykjavik, Iceland 11/09/2023 — PLAY Airlines has selected the KeepFlying® FinTwin® platform to enable Artificial Intelligence and Machine Learning technology inside their Inventory Management department.
Providing an always enabled Material Control platform, monitoring minimum, maximum and safety stock levels, with economic order quantity calculation to ensure that operational demand satisfaction of aircraft spares is met, with an eye on the commercial impact of holding stock of a given set of parts.
In addition, the platform offers Vendor Rating and Service Level Agreement monitoring, to ensure that 3rd party vendors maintain promised service levels.
The platform also includes AOG risk analysis, considering the current supply chain status, stock levels, vendor performance and current operational plan, to highlight aircraft which are at risk of AOG, factoring in the demand profile of a specific set of components.
"This partnership with PLAY aligns with our mission to deliver the very best of Artificially Intelligent and Machine Learned systems. Together, we will deliver emergent technologies such as Large Language Models (LLMs) and Generative Pre-trained Transformers (GPT) into PLAY, to deliver explainable AI models that deliver tangible ROIs inside one of the most regulatory complex industries." said Sriram Haran, CEO of KeepFlying®.
"The partnership between KeepFlying® and PLAY Airlines creates an exciting opportunity for both of our companies to accelerate the adoption of AI inside the aviation market. PLAY Airlines is always looking for opportunities to innovate and the Fin Twin platform will drive value into our supply chain processes and deliver efficiencies at scale that are challenging to implement without the use of AI" said Andri Geir Eyjólfsson​, Executive Director of Operations / Deputy Chief Operating Officer.

About KeepFlying®
KeepFlying® has been a leader in the delivery of AI and ML solutions since 2020. With a commitment to delivering the very best solutions utilizing the recent explosion in AI enabled technology, the company serves Operators, Lessors, Asset Owners and MRO Facilities worldwide. For more information, visit https://www.keepflying.aero/
About PLAY Airlines
PLAY is an Icelandic low-cost airline offering flights to popular destinations in a cost-efficient manner. Founded in Reykjavík in 2019 by a management team with significant experience in the aviation industry, the company has capitalized on the recent fast-developing and changing market to see impressive growth.
For More Information:
For additional details about this partnership or to schedule an interview, please contact Sriram Haran, CEO at info@KeepFlying.aero