IQSMS Joins Volocopter's UAM Ecosystem
07 Sep 2022

{{vendor.Name}}
Connect with Aircraft IT
Sign up to the Aircraft IT twitter feed for all the aviation industry's latest IT related news
Click here to learn about free Membership to Aircraft IT
Global aviation safety, quality, and risk management software provider ASQS has announced a partnership with German urban air mobility (UAM) company Volocopter.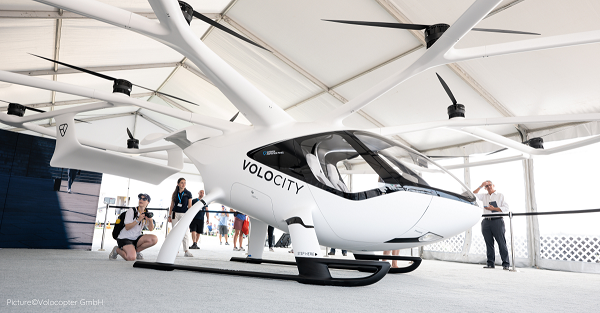 As a veritable pioneer, Volocopter has developed a new form of transportation that efficiently meets people's mobility requirements while taking into account environmental considerations and sustainability in its electric air taxi, the VoloCity.
Founded in 2011, the company made history by performing the first-ever crewed flight of an all-electric multicopter. Volocopter has since grown tremendously, and currently employs over 500 people at its headquarters in Bruchsal (Germany) and its Munich and Singapore offices.
In order to bring urban air mobility to life, Volocopter works with different infrastructure and air traffic management stakeholders to not only develop and enhance urban air taxis, but to create an entire urban air mobility ecosystem. This encompasses manufacturing, maintaining, and operating the aircraft, as well as providing a software platform (VoloIQ) to coordinate its eVTOL (electric vertical takeoff and landing) aircraft, and setting up and operating the takeoff and landing points referred to as VoloPorts.
As a future-oriented company, Volocopter offers a sustainable, emission-free, and modern alternative to existing transportation solutions for people and goods. For the latter, Volocopter has designed an uncrewed, fully electric utility drone – the VoloDrone. As an extension of the VoloCity urban air taxi services, the newest family member (the VoloConnect, a suburban eVTOL aircraft) is set to offer connections between major cities and their suburbs.
"Sharing the same values when it comes to combining innovation and operational safety, we are very proud to be working with such an innovative and visionary company whose VoloCity air taxi – among other innovations – is the first of its kind to have been designed and developed to the most stringent aviation safety standards. Volocopter has implemented IQSMS in all aspects of its operations, from engineering and manufacturing to operations and maintenance, and will further provide IQSMS to all future franchisees, as part of Volocopter's IT infrastructure standard package," said Günther Schindl, CEO of ASQS, speaking about the partnership.
For more information about Volocopter, visit: https://www.volocopter.com/