Rusada's ENVISION Certified as Integrated with Cloud Solutions from SAP
11 May 2023

{{vendor.Name}}
Connect with Aircraft IT
Sign up to the Aircraft IT twitter feed for all the aviation industry's latest IT related news
Click here to learn about free Membership to Aircraft IT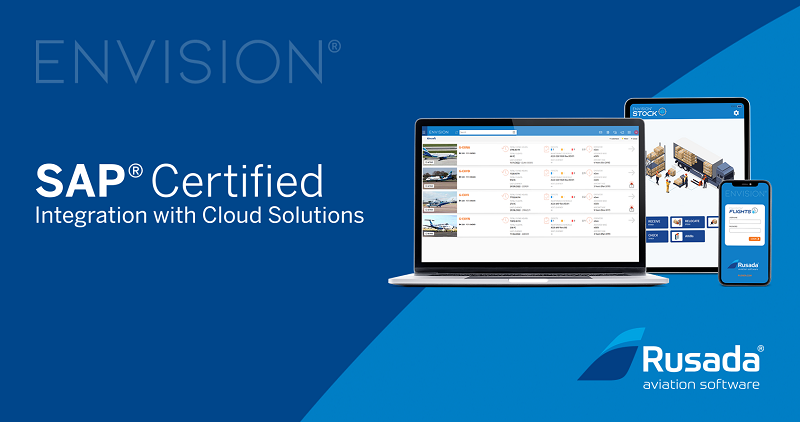 VEVEY, SWITZERLAND: Aircraft maintenance software provider Rusada announced today that its ENVISION solution has been certified by SAP as integrated with cloud solutions from SAP.
The certification allows organizations using SAP S/4HANA® to interface with ENVISION more easily, and pass data between the two systems using tested and certified integrations.
Through using the ENVISION Integrator, customers can now create input and output interfaces for SAP systems without additional programming, using standard APIs available on the SAP Business Technology Platform.
"Our certification with SAP enables us to significantly reduce the effort required to integrate with their cloud solutions" comments Neil Hargreaves, Chief Operating Officer at Rusada. "The creation of integrations is a key step in many ENVISION implementations, so anything we can do speed-up this process results in time and resources saved for our customers."
SAP Integration and Certification Center (SAP ICC) has certified that the integration software for ENVISION 2301, integrates with SAP S/4HANA® from SAP using standard integration technologies, or that run as an add-on to a cloud solution from SAP.
About Rusada
Rusada is a leading provider of aviation software with over 35 years of experience in the industry. Its ENVISION software manages over 2,000 fixed and rotary wing aircraft for 150 operators, maintainers, and manufacturers in 50+ countries. With its headquarters in Switzerland and offices in the USA, Canada, UK, UAE, India, Singapore, and Australia, Rusada provides global support for a global industry.
Specialising in the management of airworthiness, maintenance, and flight operations, ENVISION is developed solely for aviation. Its modern, web-based platform features a suite of integrated modules, enhanced by a series of native mobile apps. ENVISION's easy-to-use interface provides users with clear, actionable information, enabling processes to be carried out quickly and efficiently, and all without the need for paper or spreadsheets.
SAP and other SAP products and services mentioned herein as well as their respective logos are trademarks or registered trademarks of SAP SE in Germany and other countries. Please see https://www.sap.com/copyright for additional trademark information and notices. All other product and service names mentioned are the trademarks of their respective companies.
Media Contact
Chris Prior
Marketing Manager
+44 (0) 1295 231619